How To Fight High Credit Card Interest Rates
Credit card interest rates are rising. Okay, let us rephrase that -- they've been rising and are continuing the upward trend. The annual credit card survey conducted by Consumer Action has revealed that the average interest rate on credit cards has gone up a few percentage points in the past 12 months.
Reported rates are rising on variable-rate credit cards because of the mandates of the Credit Card Act. Is it a bad thing for consumers? Linda Sherry of Consumer Action doesn't think so. She feels that consumers are better off now that issuers have to price accounts correctly from the beginning, instead of worrying about penalty rates and fees.
Let's check out some of the findings from a recent credit card survey at consumer-action.org. The survey covered the rates offered by 20 credit card issuers.
There were 20 issuers with 41 cards surveyed. Out of 41 cards, 40 had variable rates with an average APR of 15.05%. One fixed rate card had a rate ranging from 9.99% to 15.99%, which was dependent on a customer's credit rating.
And here's a quick chart to show just how rates have crept up over the last couple of years. Source: CNN Money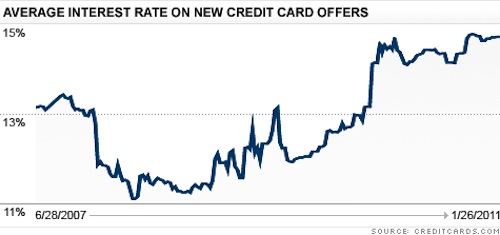 The Credit Card Act changed many practices that consumers felt were unfair and costly. However, there are still ways you can wind up paying more than you should for credit. So what are we consumers to do? We've suggested some ways to lower your credit card interest rates by being proactive. But there are also additional things we can do if the overall rate trend is against us.
1. Avoid late or missing payments at all costs.
We should all be allergic to paying the card companies more than we already do. But even though transparency is key under the new Credit Card Act, it will not completely eradicate the possibility of late fees. So we need to help ourselves here too and not just depend entirely on regulation to get ourselves out of hot water. So take note: if you are more than 60 days late paying your bill, the credit card company can still increase your interest rate. Accounts with delinquencies of over 60 days can be subject to rate increases.
Solution: Don't get into a position to become overextended. If you're going to struggle with a payment, it may be worth it to call your credit card company before you are late in order to make payment arrangements. It's better to be honest with them before you end up with a late penalty. And it's important to stay organized here: keep a schedule of bills so you can avoid missing a payment. Given that electronic or online bill pay is now standard with card companies and banks, you may want to set up automatic payments from your bank account so that a 60-day lapse in payments never happens.
2. Be wary of the limited-time introductory card rates.
Credit card companies can still lure consumers with a limited-time introductory rate (or teaser rates). While an initial rate of 0% may sound pretty enticing, you should read the small print. You might wind up paying more for the credit card in the long run.
Solution: Carefully read the terms of credit card offers before you agree to accept them. If the introductory rate only lasts for a couple of months, it might not be a good deal. Check what the actual rate will be when the introductory period is over. If it is the same or more than your current credit card, then you may want to think it over. Shop wisely and scrutinize credit card deals before you act.
3. Know the risks of a variable rate.
If your credit card has a variable rate tied to an index, then your rates can unexpectedly go up. The lack of predictability could lead to late payments, which can beat up your credit rating and create a vicious cycle for you that may cause you to pay more for credit.
Solution: A variable rate is a poor choice if you need predictable bills since your rate could increase along with your monthly payment. But while it's best to avoid cards with variable rates, you may not necessarily have a choice, particularly if your credit is not healthy. It appears that most cards these days have adjustable terms. You can avoid this kind of roller coaster if you go with a prepaid debit card or a charge card, which will help you manage your balance better (you'll have to pay fees but these are predictable). The key here is to get out of the habit of maintaining a balance, but if it's not possible, then make sure you stick with low interest rate offers beyond the intro period.
4. Give your credit card limit a wide berth.
Gone are the days of maxing out your credit card and going over the limit. Credit card companies are now required to turn down those transactions that can cause a consumer to go beyond their limits. This should be good news because if the transaction isn't allowed, then you won't be charged an over-the-limit fee. This is the case unless you authorize your credit card company to approve your transactions. In general, you only get charged one fee per billing cycle for over-the-limit transactions.
Solution: Keep track of how much you spend on your credit card so you don't go overboard. When you find yourself approaching your limit, be proactive and make a payment to give yourself more breathing room. Don't let your credit card company approve over-the-limit transactions so you never have to pay the related fees.
5. Are you new to plastic? Study those card offers carefully.
Shop for credit cards as you would any other item on your shopping list. In days past, students were targeted by card companies and encouraged to apply for credit cards right on college campuses. This practice is no longer allowed and people under 21 are now required to have a co-signer for their applications. You'll need to prove that you have enough income to cover monthly credit card payments.
Solution: If you're new to credit cards, we suggest that you start off with a debit card or a secured credit card first so you can become familiar with how to use plastic. Compare student credit cards to regular cards to find out if their terms are indeed better, before applying for one. Parents and students should carefully review credit card terms together to make the best choice.
6. Enroll for credit card rewards.
Leverage your credit card rewards. When you finally choose a credit card, check if it has a rewards program. Many cards such as Chase, Citibank and Discover credit cards offer opportunities to earn reward points for their use. The points can be cashed in for gift cards, travel, merchandise and other items. If you're great at managing credit and you've got a small or minimal balance, then you can focus on earning rewards as another way to offset the cost of carrying plastic.
If you're tired of paying high interest rates on your cards, opting for lower rate cards is certainly an option. However, the current credit climate has made it much more difficult to secure cards with great terms. To ensure you can qualify for such cards, you need to have a good credit history.