In the next few days I am planning to talk about how I've exited my corporate life and how I'm transitioning to a new one. For now, I'd like to let you in on how my last day of work turned out. It was as expected, a bittersweet event as I made the rounds to bid my colleagues well.
I turned in my office laptop and traded it for a few boxes of my personal possessions, mostly books and cubicle souvenirs from a five year tenure at a fine institution. As "second homes" go, it was a place that saw me through some of the toughest periods of my life, and became a haven when I sought distraction through work and friendly camaraderie with like-minded people.

A mere couple of years ago, I'd thought of myself as a "lifer" and didn't see this coming, but things just happen. It was fun and fulfilling (for most of it), and officially the end for now, of my sit-at-the-desk- from-nine-to-five corporate career.
I went through the standard job departure check list and left with the requisite promises of "keeping in touch", though saying "I know where to find you" is much more truthful. Either way, I'm just glad I won't need to be driving those 60 miles a day any longer and paying $16 a day for the privilege (hey, that's close to $320 a month that now can go to private medical insurance, but more on that later).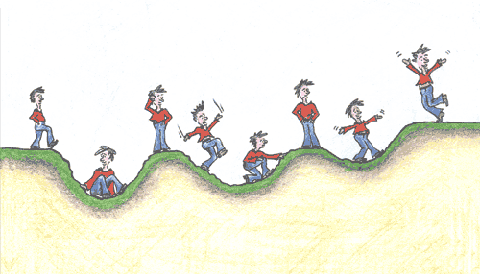 So here's how I fared with that resignation check list care of SoYouWanna.com and Quintcareers.com.

Resign From Your Job In Six Easy Steps
#1 Have a plan for your next move before you resign.
I have this friend who had so much confidence in his abilities that he left a high-paying mid-level technical management position without a new one lined up. Guess how things turned out? Smack in the midst of the dot com bomb slowdown in the Bay Area job market, he found himself unemployed for 9 months, having to hire a marketing firm to do some PR for him (develop his profile, cover letter and resume complete with head shot) for $3,000, and eventually STILL having to do a stint at Best Buy as a customer service rep to pay the bills.
As for me, I'm opting for a "lifestyle" change, so no job in the works for me, at least the kind that I've just left behind.
#2 Resign with a letter and do so in person.
I am fortunate to have had a manager who's also a good friend; he's someone who already had some idea about the changes I've been wanting to make. It was easy for me to tell him about my decision as I handed him a simple letter generated from a template from this really great job transition site called I Resign. But for those who are leaving without such fond memories of their workplace, just don't burn your bridges by doing something impulsive!
#3 Get contact information.
I went around to make sure I would continue to have access to my co-workers by requesting their contact information, as one never knows under what circumstances we'd be meeting each other again. In recent years, I've found my favorite jobs via networking and through old colleagues who've helped me get through the door. This time, keeping connected is still very important to me, for social as well as for professional reasons — just not in the day job capacity.
#4 Tie up loose ends.
There's a whole myriad of things I still need to take care of from health insurance to retirement plan matters. These loose ends tend to be financial in nature, which are things you don't want to let slip through the cracks as you move on to a new life. It's pretty easy to be distracted by new prospects so I'm making sure I have these in my schedule book:
Arrange for family medical insurance: Now that nobody in my family is covered by group insurance from a paid job, we're having to lean on COBRA to bridge the gap until we get our private insurance in place. COBRA for us is going to cost us $1,100 a month for medical, dental and vision coverage. We've already applied for independent insurance through a major carrier and it'll end up being $550 or so a month for the premiums but with a high deductibility. But the good news is that I expect my business (the one I'm running to replace my job… 😉 ) to pay for it — a favorable tax move!
Claim unused vacation: I was pleased to find out I still have 2 and a half days of pay coming to me.
Look at retirement plans going forward: We're funding a couple of new retirement plans: SEP-IRA (for last year) and maybe establish a Simple 401K this year, as suggested by our tax guy. Again, our fledgling business should be eligible for either of these plans, now that it's earning a wee bit of income.
Move a 401K into a rollover IRA: It's something to consider, but weigh the pros and cons. Most of the time, it's the right move to make.
Check into accrued benefits such as ESPP plans, stock options, flexible spending plans (FSAs), commuter benefits: The flip-side to having great benefits at work is that there's more stuff to worry about when you go.
Will your ESPP stay intact? It's one of those things that usually stays put.
Do you have stock options you're required to exercise within a certain time period?
Spend away your FSA before you go or you'll lose your accrued funds!
Don't forget your commuter benefits in case you've got such an account. This is a popular benefit in cities, particularly San Francisco, but I'm not sure how common this is elsewhere. My commuter benefits program is the kind that allows me to put pretax funds into a pot, but if I don't reclaim them, they'll be lost forever.
Are you expecting a bonus? Most companies require that you are employed when they hand out bonuses, but it wouldn't hurt to find out if you're eligible for a pro-rated or any other form of earned bonus upon your departure.
#5 Transition out your work.
If you've got unfinished projects hanging around, make sure there's someone else to take over your work. The standard procedure is to provide 2 week's notice and offer to help with any transition plans.
#6 Have your exit interview.
My exit interview turned out to be very casual as I chatted with my former boss about my future plans plus some insights on my experiences with the company. But regardless of how it's conducted, it's always a good thing to keep the interview both honest and constructive, even if you may be hard-pressed to give purely positive feedback.
So that chapter is closed. On to the new one! 🙂

Image Credit: Quitsa.org
Copyright © 2008 The Digerati Life. All Rights Reserved.