I'm really being facetious here by posing the question and bringing up the possibility of earning a six figure income online. Is it possible to do? Well YES and NO. As far as I know, it is entirely possible to make a living off the web and replace your job income on a consistent basis. But whether it's easy to do is another question. I believe there is NO quick way to make six figures online as it entails work and experience. And it takes time to learn the ropes. There are also successful people who will claim that they earn this type of money in their sleep, and perhaps they do. But getting to that point where they are coasting along making this type of money was probably no easy task. It took time / money / luck to probably get where they are, just like with any traditional business or career.
I've been working online for sometime now. I started many years ago and have since learned a ton of things. As a webmaster, I've found that the work is both extremely fulfilling but can also be frustrating on occasions. But if you're hardworking, determined and shrewd, you CAN find success at the online game.

I've also reiterated before that being a web publisher is NOT for everyone. The web attracts a lot of souls, given that there are so many opportunities here. But just like the real world, you'll have to compete, and only the strong survive.
Which online methods lend themselves to a six figure income?
I thought to give my opinions on which online activities may be worth exploring as a business. From what I've observed, more and more people are attempting to earn a living online. Some folks focus on one venture while others have several irons in the fire. It's entirely reasonable to expect earnings of $250 to $400 a month when you've set up shop on the net. Sure, it seems like a far cry from six figures, but it depends on what it is you'd like to pursue. If you treat your work as a true business, then you've got a shot at reaching that "magic" level. Of course, there are NO guarantees that it will happen and you could just be wasting your time and money to be going down this path, but that's precisely why it's a good idea to get some feelers out, to start gradually, and to build things up slowly. Don't quit your full-time job just yet and think first about supplementing your income rather than replacing it. Take those baby steps first.
The reality today is that as time passes, it gets harder and harder to run an online business as the barriers to entry increase. There's simply more competition and the marketplace is crowded. Despite these realities, increasing numbers of people will continue entering the fray to seek their fortune. Let's take a look at a few online opportunities and check out their earnings potential.
eBay, Ecommerce and Online Retail Sites
eBay.com is easy to use and they have online help. A lot of ecommerce site owners have done quite well: just check out Etsy.com and other standalone retail sites. Also, look no further than deals sites or coupon sites to see just how popular these niches are. If you're setting up shop, don't forget that a digital camera is necessary for uploading photos of your products. 6 Figure Potential? Yes.
Blogging
You can decide to try pay-to-blog sites, where you can get assignments paying $5 and up. To do this successfully, you have to enjoy writing and be able to meet deadlines. Check out such sites as blogsvertise.com and payu2blog.com. Note that this is not the way to make good money. You may do better if you create your own blog and run it as a real business. But it takes time to develop and can amount to a whole lot of nothing if your site fails to get traction. For some inspiring stories, check out our popular make money blogging article. 6 Figure Potential? Yes.
Freelance Work
If you are a writer, editor, illustrator, webmaster, or someone with similar skills, you can make money through freelance websites such as ifreelance.com, elance.com, and simplyhired.com. You'll need to post a profile and bid on jobs. This can be frustrating as the pay can be low and some jobs are never awarded. Freelancers who go this route say that it can be feast or famine when bidding for work this way, perhaps getting no leads one week but several in the next. So perseverance and planning are definitely necessary. Now if you have some serious skills, you can always go for a full time position at an Internet company. Such companies will probably pay you a heftier salary right away. If you're in this position, you can ask yourself: would you prefer to be self-employed or an employee? 6 Figure Potential? Yes.
Online Surveys
Some people have immersed themselves in this form of online activity. They say that the time spent taking the surveys can be very cumbersome in relation to the pay. Some pay as little as $1 or $2 for a 20-30 minute survey. Payouts for surveys can be as high as $15, but those are few and far between. Someone commented on my personal finance blog that she made up to $300 per month doing surveys, so apparently, some folks find this worthwhile and enjoyable as an activity. Sign up with sites such as surveyspot.com, surveysavvy.com, and creationsrewards.net for opportunities. 6 Figure Potential? No.
When trying to find paying jobs online, you should always use your head and proceed with caution. A good rule of thumb is this: don't pay to sign up with any online moneymaking services, and do some research before signing up.
Do you have what it takes to earn six figures?
Let's turn to a bit of humor on the subject. Now while not all bloggers want to make money, many certainly do. If blogging for money is part of your financial plan, or if you just want a chuckle, then you may appreciate this cartoon which I encountered at My Two Dollars. It was just too adorable to pass up. With enthusiastic permission, republished from EngTech.Wordpress.com: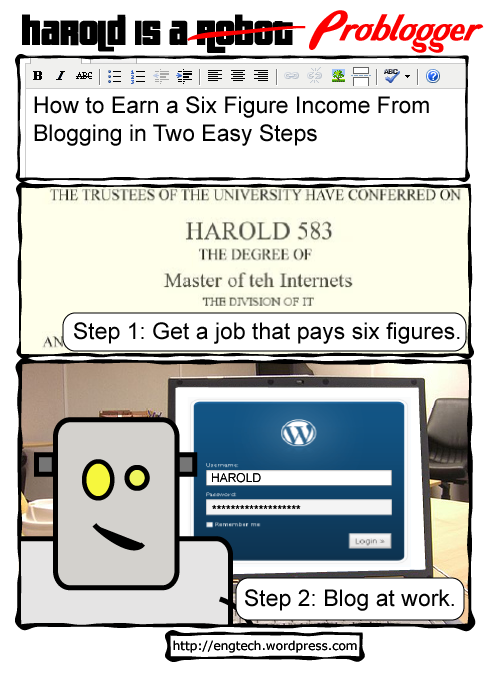 On this note, for the blogging hobbyist, what could be more exciting than turning one's skills, creativity and ideas into a full time pro-blogging stint?
It may be challenging to support oneself full time with online work, and many have to work at it almost 24/7. The good thing about it, however, is that you are only limited by your imagination. If you can dream it up, you might be able to profit from it.
Created October 12, 2007. Updated June 14, 2011. Copyright © 2011 The Digerati Life. All Rights Reserved.