Whether you're looking to make money blogging or just doing it for fun, you'll find that creating a blog can be easy enough to do and master.
Look around and you'll notice that there are a lot of bloggers right now who are earning a living through blogging. Blogs have been a popular avenue for people who are interested in earning some extra income. They are relatively easy to create, with Google AdSense and other forms of advertising offering a few methods for monetizing your blog. There's a bit more to it than just setting up a blog of course, but you'll have to start somewhere.
How To Create A Blog For Fun Or Profit
The first step to setting up your blog is to decide about what subjects you want to write. I always tell folks who are just starting that what you decide to write about makes a difference on how committed you're going to be about this endeavor. So what excites you? In what areas do you have a lot of knowledge? This could have something to do with your work or hobbies — maybe even your personal life or family. If you're starting a blog on a more casual level, then pick a subject and write about it. But if you're approaching this as a business, it can be a whole different story. You'll probably need to be more strategic about the type of subjects you want to tackle — to see if those topics will "monetize" well (e.g. monetize = translate into some dollars).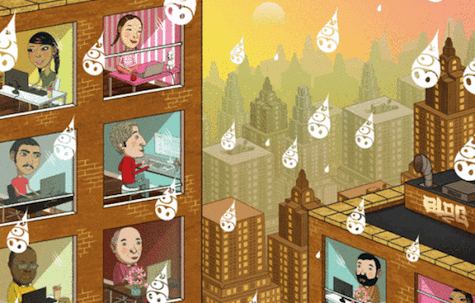 Image from sfgate.com

At any rate, if you're learning the ropes, you'll want to get your feet wet by trying out blogging software such as those offered by Blogger.com or WordPress.com. These are among several free blogging communities that you can join, if you want to go about blogging without having to fork out any money. Later on, you may think about hosting your own domain, and if you do, you'll need to deal with a web hosting service (here's where you can find the best web host). If you decide to go this route, you'll be paying for your blog's upkeep, but you'll also have better control of your blogging environment. Most serious bloggers sign up with cheap web hosting service providers and run their blogs this way.
Write Quality Posts
If you love to write, then this should be easy. It's probably a good idea to assess what kind of goals you have for your blog. Why are you writing? Who are you writing for? It'll help you focus on a certain theme and allow you to fine tune the content that you create. You'll do well if you're a creative soul. Being unique is also a good thing — it's best to try to write in a way that makes you stand out. Using pictures, videos and other creative elements can draw your reader's eye and help make what you have to say (and express) memorable. There's a lot of freedom here, so don't be afraid to try things out. See if you can find a "voice" and establish a "vibe" for your blog; developing your blog's identity can help you develop its brand.
How Do You Monetize?
When you've got enough traffic, you could explore the possibility of making some money on the side. A lot of people are surprised that you can actually make a living off of your blog, but it's very possible! In fact, the proprietor of this blog, The Digerati Life, is a full time blogger and has traded her software career for internet entrepreneurship (you can read more about her story in her About page).
So how can you make money? There are various ways you can do so, but let's start with the most popular: sign up for Google AdSense. If you're a Blogger.com blogger, it's even easier, since your blog is already integrated with Adsense. If you run a WordPress blog, then there are a lot of plug-ins to help you improve the process of incorporating Adsense into your site. The key is to do some research and find out the most optimal way for ads to fit into your site. It may take some trial and error (each blog is different so there's no "one size fits all" answer here), but hopefully, you'll find an optimal set up that will earn you some bucks.
Follow Other Blogs
Once you start blogging, I'd recommend that you also think about joining a community of bloggers and try some networking. I would suggest that you check out your online neighbors and read other blogs. Find ones that you are interested in and begin following them. Leaving comments and linking out to other bloggers are great ways to get involved in the blogging community, especially if your goals are to share ideas and disseminate information with others. This is what makes having a blog such a fulfilling experience: it allows you to get to know like-minded people or those who share the same interests that you have. It also affords you opportunities to learn from others.
Change It Up!
Don't expect to make money right away — certainly not thousands of dollars on your first month, or maybe not even on your first year as a blogger. The key to creating an income stream through blogging is to be consistent. Create blog posts every week. Update your blog monthly. Change the layout or theme every so often. As you continue sharing your unique ideas, you will begin to see more visitors, and hopefully, your ad revenue will increase. Just be persistent and stick with it!
Integrate Other Social Media Strategies With Your Blog
Once you're able to stick to a consistent blogging schedule, you may consider using some social media channels to help promote your blog. Set up a Facebook and/or Twitter account. These are both great social media outlets you can use to meet other people and to introduce your blog. Many people use social media networking to build their community (or belong to one), as well as to socialize. If you love to network, then you could very well become a success at blogging!

Contributing Writer: Selena
Copyright © 2010 The Digerati Life. All Rights Reserved.