Back in 2006, I found myself getting started with a small business idea and launching a personal finance blog. To get my business ideas off the ground, I discovered quickly that I needed to learn some new technologies that will allow me to create a presence on the internet. Here's what I expressed back then:
Right now, I am learning to walk before I run. I've discovered that every day, there's always something to absorb from cyberspace that will help shape my site's goals. Granted I'm a novice, but I'm hoping to ramp up on my blog design in a few days or weeks. I wish I had a mentor who could teach me some of these things one-on-one, but for now, I must be content with the vast resources of the web to help me with my modest blog design attempts. This will be a work in progress for a good long time! I have realized a few things I thought I'd share. If you are a noob at this, you may want to keep these in mind:

you will never be content with your initial blog template
your initial attempts at configuring your layouts will fail miserably and will, unfortunately, suck
you will be frustrated and will be resigned to hair ripping moments
you will need to save your templates

often

you will need some basic editing tools to help you
you will want to defer adding too many custom doodads to your site until after you've settled on a basic layout
you will appreciate web designers a hell of a lot more than you did before
you will no longer be stunned by the stratospheric fees web designers charge

The ironic thing was that I used to work in the software industry as a software engineer who built intranet applications, and it turns out that I still had to go through a learning curve in order to become a blogger. Granted, the technical stuff was not too hard to pick up (many non-technical people are very successful at it, after all!). But keep in mind that running a website as a business (or hobby) does entail learning new technologies that support a blogging platform, a blogging theme framework, a server environment and even a bug or project database, and more. Little did I know back then that I was setting myself up for a full blown enterprise. And yes, I am just one person!
There are certainly many, many moving parts when you are designing a blog or a website. But here is my short list of things I would do to get going:
How To Design Your First Blog
1. Do some research and start learning about Blogging. I've referred to material from WordPress.org off and on. You can also check WordPress.com and Blogger.com for ideas — these are built-in blogging communities that may give you some ideas about this particular online activity. You'll be amused to know that even my own father, who was not entirely technically savvy, started a blog of his own that did quite well while he was actively managing it. If doing the technical set up is not your idea of fun, but you'd like to freelance as a writer or content provider anyway, then check out sites like Squidoo.com, HubPages.com and Helium.com for other possibilities. If you're still dead set on blogging, then read on!
2. Check out sample blog themes. There are lots of free resources out there. You can, of course, use Thesis, which is what I use for this site and a few others. It's highly customizable, but does have a cost (which to me, was well worth it).
3. Think about the user experience for your site. Pin down your "look and feel". What kind of vibe do you want to generate — do you prefer a casual look or a more formal or professional feel?
4. Determine your navigational flow. Will you use tags, archives or categories? I prefer the latter two. Just don't overdo this, as it would erode your user experience.
5. Identify the important elements of your site and design for those. These would be the menu, content, footer, sidebars and whether you'll include social media elements or advertising.
6. Think about creating a custom design. You can always hire a professional designer to do the work for you. You can hire them from freelance sites or meet them through other webmasters.
7. Produce wireframes to visually lay out your site. This breathes some life into your concept.
8. Storyboard your site and create drafts from your wireframes. This step helps to develop your concept further.
9. Execute your design drafts. If you've got the technical know-how, then you can just jump right in and start working on your CSS and PHP files. This is a rather time-consuming exercise so you may want to hire someone to do the work.
If you are just starting off, I would recommend that you don't do all of this at once. I would start out slowly with a built in FREE blog theme and learn the different elements of the "out of the box" framework that it has. As you get more experience on running and maintaining a blog, then think about customizing your site further in order to develop your own brand and to go for something more unique. Just to give you an idea how my site has evolved, check out the picture below. This was the very first iteration of "The Digerati Life" when I first "built" it. I used a blogger.com (blogspot) theme and had a totally different name for the site back then, which completely betrayed my inexperience and naivete. Don't ask me why I used this name to start with; my best explanation is that it may have been because blogs back then were deemed "cute" and "personal". 😉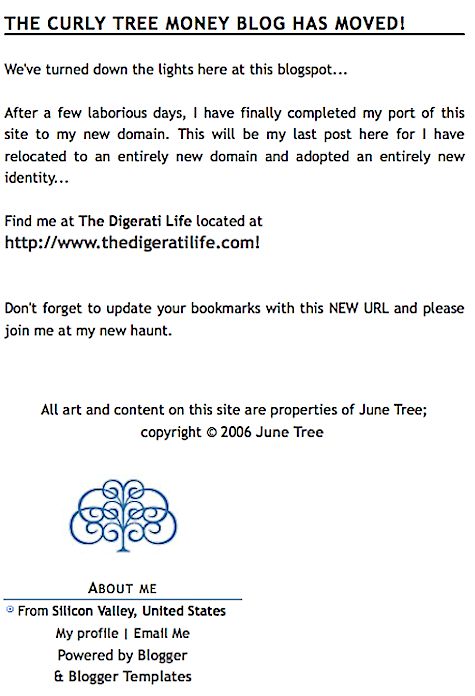 As you can see, there's nothing the least bit "sexy" about my first blog design. But you can check out the blog design evolution of my site here. Since my initial ruminations on this matter, I went through a fairly productive and eventful journey towards creating an online home business, and eventually found a way out of cubicle employment.
Created August 5, 2006. Updated September 1, 2011. Copyright © 2011 The Digerati Life. All Rights Reserved.