Every so often, The Digerati Life goes through a few changes to address improvements that our readers have been asking for. It's been a while since we did a major overhaul here so it was time to get a new look in and I hope you like it! So today, I will be sharing with you a little of our design history and theme changes. 🙂
While working on the new design, I couldn't help but think of what a long and fun road it's been running The Digerati Life. The personal finance blogosphere has evolved since I started down this path, with many bloggers coming and going, but I've always appreciated just how diverse, yet organized, this little corner of the web was. What more, I never fail to learn something new on quite a regular basis.
A Stroll Down Memory Lane: Our Design Evolution
Just for fun, I'd like to share a few snapshots from my album: here's how this blog used to look in the first couple of years of its existence —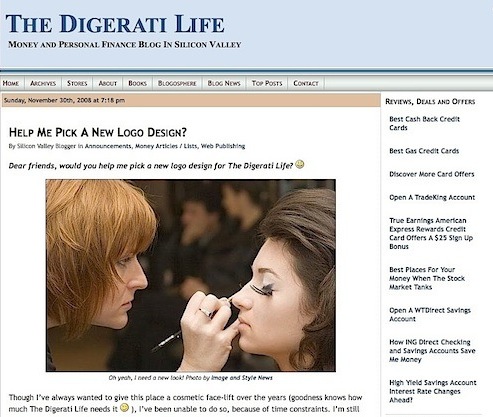 During those days, readers and bloggers always assumed I was a male blogger in my 20s, so I thought about dispelling that general impression by picking a new logo. Then when the Thesis blog theme started to become all the rage, well I buckled under the peer pressure, and I followed suit and picked up a Developer Membership. This is what I used it for, initially: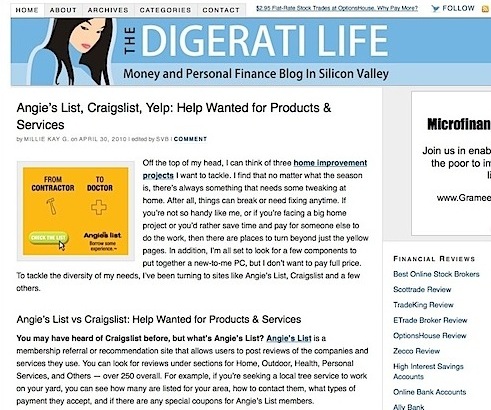 If you want to check out the Thesis theme, here's where to go for more information. While a popular theme, it is not free.
Right now, I'm still using Thesis, with just the design revamped. I like the theme not just because it's the theme du jour, but also because it's very customizable, as you can see by simply hopping around the PF blogosphere for a while and taking in all those unique designs. I suspect that most everyone I know is already using it. 🙂 As for this new layout — I was looking for a more flexible way to grow out The Digerati Life so I'm hoping that I've laid the groundwork for a more "open" foundation that will lend itself to more bells and whistles in the future. It's going to be a busy summer!
Copyright © 2010 The Digerati Life. All Rights Reserved.