If you've landed here, then it's either Christmas or you're looking for something "cute". If so, then welcome! While I run a personal finance blog — you can read more about me here — I am also pretty merry most of the time, and keep up to date with the greetings.
Allow me to greet you with a Christmas cheer. I've decided to archive my Christmas greetings each year on this page for posterity and to present some of the most recognizable and iconic characters that filled my childhood as my holiday well wishers here. My wishes for a great holiday season to my readers and visitors ring loud and clear. Check out our Christmas album throughout the years!
Peanuts Christmas: 2011
I remember how fond I was of Peanuts as a kid. So I thought to bring you some caroling from the gang this time around!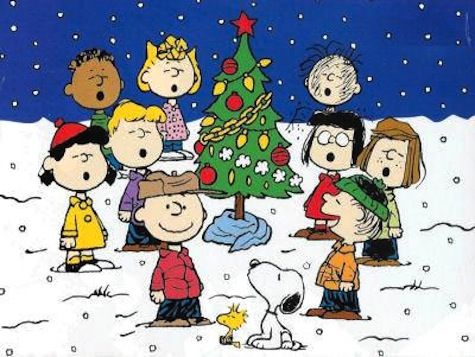 Here's something I find really cool: in 2010, I featured Tintin in our Christmas album (see below), not realizing that he would eventually turn into a full length 3-D movie by Steven Spielberg this year, right during the holidays to boot! We're definitely catching the show soon.
A Tintin Christmas: 2010
Christmas is a time for kids and family — a time of remembrance and of reflection. One of the things I love to reminisce about is my childhood, which I spent in an entirely different world and culture. I grew up in a very loving family where I was lucky enough to have been cherished by wonderful grandparents.
One of my favorite childhood memories was how I first developed an interest in reading. I still remember the day when my maternal grandfather brought me to a book store right by my ancestral home. In that bookstore, I made my first purchase of a comic book that belonged to a popular children's series: The Shooting Star, which was part of the Adventures of Tintin series. Thus begun my lifelong love for Tintin books. I remember not understanding the entire story quite that well (I was 8 years old at that time), but I found myself hooked to the art and obvious humor of Herge (the author). I began my Tintin collection soon after and to this day, I am a huge fan who aims to share the same fun and enjoyment of these books with my young kids.
Have Yourself A TinTin Christmas
Tintin is an interesting comic strip that has been criticized for having some politically incorrect undertones. However, I choose to enjoy it as a peek into the life of a European sleuth, that mostly touches on fantasy and history. Today, I'd like to present these Tintin Christmas images — with Tintin, Snowy and the rest of the gang (Captain Haddock, Professor Calculus and the Thompson twins). All the images here are from the Tintin Facebook fan page that I am a proud member of: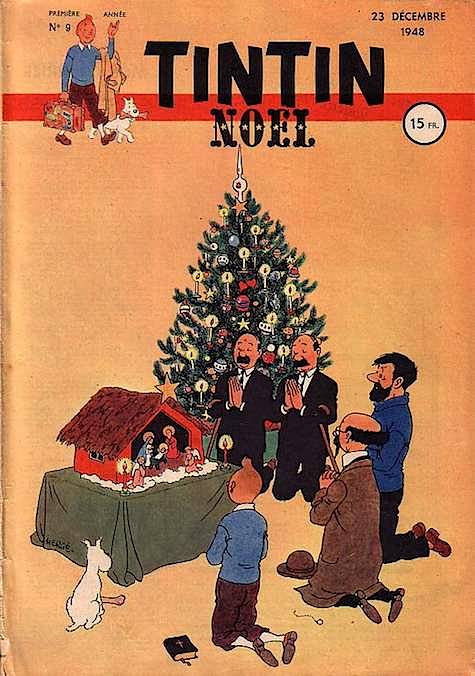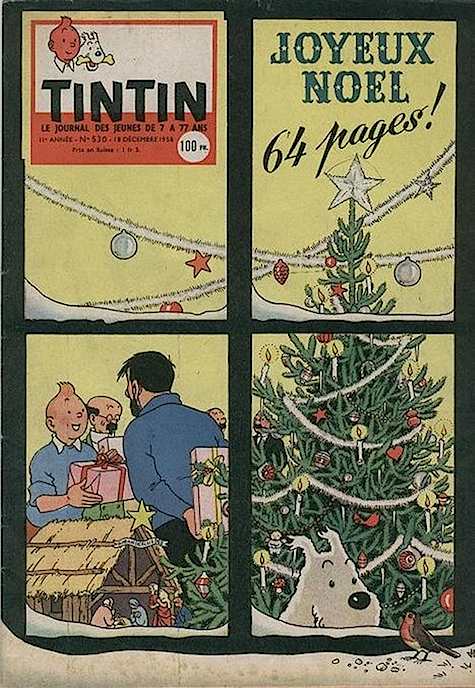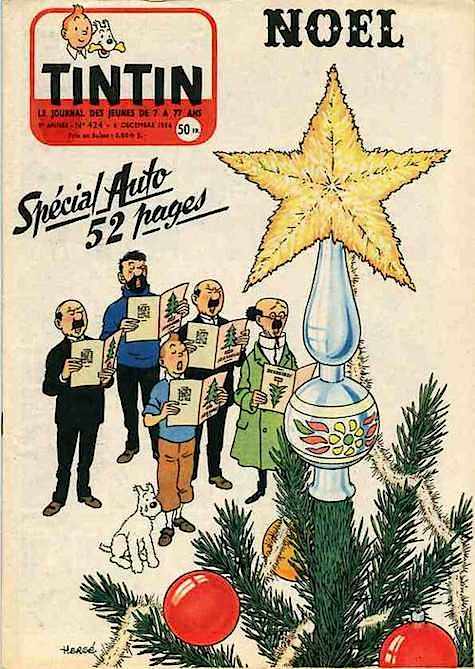 If you like Tintin, there are more of these where they came from, but I'm not quite sure what their origin is: I don't believe they are genuine Tintin books or covers (but I could be wrong). I believe that many of the photos you'll see in the Facebook album are works of artists who are inspired by Herge and who create Tintin art as a tribute to an exceptional book series.
Even though my grandfather is long gone, he left this legacy (which is one of so many). I'd like to thank and honor those of our loved ones who've passed away and who've made our lives happy. Let's draw a positive memory from our past and hold on to it, or make some great ones, especially this time of year. Life is short and I'm growing older, so let's have some fun. 🙂
A VERY MERRY CHRISTMAS to everyone!
Happy Holidays 2009: More Santa Cats
It's great to be able to wish you all another Christmas for the fourth time! Yes, this is our 4th Christmas online… geez, how time flies. As usual, we had our traditional family Christmas party yesterday with our extended family. And as I am wont to do, I am letting a couple of furry friends pass you our holiday sentiments!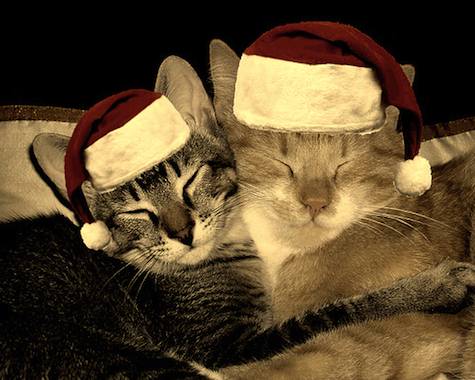 Beautiful cat photo by Tuija2005.
Wishing You All A Merry Christmas and Happy Holidays!
Merry Christmas 2008: Cute Hamster Overload!
We begin to celebrate Christmas on Christmas Eve. How do you celebrate this special day at your house? Ours goes like this:
We have a great night of partying and good food with relatives and old friends. I make sure that the kids don't overturn the furniture as they run around the house. There's the constant din of non-stop family chatter. We then culminate the celebration with a frenetic exchange of gifts that leave us all truly merry. This year, I'd like to "share the cute" with you all!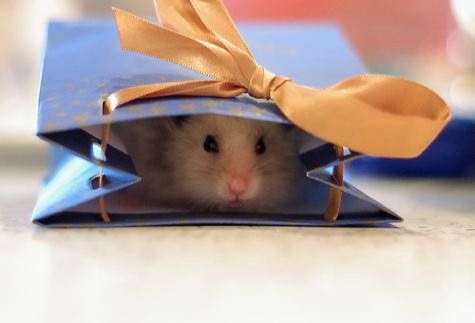 Many thanks to Annia for sharing her pet, Puschi, with us today.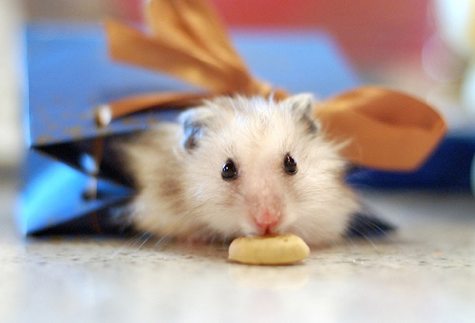 Photos by Annia
Wishing you all a truly joyful and wonderful Christmas Day!
Our 2007 Christmas Greeting: Funny Cats
We're celebrating pretty heavily these last couple of days so I may be "out of it" for a while… 😉 well, until tomorrow I guess. But I'd like to wish you all a very Merry Christmas and best wishes for the season.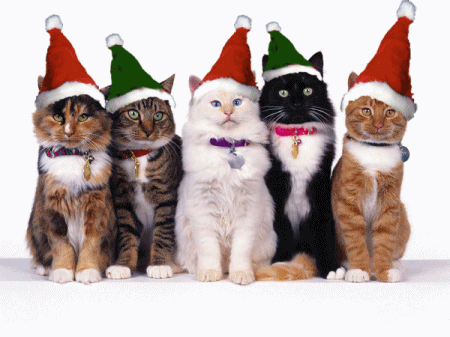 Image Credit: MySpace cats
Our wholehearted appreciation and thanks to all of you for your readership, support and friendship. Have a wonderful Christmas!
Enjoy Your Day!
Created December 25, 2007. Updated December 24, 2011. Copyright © 2011 The Digerati Life. All Rights Reserved.