There is at least one conference that I am compelled to attend each year, being a personal finance blogger and especially one with the "Silicon Valley" bent. It's an annual conference that covers the coasts — one is held in the Spring in the SF Bay Area, and another event takes place in New York.
I'm talking about the Finovate Startup annual conference that is held in San Francisco, usually in the Spring. Finovate is a conference and event that gathers together representatives in the personal financial space, revealing the technological innovations and newest updates on financial products created by startups, companies and institutions alike. I have only been lucky enough to attend one such event yet thus far, but I aim to make it to these events on a regular basis, going forward. My buddy Lazy Man and Money has had a chance to cover it quite thoroughly in years past, and he tells me that it has grown quite a bit over time — even close to doubling in attendance in the last year. And for 2011, the invitation to attend the "biggest Finovate ever" was something I could not resist after all the good stuff I've heard about it before.

It's a great opportunity to rub elbows with a lot of company representatives who are showcasing the newest stuff in technology for the financial space. For 2011, there were 64 demos that were pitched over a hectic couple of days. Take a peek at the participants and attendees who demoed and presented their products: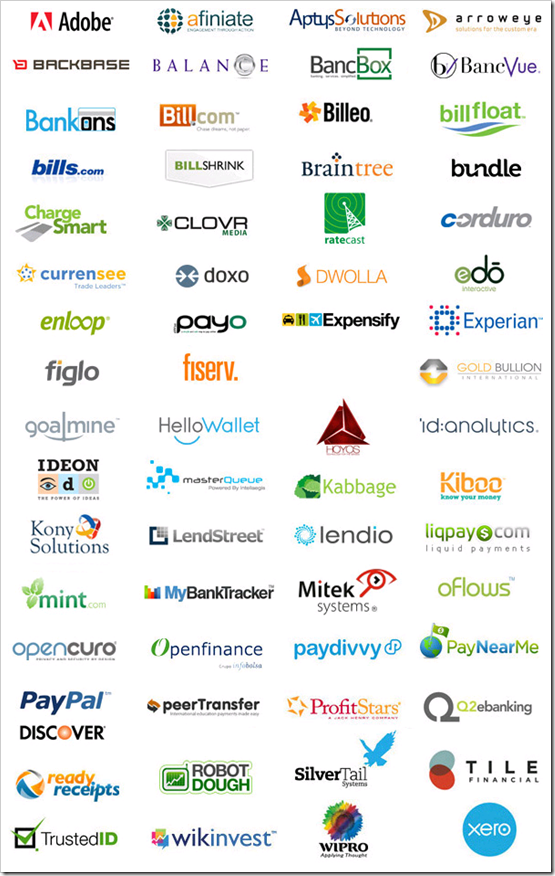 Along these lines, I've also enjoyed attending the SF Beta conference. Both these events aim to expose the new innovations that are percolating in the technology community. As a financial writer, my purpose is to eventually cover the more interesting applications that will be presented. I usually attend these things with the usual blogging gang (that would be Lazy Man @ LazyManAndMoney.com and Cap @ StopBuyingCrap.com). In the most recent event, we kicked off the first day with breakfast sponsored by Adobe and met with many representatives afterward. Being a blogger has its perks! Actually, I just like to take every excuse I can get to hang out with my blogging friends. 🙂
What Can You Expect From Finovate?
If you're curious about what goes on at Finovate, here are a few articles I've written that describe some of the products and exhibitions that are given the floor here. Check out my recent reports from the trenches.
And here are a few more from previous Finovate excursions made by Lazy Man and Money. These were his reports from the 2009 conference:
Something else to note here: because of the startup nature of the companies that appear at Finovate, I've discovered that a certain percentage of participants in years past are no longer viable or existing today. Startups are fleeting and a good number of them come and go in a short period of time. It's a very dynamic sector, so I like the fact that this conference can help you keep up with the status of your favorite small companies.
This is a great way to see which way financial technology is moving. And as mentioned, I intend to review some of the great financial tools and features that are launched and demonstrated during these conferences.
Created April 29, 2009. Updated May 10, 2011. Copyright © 2011 The Digerati Life. All Rights Reserved.