Sifting through several personal budget software solutions.
I'm already a fan of a desktop personal financial software package called YNAB (or You Need A Budget) and am also a Quicken user. But I've also been exploring other financial tools in the web universe. Here are a couple from the online world: they're both green and they're both all about money!
Mint.com For Your Finances
If you're looking for a personal finance online tool to help you manage your money better, there are quite a few out there that deserve your attention. Mint.com is one of those sites that does a great job with analyzing your spending trends plus provide you the ability to work out your budget, categorize your expenses and alert you to activities in your accounts. Through just a few clicks, you can get a top down view of your money in one place!
So far, Mint has garnered well over a hundred thousand registered users and has won several awards, which attests to the tool's popularity. The company's awards include the Webby Awards People's Voice Winner in Banking and Bill Pay as well as in Financial Services, plus their software has also been named as one of PC World's "100 Best Products of 2008".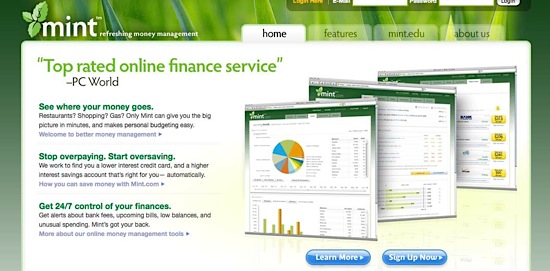 My Stance on Personal Finance Tools
In the past, I recall making the issue of "security" as the one reason I may not sign up to sites that offer these online financial services. I've since become much more immersed and exposed to these types of online financial environments through discussions and meet ups with the people behind the software. And with more familiarity and exposure, I've come to develop an improved level of comfort and trust for such tools.
I've signed on to perform freelancing projects for Mint.com on a part-time basis and have attended a personal finance conference in San Francisco that was sponsored by Strands, Network IQ and Expensr some time ago, where these web services were the big topic of debate and discussion. I've also tried my hand at using these applications and have found that they are convenient, easy to use, informative and above all, quite helpful!
As of yet, these tools haven't usurped my existing system for managing our household's financial affairs, and I doubt they will anytime soon. But I believe there's a place for these services in our financial lives since they do make some fundamental tasks quite straightforward, particularly when it comes to tracking expenditures, budget planning and debt analysis. Other positives include opportunities for you to get better deals in the financial marketplace (as these tools offer financial product suggestions based on your money transactions), and the ability to gauge your personal financial health by comparing your finances to the finances of others in a secure and anonymous fashion.
Wesabe and The Financial Community
When I first wrote this review, the site called Wesabe.com was thriving. Since then, the site has become another startup casualty. But this is what I said about the service while it was up and running — it may be good to review some of the things that DID work out well for this site:
Wesabe.com is another site that offers you an overview of your bank and credit card accounts in one place. The community focus that the site brings into its environment is a feature and selling point that I particularly like. Your data becomes the main point of discussion in their community albeit done so anonymously. General trends in the Wesabe community are analyzed, compared and presented, and the data patterns become the source of sharing among its members.
I also appreciate the fact that I don't have to upload my bank information to be able to participate in this community. For those of us who are antsy about privacy or security issues (imagined or otherwise) when it comes to our money, we very much appreciate the available option to join and contribute regardless.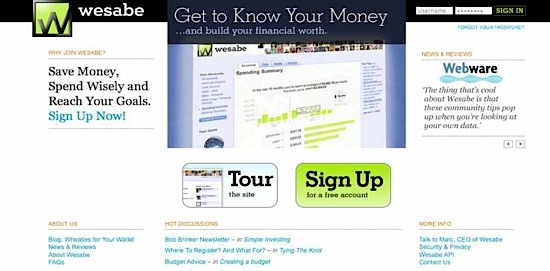 Definitely give Mint.com and Wesabe a visit! I've been keeping my eye on these sites and services for some time and I've seen the great progress they've made over the last year. More and more people are embracing this new technology and seeing their informational, educational and social value. The future of Finance Web 2.0 looks bright!
I'd love to hear what you have to say about these tools — concerns, comments, compliments and your general feedback. I'd love to be able to take some of your thoughts to the folks behind the future of personal finance software.
Copyright © 2008 The Digerati Life. All Rights Reserved.