The following is a guest post by Satellite TV Guru, where you can read about everything you want to know about television. As a couch potato, I can definitely appreciate his site!
In hard economic times, usually the first thing that has to go are the items in your life that aren't necessities. And while television and entertainment are of some importance to overall happiness for a good number of us, let's face it: they're not necessities. But if you cut down the average cost that you spend on television and movie shows, you may just be able to squeeze by without ditching the fun things in life. You can cut your entertainment costs without sacrificing the entertainment by reading this article on free ways to watch television online. And of course, there are also the tips I offer below!
Big Ways To Save Money On Cable Television and Satellite TV Services
1. Get what you need out of your television service.
Check out what you are paying for on your cable or satellite bill. You may have extended cable or movie channels that you probably have never even channel jumped to. Figure out exactly what you want from your cable service — what are you planning on watching? For some of you, having cable beyond a basic package is a waste of money.
But here's where knowing what you need comes into play. Call your cable or satellite company and lay it on the line. Not only can you opt for a more basic package, but you can also opt for a more basic price. In hard economic times, I'd be willing to bet that many people cut their cable expense first. That's good news for you, if you are looking to get a bargain. Call the billing customer service and ask them for a discount. But be prepared: you should know some ballpark market rates and find out what competing local cable companies charge for their cheaper services.
Stuck on what to say? Try this, as I just used it myself two weeks ago:

You: "Hey, cable or satellite company! I'm in a financial bind and looking for ways to cut costs. Unfortunately, your bill is too high and I may have to cut it. I've been a customer for a really long time and hate to do that, but other cable or satellite tv companies are offering me a more reasonable deal! I thought I'd see if you could offer me any discounts on my bill?"

Really Nice Cable Company Employee: "SURE!"
See how easy? Of course, it may not turn out that easy all the time. But knowing how your money is being spent on cable is half the battle.
If for some reason your cable or satellite company can't offer you discounts and you're not contractually obligated to staying with them, you may want to consider checking out Dish Network along with cheaper plans from DirecTV or Comcast.
2. Skip Pay Per View, always.
So you want to rent a movie or catch that special viewing only on Pay Per View. But the cost of Pay Per View is enough to make me cry. Usually, movies start at about $3.99, which is similar to the cost of renting a movie for three to seven days! If it's a special event that you really want to splurge for, that's a bit more forgivable, but do think about it. If you like to watch a movie every Friday night, you are adding about $16 to your monthly bill. That's quite a difference!
3. Check out video rental services.
If you do find yourself frequently scanning the new releases, then check out video rental services. Services like Netflix or Blockbuster Online can be a great way to save on your entertainment costs. Netflix has service options available for as low as $4.99 a month. For those who don't watch television frequently and are very busy, this option could even replace your cable costs.
Think about it: for just $16 a month, you receive unlimited movie and TV show rentals and movie streaming capabilities (also unlimited). This is an amazing deal! Especially if you have an XBox 360, where you can now rent Netflix from and stream directly to your television. You can even purchase a Roku player for a one time $99 fee; with this, you will have the capability to stream directly to your television. For those of you who don't mind waiting to catch your favorite television series on DVD, this is something to strongly consider. Check out this full Netflix review.
4. Make going to the movies more affordable.
For some of you, going to the movies is a pretty important event. This is something I can understand. Being a movie buff can be pricey though. So for some basics: skip the snack bar. I know, I know. The popcorn smells absolutely delicious. But not only is it high in calories, it's high in price. So instead, pack a wide variety of snacks from home, including drinks, and tuck it in a bag.
Skip the more expensive, night time movies and opt for a matinee. It's cheaper and usually quieter!
Look out for coupons to the theater and check their website: your theater may offer cheaper prices for tickets purchased online. Sometimes, Fandango has promotional deals; however I wouldn't recommend buying your tickets there on a regular basis because they charge an extra $1 a ticket as a fee.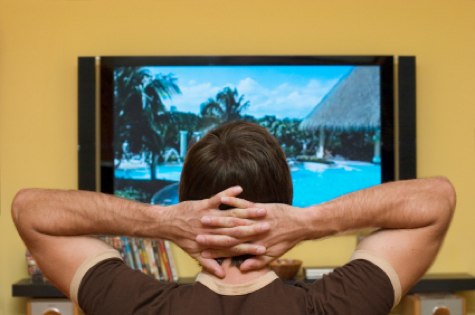 Image from WCCA TV13.
5. Check out other resources.
A lot of people forget about other local resources in their neighborhood. Particularly in the summertime heat, a lot of local towns and organizations may offer free movie viewings in the park. Check out what's playing, pack up a cooler, and take your blanket. What better way to watch a flick than to do it for free? This is also a great option for those of you with children who aren't quite ready to take their kids to the theater just yet. It's certainly a nice way for the family to enjoy a show (outside of the house).
Check out your local library. Many libraries have a wide selection of DVDs available for check out. While they may require that you return the movie sooner than your books, it's another great (free) option.
Finally, organize a movie night with friends! Everyone can bring a favorite movie and snack to settle down, hang out, and catch a movie. It can be a great way to see new movies that you may never would have tried to see, plus getting together with friends is just plain fun!
Don't let the cost of entertainment and cable get you down. Just look for alternative, new ways around this and who knows, you'll probably make your life that much more exciting!
Copyright © 2009 The Digerati Life. All Rights Reserved.