Today, I'd like to present a few sites that can be a feast for your eyes. Seems like there are quite a few sites out there that do a fun job of adding some whimsy to cloud tags and search engines. Here's a short list of these web destinations. What do you think of these sites? Are they useful or just a gimmick?
Visual Sites To Use For Cloud Tags & Basic Graphical Search
#1 Wordle
Thanks to the blog, Five Cents Ten Cents, I decided to create some fun art work using money words and other tags we often use around here 🙂 . This cool word art is by Wordle, where you can make your very own beautiful word cloud.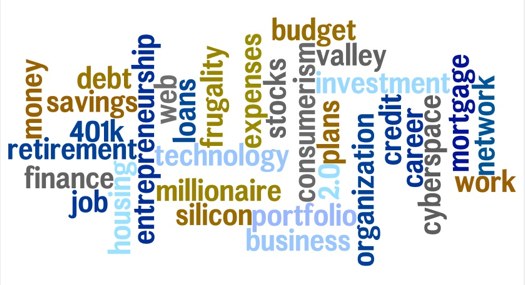 Neat huh? Now let's look at a couple of graphical search engines that can be rather visually stimulating.
#2 Spezify
Have you seen this new internet search site yet? I got to playing with this fun, visual search web site called Spezify, which promises to be colorful, though I'm not sure if there's anything more value added here, other than the cosmetics. Well technically speaking, it's not a search engine per se, but a site that serves as a pretty front for your searches. Here's an example of some results I got when I searched for myself: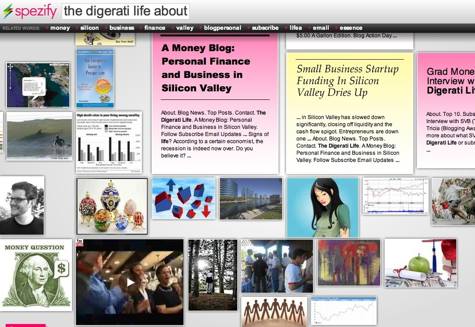 I find it pretty neat — it's definitely a novelty, but I'm wondering just how practical and functional it is. It reminds me of Wordle, which I also find graphically appealing. I like the cool presentations and the creativity here, and I can see the appeal of these applications on those who can appreciate some great visuals. I'm already thinking of the implications.
#3 Redz
This particular search engine is a lot more primitive than the rest, but it attempts to be visually attractive as well. Unfortunately, it isn't as practical nor as pretty as the others, but at least it's somewhat functional. I came across other search tools that were just entirely unattractive and had very little redeeming value. Several other search engines that were written up or reviewed have shut down, which is a sign of how competitive and challenging (or maybe thankless?) the work in this area seems to be. So I'd have to give a nod to all those who are doing this job well. Check out Redz.com.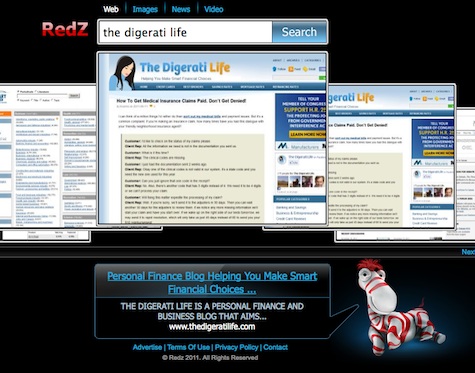 Speaking of internet search engines, what do you folks think of Bing? Is there finally a reason for Google to look over its shoulder? Here's looking forward to more online competition, especially among the search engines!
Created July 27, 2008. Updated July 27, 2011. Copyright © 2011 The Digerati Life. All Rights Reserved.