You won't have to look far to find various free stock and financial tools that are available at your fingertips. You can find them by just scouring the web. For instance, there are various brokers offering free investment education, as well as stock research sites like Morningstar which can give you free access to market information. But a couple of free charting applications are also available through non-financial entities — in fact, these are search engines that have entered the financial realm. Given how well-known these companies are, they've capitalized on their size and influence to infiltrate the financial application arena. These are Yahoo! Finance and Google Finance. Do they live up to their household name?

I'll start by explaining why I like using these tools. First, I enjoy keeping track of financial news through these sites. Second, both Google and Yahoo offer a Portfolio Section that I find useful, without having to frequently log into my Scottrade account. Even though I spend a lot of time online reading financial news, I'm not what you would call a day trader. I trade when I feel the opportunity is ripe, whatever day or week that may be. I have certain core stock holdings, and I like to know where they stand.
Yahoo! Finance vs Google Finance: Main Pages & Layout
When you visit Yahoo! Finance Home, you'll find that it's well organized with a news magazine style layout. You'll find various financial news stories at its core, along with various quotes for market movers and currencies. I like the market summary, with separate tabs for European and Asian markets. This summary is easily customizable by simply clicking a link. Furthermore, hovering your cursor over any of the Summary entries brings up a daily chart, which, when clicked, will take you to the Charts section.
The menu area sports several tabs. Clicking on My Portfolios allows you to create one or more portfolios, from where you can watch stocks and indices of interest. Your default view may be adjusted so that you can focus on your personal portfolio rather than "Recent Quotes". Other features of this page will connect you to more specific information, applications, or platforms.
On the other hand, Google Finance has a simpler layout and seems to be cleaner in appearance. Google presents a clean interface that's also pretty functional. They've got market information and news. And then there's the portfolio set up section as well as a stock screener which you can use to research stocks based on a few criteria: Market Cap, P/E Ratio, Dividend Yield and Price Change. There's also something unique here called Google Domestic Trends, which provides transparency to search traffic in various economic and financial sectors. Here, we can see how Google traffic trends may point out which sectors are of interest to the public at any point in time.
Your Portfolio Set Up
With Google and Yahoo both, you have the freedom to set up multiple portfolios. With this format, I can easily see the latest market activity, and my portfolio movements for the day. The set up is straightforward: you can include data such as how many shares you hold, the market value of those shares, and dollar and percentage gains. Depending on what you find relevant when looking at your holdings, and how wide your screen is, your Google Portfolio section might look like this: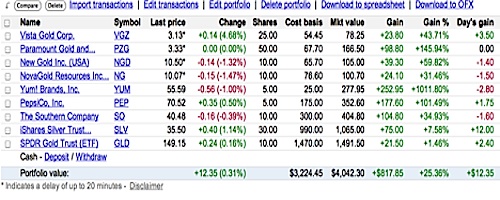 Google Finance Portfolio
Yahoo! offers the same information in the drop down tab "My Portfolios". Several views are readily available, as is the ability to create your own view, with the last tab.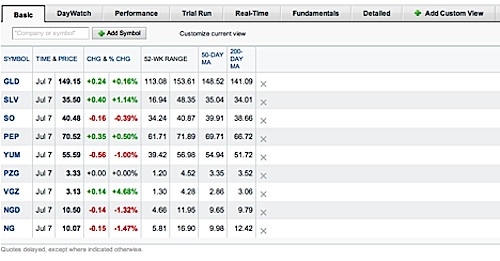 Yahoo! Finance Portfolio
A Look At Charts and Technical Analysis Support
I like using charts and tools that provide me access to technical information that can assist me with my stock research. With regards to chart histories, both applications have pretty good interfaces, but let's look at where they differ a little. With Google Finance, I've realized how easy it is to compare the performance of my portfolio with any of the major indices. I can create a chart where the information is color-coded. My holdings are in blue, Dow Jones in red, S&P is in orange, and Nasdaq is in green. At this point, it seems that my portfolio is doing quite well and outperforming a lot of the major indices.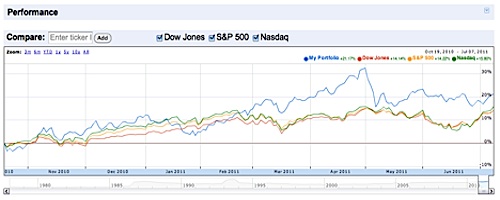 Google Finance Comparison Chart
This is fun to look at, and a feature that exists only on Google Finance. Note, however, that both Yahoo! and Google allow the ability to drill down on the stock's name or its symbol on the portfolio list. Clicking on the stock's name takes me directly to that stock's chart, which is helpful.
Now let's take a look at both Google's and Yahoo's support of technical analysis. By using the Google link to Technicals, you can work with technical analysis tools such as Bollinger Bands, Volume, the MACD, RSI and a Slow Stochastic on the chart. At Google Finance, once you set the technicals on one chart, they appear on all the charts you work with. This is a very user friendly feature.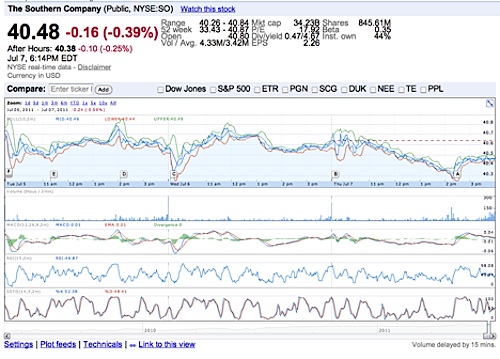 Google Finance Technical Analysis Indicators
With Yahoo! charts, the technicals are readily available by clicking an indicator. Unlike Google, the indicators are not saved, and every time you log in, or visit another chart, you must reset the technical settings.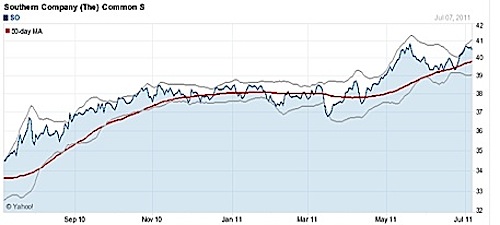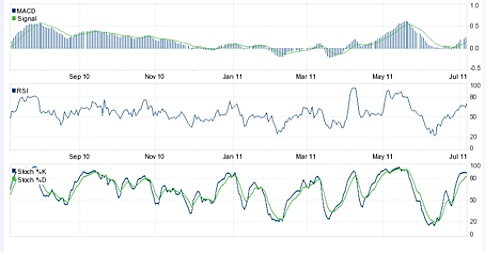 Yahoo! Finance Technical Indicators
The Verdict
The layouts are very similar with a few exceptions. Both sites offer much of the same information, only displayed and accessed differently. Both sites offer ease of use and access to news, charts, technicals and even options chains. While I could easily make an argument for either site, the similarities are enough to bring the deciding factor down to personal preference. If this were a horse race, it would be a photo finish, and for me anyway, it would be Google Finance by a nose.
Created March 28, 2007. Updated July 10, 2011. Copyright © 2011 The Digerati Life. All Rights Reserved.