Musings on stock market investing.
I was indulging my regular surfing habit and came upon yet another insightful observation by Monevator, this time, on the (de)merits of technical analysis. I've found that many bloggers and investors of my persuasion are usually critical of technical analysis, especially as we've embraced index investing, asset allocation and passive or long term investing as the prudent ways to invest. But since I've begun blogging about personal finance, and have the opportunity to read countless financial and investment articles and posts on a daily basis, I've come to relax many of my opinions and views about finance. In the case of investing, as with many other topics, I've begun keeping a more open mind.
Monevator is of the camp (along with one of my all time favorite bloggers, Golbguru, who's been sadly quiet of late) who thinks that technical analysis is a bunch of mumbo jumbo, or as one of them says, "a load of bull and bear crap". I suppose it's because it seems much like reading tea leaves: check out a bunch of charts and wield a ruler and voila, you've got some answers! Seems a bit far-fetched maybe?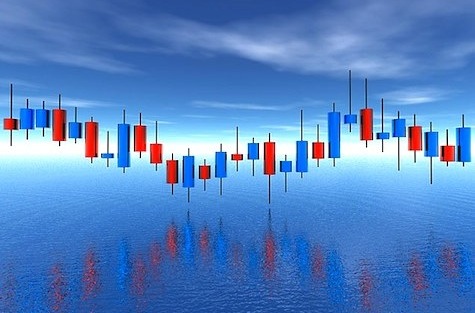 Image from Free Forex Signals
Thoughts On Technical Analysis of the Investment Markets
For me, the jury for this kind of investing analysis is still out. I may want to expound on this another day, but for now, I'll say that I like to spend an inordinate amount of time at online broker sites, reading the investment forum chatter and "dabbling" in a little trading and technical analysis. I haven't particularly discounted this form of analysis completely. In fact, I've been studying it for the sake of seeing a different perspective on investing, and have picked it up to try to understand current and past market behavior. As far as trying to predict the future based on the past? It's all guesswork of course, but both stock market technical analysis and fundamental analysis attempt to provide perspective about what may potentially happen down the road with a given market or security.
I actually lean on both approaches (with varying degrees of confidence) along with a whole lot more (intuition included) in order to determine my next moves for my investments. And while I don't rely on technical analysis exclusively as a way to make money off the markets, I believe I've become a better investor and have learned a lot more about how any market works, thanks to getting a little bit more educated in the concepts used by short term traders and active investors.
The point here for me is whether technical analysis can "help me with my game". I think it has, but not in the way you'd think, since I don't trade that much. I'll just have to say "it works for me" in so far as providing me additional knowledge about how the various investment markets work and how investors and traders "play" in this universe. I pretty much use it for the educational value. I just view it as a way to get a big picture read on investments and a nice way to try to gauge market sentiment.
Copyright © 2009 The Digerati Life. All Rights Reserved.