The real estate market has been the black sheep of the financial world since the summer of 2008 when the real estate bubble burst to cause the American economy to plunge into what many feared would be the next Great Depression. But as you can expect with the economy and the markets, what goes down will eventually come back up. And as the real estate market stabilizes, recovers and begins appreciating in value, REITs will once more, find themselves increasingly popular. In fact, as you'll see from our tour of REITs below, the markets have already shown changes over the past few years.
Investing In REITs To Diversify Your Investments
If you're aiming for a diversified portfolio (as I am), then it should have a smattering of real estate assets in there, just as you would own precious metals or other commodities. Here's more on how to invest in commodities and gold ETF investing options.
But we're here to talk about REITs. A REIT, or Real Estate Investment Trust is a real estate company that offers shares to the public. In other words, it operates much like stock in that it represents ownership in a business. There are two unique characteristics that set a REIT apart from other types of stock: first, its primary business must be to manage groups of income producing properties and second, almost all of its profits must be distributed to the stock holders in the form of dividends.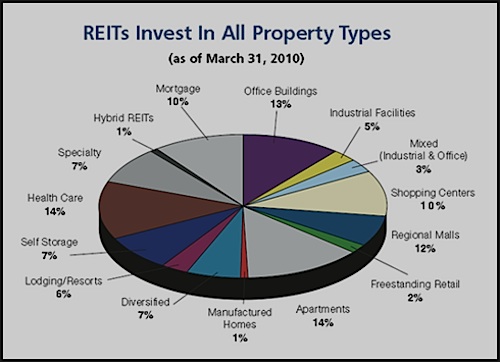 Image from SeekingAlpha

What benefits do REIT managers have? In exchange for paying out 90% of its profits to its shareholders, the company avoids corporate income tax. Whereas a mutual fund is a large scale fund that pools money to invest in stocks and bonds, REITs do the same thing but they invest in real estate.
Types of REITs
There are a few different types of REITs. One of those types is called a mortgage REIT. They make loans that are secured by real estate but normally don't own or operate any physical properties. Around 10% of all REITs are mortgage REITs.
Now equity REITs are the subject of this article. An equity REIT specializes in owning certain types of properties which might be apartments, strip malls, or lodging facilities. Some only own one kind of property while others prefer to diversify their properties.
5 Safe REITs To Consider (from Kiplinger)
Kiplinger identifies 5 safe REITS that the investor may want to look into. As you can see from the accompanying 5 year charts below, these REITs have already bounced back quite a bit from their 2009 lows. You'd have done well if you took the contrarian approach and managed to incorporate them in your portfolio as the financial crisis was unfolding.
#1 Simon Property Group (SPG)
This REIT specializes in high quality shopping malls. Although they have had to cut their dividend, they've got a strong claim: "high quality shopping malls will never go away." It's important to remember that all REITs could be depressed in value for a while as the market recovers. Diversify with malls and retail establishments.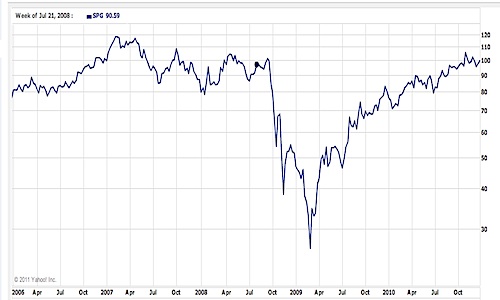 SPG REIT chart from Yahoo! Finance
#2 Vornado Realty Trust (VNO)
Vornado owns office space primarily in New York. Anybody following the real estate market knows that commercial office space is one of the areas of real estate that is the most depressed. Unfortunately for Vornado, its properties have a lot of exposure to commercial banks like Citigroup. If you've got problem banks as tenants, then the rent may not be getting paid, and for those in bankruptcy, the rent may end up never being paid. But the upside here is that while you're waiting for this market to recover, you're enjoying the 7.9% yield. Diversify with commercial and office space.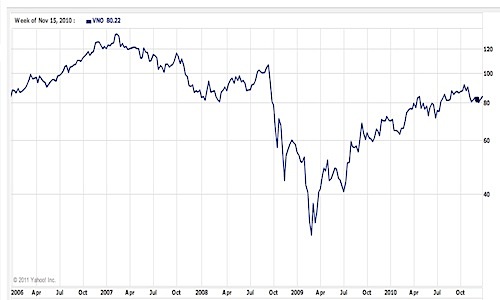 VNO REIT chart from Yahoo! Finance
#3 AvalonBay Communities (AVB)
There are REITs that may have benefited from the slide in the residential real estate market. How so? Well, AvalonBay is a REIT that invests in apartments, and because the mortgage situation has soured so much, people are currently afraid to venture forth to make home purchases and instead have been staying in their apartments for longer. According to some analysts, renters abound because they have no choice but to remain in their apartments while awaiting an improvement in the economy, the real estate and mortgage markets. Diversify with apartments.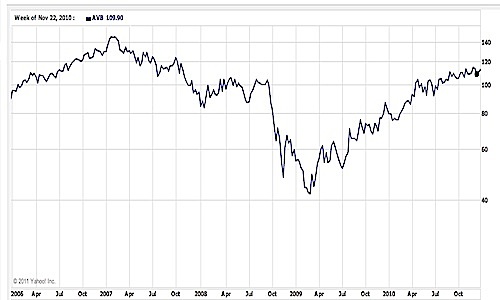 AVB REIT chart from Yahoo! Finance
#4 Ventas (VTR)
This real estate investment trust owns more than 500 health care facilities across 43 states. As any investor knows, healthcare is mostly a recession proof industry, although retirement communities may still be affected by a severe downturn. Nevertheless, Ventas has nearly 60% of its ownership in retirement homes and may give you diversification in this growth area. Diversify with health care facilities.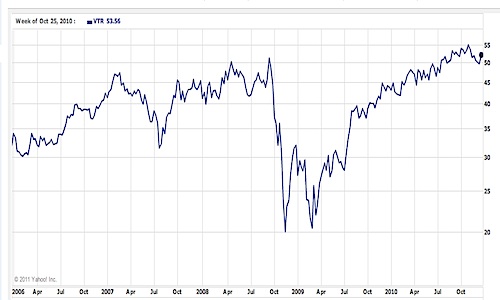 VTR REIT chart from Yahoo! Finance
#5 Alexandria Real Estate Equities (ARE)
This REIT is involved with leasing out laboratory space to government groups, university researchers, biotech and pharmaceutical interests, and other representatives of the health industry. While the dividend yield is only 4%, it has a unique growth prospect that has a lot of upside due to the unique nature of its holdings. Diversify with lab rentals.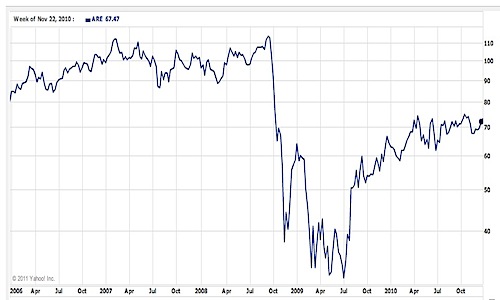 ARE REIT chart from Yahoo! Finance
As the economy improves, take a second look at REITs. As often happens in investing, the worst will become first some day.
Copyright © 2011 The Digerati Life. All Rights Reserved.