We take a look at various ways to invest in a popular precious metal.
Regardless of what goes on in the investment markets, precious metals — and gold in particular — is one of those asset classes that investors closely keep track of. Some would argue that gold is one of the oldest investable commodities. All the way back to the days when this commodity was the accepted currency hundreds of years ago, it has always been the subject of investment scrutiny everywhere.
Many investors wonder about adding gold to a portfolio. Thanks to stock market volatility and the positive movement in gold prices in recent years, there has been a renewed interest in this asset.
Why Buy Gold For The Long Term?
Certainly our interest with owning or investing in gold comes and goes, but an obvious part of gold's recent allure is its current prices and its excellent returns during the 00's. Regardless of the sector or nature of a particular investment, elevated prices and returns always seem to attract investor interest. In general though, it serves us well to have a small percentage of our holdings in this asset category. Here's why I think that's the case:
Billions of dollars have flowed into gold investments in recent years as investors have ridden this ever-rising price wave. There's demand here, especially from countries that are worried about their local currency or the U.S. dollar.
Gold is the "go to" investment when there's economic uncertainty or concerns about the value of the dollar. Gold has had a bumpy ride throughout the years, but it's an asset that tends to shine (yes, pun intended) when things are uncertain and events are volatile. If you've got uncertainty in the air, expect gold to do fairly well.
Gold is also a hedge against inflation –- even though inflation has been historically low for quite some time.
It's an asset class that has historically less correlation with traditional investments like stocks and bonds. It's a great portfolio diversifier.
How Do You Invest In Gold?
Through several methods:
Check out the MarketSafe Diversified Metals CD from EverBank. I believe it to be one of the safer ways to own gold given that you're investing in a certificate of deposit. But the CD is only available for purchase for a limited period. Read more about this in our EverBank Diversified Metals CD discussion.
You can buy Gold ETFs. You can check out SPDR Gold Shares (ticker symbol GLD) and iShares Comex Gold Trust (traded on the American Stock Exchange: ticker symbol IAU). For those on the aggressive end of the spectrum, you can take a look at ProShares Ultra Gold (ticker symbol UGL). I discuss more options below.
You can also buy a mutual fund or ETF that invests in mining companies. This is an indirect way to invest in precious metals. An example is the Market Vectors Gold Miners ETF (trades on the American Stock Exchange: ticker symbol GDX).
You can buy gold coins as well.
Gold ETF Investing Options
Let's look at one of the more popular ways to invest in gold — through Gold ETFs. I sometimes feel that this commodity has become so popular that it is now possible to buy gold out of vending machines ;-), but most people don't invest in the physical metal. A gold bar is an investment that is often too expensive for the average investor to make. On top of this, there's the problem of having to care for the physical bars. For these very reasons, most people have turned to investing in gold via ETFs (or exchange traded funds). The most common way to invest in gold is to purchase shares of a Gold ETF. As of late 2010, there are nearly one dozen Gold ETFs available to the retail investor. Let's look at a few.
#1 SPDR Gold Shares GLD:NYSE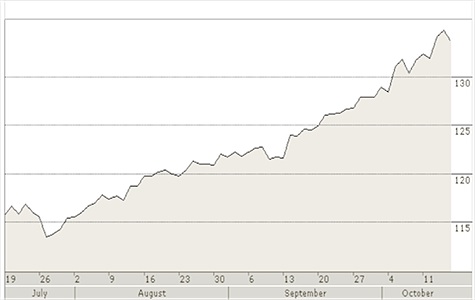 GLD is the most popular Gold ETF on the market. The SPDR (Spider) series of ETFs are known for their high return and the GLD is no exception. You can see from the chart above that an investor who purchased shares on July 27th paid $113.51 a share. But by October 15th, the price had risen to $133.07! That's an 18% increase in just 3 months. Not bad for a medium term trade. Of course, if we went further back, we would see an even larger gain.
There are drawbacks to investing in GLD or any of these ETFs: for instance, additional management fees associated with the funds can degrade profits. There is also something called "rebalancing" that may affect an ETF's performance (this article on portfolio rebalancing may shed a little light on this). We won't explore the act of rebalancing too closely here but keep in mind that management fees and rebalancing may cause ETFs to perform a little differently from its actual underlying asset. Because of rebalancing and management fees, these ETFs don't make for efficient long term investments. In general, the longer these funds are held, the more money is lost due to rebalancing.
Nonetheless, GLD is the easiest way for the retail or part time investor to invest in gold. There are other ways to invest, though.
#2 ProShares UltraShort Gold GLL:NYSE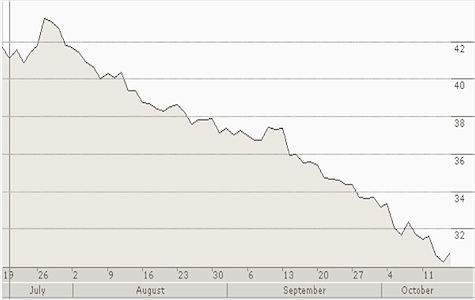 Investors who hold on to the GLL during the summer and fall of 2010 may have hung on to the belief that because gold has had such a tremendous move up, that it's bound to crash any day thereafter. The problem? If the upward trend remains intact, then the GLL will continue to be a losing proposition.
The GLL is a leveraged ETF that moves twice (2X) the amount of the inverse direction of gold. Here's an example: let's assume that the price of gold drops 1% today. GLL will move twice as much in the opposite direction so when gold drops 1%, the GLL will rise 2%. But don't forget that rebalancing and management fees take away a little from that 2% rise.
For the investor who believes strongly that a short term correction in gold is imminent, then this is the fund you would use to play that theory. Use with extreme caution, though.
#3 Market Vectors Gold Miners ETF GDX:NYSE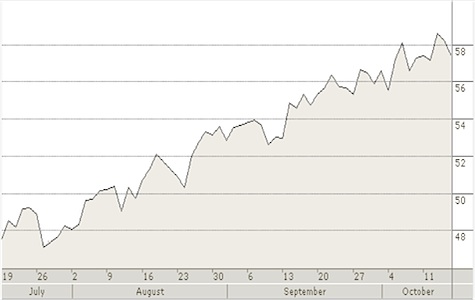 The previous two funds track the movement of gold in the form of futures contracts. The GDX tracks the movement of an index of gold stocks called the AMEX Gold Miners Index. For those more comfortable with tracking indexes rather than the commodity itself, then this may be a better option. If you're wondering how the returns for GLD and the GDX compare over the same period, then look at the chart below: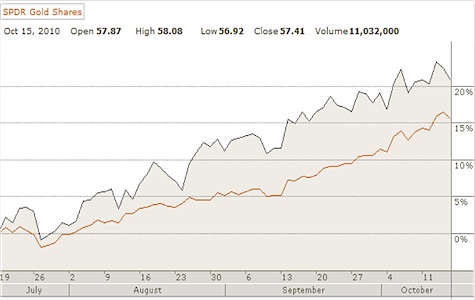 GLD is the lower, orange line while the GDX is the darker top line. As you can see, the GDX actually performs better than the GLD.
Analyzing Gold's Performance: The Trader's View
So let's give gold a little check up. Fast forward to the end of 2010. If you look at the chart below, you'll see why gold is not just simply in the news but is also front page news.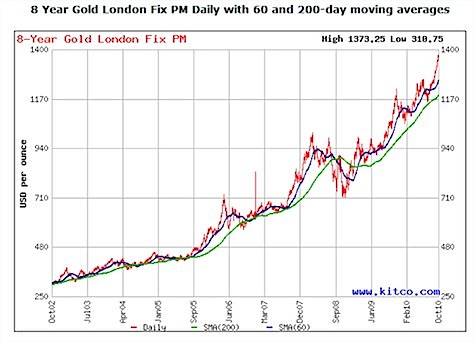 As you can see in the chart, If you purchased gold bouillon in 2002 and held it until 2010, then you've made a lot of money. What was a $300 investment in 2002 has turned into $1,400 by the end of 2010. And the trend has continued upward since then.
From a technical perspective, if we look at the chart above, many traders continue to be optimistic about gold. Technicians were sounding the alarm that the gold bubble would burst at or around $1,000 but that has not been the case. There are a few technical factors that may lead us to believe that gold will continue its upward rise based on the chart above. Note that this analysis is based on a specific period of time, which we're using for purposes of education rather than for predictive purposes. The chart shows us that:
Gold is trading above its 200 day and 60 day moving averages and all three of these metrics (e.g. gold prices and moving day averages) are strongly trending up. When all three of these conditions exist, that's a very bullish indicator.
As the price of an asset rises, we normally expect short term corrections. But gold has not seen a meaningful correction over the past eight years. There aren't many charts with this type of long term performance where we see such a strong upward trend.
Fundamentally, if we believe that gold is an inflationary hedge, then we should very well expect that inflation can become an issue over the long term. In fact, it's quite possible for inflation to turn up over the next few years.
Some believe that gold is in a commodity bubble due to the amount of money being pumped into the American economy by the federal government. But the Federal Reserve has indicated their intention to continue their campaign of quantitative easing. This is welcome news for gold investors who expect that further rounds of easing will pump even more money (around $1 trillion?) into the economy.
For the reasons above, it's hard to find any investor willing to bet significantly against gold. There are simply too many reasons to believe that the overall trend will continue to go higher.
Has The Price of Gold Peaked? The Long Term Investor's View
While we've presented a bullish view, many more investors wonder whether gold has started to peak in price after a pretty good run. There have been short term pull backs, seemingly pointing to uneasiness in the market. There have been times when investors have pulled millions out of the largest U.S. Gold Exchange Traded Fund (ETF). But their combined withdrawals amounted to just a small fraction of the fund's billions in total assets, so I doubt we can conclude that any of these moves are part of a significant trend.
Whether or not prices have peaked, gold's record run has convinced many to consider gold as part of their portfolio. Actually, most financial experts will tell you that it makes sense to own gold because of its lack of correlation to equities (as we've mentioned). And I personally think that's the key when holding or adding anything to your portfolio. You must ask yourself: am I just chasing returns or am I adding value to my portfolio by increasing diversification and risk hedges?
For instance, when you look at the prices of blue chips and a precious metal like gold, there will be times when they appear pretty synchronized and moving in the same direction. For instance, early in 2010, we saw their correlation coefficient at an 80% plateau for a week, before gold prices started falling some weeks later.
Soon after, the correlation fell to 29 percent; not quite to the two-year mean of 15 percent, but a lot closer than before. So why would this make your portfolio happy? Because a low correlation shows the value of gold as a risk diversifier. Remember, it is the risk correlation that affects you, as an investor, revealing just how well you are diversified. With gold zigging and stocks zagging, portfolio risks can hopefully be spread out better.
Certainly, this added level of diversification (not to mention fairly robust returns) has many looking towards gold. How this affects gold's prices and future returns remains to be seen, but at least gold, with lower correlation coefficients, is resuming its role as a proper risk diversifier. And really, if we're going to consider gold as an investment, we should be focusing on diversification and putting less emphasis on returns, especially in the short-term.
Parting Words
Historically speaking, there are obviously some periods when you could have made a killing in gold if you timed it just right by getting in before the bubble and then getting out at the top, but like any other investment or investment sector, you would almost have to be a psychic to achieve that. Personally, I will continue to avoid potentially "hot" investments and focus on maintaining a broadly diversified portfolio with low correlations among asset classes. And I would encourage anyone to limit their exposure to any one investment area. From my experience, successful investors are not trying to get the best absolute return they can. Rather, they are focused on managing risk and on getting the reasonable returns they need.
Created June 14, 2010. Updated March 25, 2012. Copyright © 2012 The Digerati Life. All Rights Reserved.