Could your investment portfolio use a dose of bonds?
We often cover the world of equity investing here, and we've also discussed safer investments like the stable certificate of deposit. This time, we thought to cover some fixed income investing basics. I suppose if we categorized all the investment information out there (and there is a lot), the amount of attention given to bonds would probably be dismally low compared to the attention given stocks. Why? Investing in stocks and equities seems more glamorous and exciting. Bonds are boring and predictable. It's no surprise, then, that many people invest much more heavily in equities than in bonds. However, glamor aside, I have found that the average investor really does not truly understand bonds.
Investing In Bonds: Make Money The Boring Way
Bonds are essentially an IOU issued by a given entity where you are really providing a loan in return for the promise to be paid your money back, plus interest over a period of time. Bonds can be issued by the federal or state governments, municipalities, schools, and corporations as a way to raise money. Each issuer, like you and me, has their own credit rating. In return for your loan, you as the investor can hopefully reap the benefits of a return of your initial investment plus a stated interest rate. Because of these factors, bonds are considered to be an income producing investment (from the interest) that's more conservative than stocks.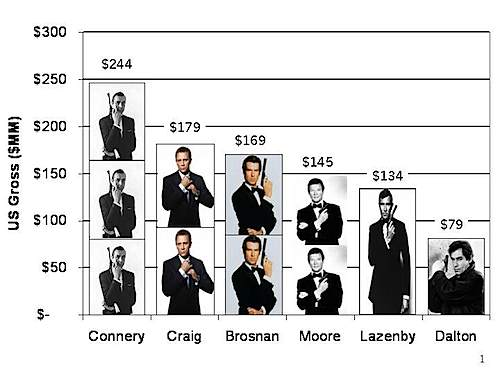 These (James) Bonds made money for their investors. Yours can too!
Why Should I Invest In Bonds?
Perhaps you've checked the best cd rates available and you're interested in higher returns, but with less risk than what you'd get with equities. Are bonds the ticket? People tend to think of bonds as the ones they were given at birth (savings bonds worth a whopping $50 at age 35) or something designed for only the older and most conservative investor. However, I would contend that nearly everyone should consider bonds for at least a portion of their portfolio.

There are three main reasons why.
1. First, bonds are a good hedge against stock market fluctuation and tend to perform in an opposite manner. So, if your stock portfolio is not performing well, hopefully your bond portfolio is; hopefully your bonds are at least holding their own. Of course, what your stock to bond ratio should be really depends on a number of factors such as your age, tolerance for risk, and so forth.
2. Second, bonds can provide a fairly consistent stream of income for those who need it. And, those who don't currently need income to live on can instead use that income to reinvest into other investments.
3. Third, having a balanced portfolio not only reduces overall portfolio volatility, but also stops you from trying to guess when to be in or out of the market. More often than not, it's best to keep a balance within your investments and "hold the course".
What's The Risk?
There are two main risks that are associated with bonds.
1. The first risk has to do with the bond issuer, and how creditworthy they are. This is often referred to as credit or default risk. Generally speaking, who is most likely to pay you back, the old US of A or the struggling corporation with no earnings? You get it…. This risk can best be mitigated when you purchase bonds from high quality issuers that are rated by third party rating agencies like Moody's and S & P, and when you diversify your bond exposure among several issuers rather than just one.
2. The second main risk is interest rate risk. Bonds are sensitive to changes in interest rates because bond prices move in the opposite direction of interest rates. Here's a simple example: you buy a bond for $1,000 that pays 4% interest. If, hypothetically, prevailing interest rates are 4% then rise to 5%, then most new bonds issued will pay a higher rate of interest than yours. Therefore, the inherent "value" of your bond goes down. Investors would obviously want to purchase newer bonds with higher rates than yours. So, if you wanted to sell your bond you would have to sell it at a discount. This risk can be reduced by having bonds of different maturities (diversifying with short-term, medium-term, and long-term bonds) or by holding a bond till maturity. Short-term bonds have less interest rate sensitivity than long-term bonds.
How Can I Get Started?
Any online broker, mutual fund company, bank or other financial institution can help you trade bonds. There's quite a variety of bonds available for purchase — government, corporate, junk, etc. Or you can also buy bond index funds or ETFs. Check out your favorite discount broker, bank or fund company for more information.
A note on pricing: when brokers act as principal on a fixed income transaction, a markup is included in the bond price; but if the broker acts as agent, they charge a commission. The industry average markup or markdown per transaction is 2.5% to 5% built into a bond's price. Also, if you intend to purchase bond mutual funds or ETFs, then pricing for these types of products applies instead. Here are some places where you can trade bonds:
| | |
| --- | --- |
| Discount Brokerage | Pricing Notes |
| TradeKing | $4.95 per bond; $14.95 minimum per transaction |
| Zecco | $4.50 per bond; $22.50 minimum per transaction |
| Scottrade | Acts as principal. 0.5% to 1% markup or markdown incorporated in each transaction |
| optionsXpress | $5 per bond transaction; $14.95 minimum |
| E*Trade | $1 per bond ($10 minimum, $250 maximum) |
| TradeMonster | $15 per bond trade |
| ShareBuilder | Can only trade bond funds and ETFs. $4 per trade for ETFs, has various pricing programs |
| Charles Schwab | $1 per bond ($10 minimum, $250 maximum) |
Misconceptions
Frequently people complain that bonds "pay too low" or contend that it is the wrong time to invest in bonds. The technical side of this is a bit beyond the scope of this post (perhaps another day), but on both of these accounts, investor sentiment ignores the inherent purpose of having bonds in the first place — to counteract and balance our stock portfolio with lower risk investments and/or to provide a source of income. Whether the yield is low or whether we think that the timing is wrong is irrelevant to the overall, long-term health of our portfolio.
Though boring, perhaps it's time to consider adding bonds to your portfolio if you haven't already. The extra level of diversification they offer will help create a more balanced portfolio that will take the guess work out of investing and add a bit more stability to your returns.
 
Contributing Writer: Todd Smith, CFP
Copyright © 2009 The Digerati Life. All Rights Reserved.