Modern Portfolio Theory (MPT), which is widely used by the financial industry, can serve investors very well. But, as many investors know, MPT has been criticized more vigorously in recent years.
MPT is the model for proper asset allocation and portfolio diversification. By constructing a portfolio of assets that have a low or even negative correlation, an investor can, in theory, reduce overall portfolio risk and maximize returns.
Opponents of MPT cite a few critical errors with this thinking. The technical criticisms include arguments that standard deviation might be the wrong risk measurement, asset correlations are not fixed and change over time, and investor behavior is not rational. But, one of the largest debates is whether financial markets are truly efficient.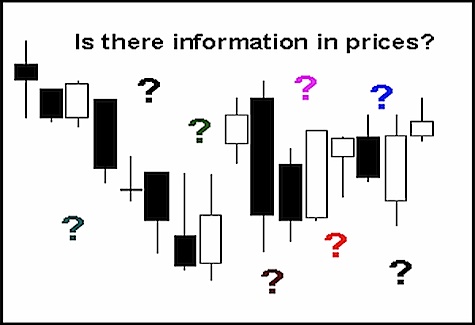 Image from StockCharts.com
Efficient Market Hypothesis: So Are Markets Efficient?
The efficient market theory (EMT) suggests that all relevant information is known and factored into the current price of stocks. Not only that, but any new information has been factored into the price before an investor can learn of the information and act on it. So, what the theory has said for years is that there really is no true stock price anomaly that an investor can reasonably take advantage of.
One of my favorite books by Burton Malkiel, A Random Walk Down Wall Street, explains in detail how picking stocks is really no better than chance. He also explains that a random selection of stocks has just the same likelihood of performing well as do stocks picked through research methods or through various techniques used by professional analysts and money managers. So, his contention was that those of us using technical analysis, stock charting tools, etc. are wasting our time. According to Malkiel (and others) — like the founders and proponents of MPT — market inefficiencies don't exist and you will not be able to use methods to point them out.
But like anything else, there are no absolutes. And to a certain degree, it has to do with your opinion of how efficient the markets are. For instance, how efficient are markets that experience large corrections? If, one could argue, prices are already factored in all relevant information, then how could the stock market experience a large drop like it did in the 80's, late 90's, and the most recent bear market?
Efficient Market Hypothesis Categories
Personally, I still agree with Malkiel and others that the markets are pretty efficient. And, in my opinion, even if they are not always perfectly efficient, the average investor like you and me is ill-equipped to take advantage of any anomalies that present themselves. Using the above example, how many people saw large drops in the market ahead of time AND were able to take advantage of it? I'd argue that few people did and the ones who did were lucky. Still, people disagree on how efficient markets may be; these market ideas typically fall into three categories (source: Morningstar.com):
The weak-form EMH tells us that historical information, along with earlier performance is already reflected in the current stock market prices. So basically, the argument here is that technical analysis won't help you much due to how much it relies on your interpretation of how stock prices are going to behave. But, fundamental analysis may help. Here's a humorous look at the differences between technical analysis vs fundamental analysis.
The semi-strong EMH form states that both public information as well as historical information are already reflected in current market prices. In this case, investors won't get much out of fundamental analysis, which requires the study of a company's fundamentals and financials.
Finally, the strong-form EMH claims that you can't really use either fundamental analysis nor technical analysis to forecast stock prices because these prices already reflect a whole lot of stuff including public information, historical information AND insider information as well!
Based on my experience, training, and the research I have seen, I personally tend to agree with the semi-strong form of EMH. For instance, I believe that things like fundamental analysis and insider knowledge could help investors. It may seem like a good thing if insider knowledge were public knowledge, but then it would lose its benefit. Also, data I have seen suggests that there are some inefficiencies in international markets and in value stocks that may be able to help investors a bit.
The Influence of EMH
International stocks are less efficient especially in undeveloped and emerging markets. Communication and information is not as quick and forthcoming. However, I am not sure the added political, currency, social risks makes this of much value.
People like Fama and French and others like Berkshire Hathaway have also found that an approach that involves purchasing unloved stocks can result in better returns than if you bought more popular stocks. This value approach may have benefits compared to a growth style. But, historical data over a 100 years tends to suggest that they are fairly equal in performance, just at different times.
Despite the varied EMH criticism, I still am not convinced that average investors or even professional money managers can take advantage of potential anomalies in the markets well enough or consistent enough to make it worth the effort (and usually extra cost). That's why I prefer an index fund approach. And usually, the empirical data on historical performance backs it up.
Still, even the well known mutual fund Vanguard (which started the index fund trend) recommends a mix of index funds and actively managed funds (they have both). Depending on which form of EMH you believe in, there does seem to be some stock picking techniques that tilt the odds in your favor. Those willing to take a little more risk may look more towards value and international stocks. And those who may think there are drastic inefficiencies in the markets and think they can spot the next correction may think of shorting markets. But, I prefer to do my gambling in Vegas.
Copyright © 2010 The Digerati Life. All Rights Reserved.