The cornerstone for many a long term investor's approach to investing is market diversification, asset allocation and risk management. We cover these topics quite often over here. But I thought it would be nice to revisit the basics, using the fancy term that academics use as the impetus for a solid investment strategy: Modern Portfolio Theory. So I've invited a guest blogger to discuss this matter a little bit. Tim Parker from Elementary Finance shares his thoughts on MPT today:
Modern Portfolio Theory (MPT): Manage Risk With Diversification
Have you ever heard of Modern Portfolio Theory? Even if you haven't heard of it, you almost certainly use its rules as part of how you manage your investments, so let's take a look at what it is. The shortest answer is that Modern Portfolio Theory is learning how to manage risk. Not just looking at the risk in a stock, but what kind of risk that stock adds to your entire portfolio.
1. Let's discuss diversification.
Modern Portfolio Theory has its roots in an article published in 1952 entitled "Portfolio Selection" (by Harry Markowitz). The premise here is that it's not a good idea to invest in only one stock because if it goes down in value, it takes your entire portfolio with it. Instead, you should invest in a series of investment instruments so that your entire portfolio isn't exposed to too much specific risk. (Specific risk is that which comes with a certain individual stock rather than what you'd find in a larger economy.)
Does this sound familiar? Diversification is one of the fundamental ideas behind developing an investment portfolio and this concept comes from Modern Portfolio Theory.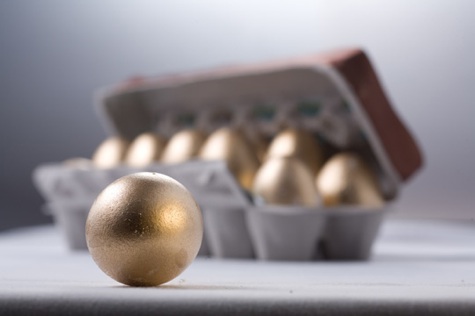 Image from
Edible Crafts
2. What about hedging to manage risk?
You may recognize this part of the theory as well: in order to minimize risk to your investment portfolio you should have some safe haven investments (such as liquid online bank accounts) to insure your portfolio against too much loss. For example, you could invest in gold so that when the stock market stumbles, your portfolio doesn't suffer the full brunt of that fall if gold rises or holds its value. This is called hedging. The idea here is to pick asset classes that are not strongly correlated to each other such that market movements by these financial assets are less volatile (or made smoother) over time. Check out this article about the optimal foreign investment allocation that can help hedge your portfolio against significant risk.
So to sum things up, Modern Portfolio Theory states that good investing isn't just about picking stocks but about picking the right combination of stocks. Managing risk is the key.
Issues With Modern Portfolio Theory
While this theory is accepted in the investment world, there are some potential issues with it. First, in order to avoid risk, it is suggested that the investor gain true diversification by picking stocks that are unrelated to each other. Unfortunately, to do this on your own can be pretty tricky. Here's why: if you listen to Jim Cramer, he says that 50% of a stock's movement is based on the sector that it is in. If the sector moves down, so does the stock in many cases. If you have been an investor through a big move in the market, you know that when an index makes a large move, nearly all stocks move with it. As it is, there's a lot of correlation in the U.S. market among the individual stocks that make up this universe. So how diversified can we really get?
Other critics ask the question, how many investments are needed for true diversification? Some mutual funds have dozens upon dozens. Some theories state that twenty stocks is enough, but how many stocks can a portfolio have before they overlap? That is the main problem with this theory. At best, you can diversify using indexing, mutual funds and ETFs, and buying into different asset classes for some representation; hopefully, this helps you achieve reasonable market returns. In my mind, just as long as I beat savings account rates, then I'm good to go (but with recent poor stock market returns, that hasn't even been the case, unfortunately).
If you subscribe to Modern Portfolio Theory, you believe that the market can't be beaten without taking above average risk, so in order to make money, you'll need to focus on how your entire portfolio is doing, rather than having a single stock perspective. For those interested in a diagram that illustrates this theory, click here.
Copyright © 2009 The Digerati Life. All Rights Reserved.