Here's the latest update on our investment returns: our stock allocation is down 50% YTD, though our total portfolio is "only" down by 28% YTD, thanks to asset allocation and stock market diversification methods.
It occurred to me that it's been a while since I've given an update here on our personal investments, though I've mentioned just how much we've been affected (like everyone else) by the stock market volatility. It's nerve-wracking for me and my spouse, since we rely on our investments as our safety net, for the psychological reassurance that "things will be fine" while we don't have stable incomes and are taking risks in our work lives.
Of course, as Murphy's Law dictates, the year we dared take risks with our cash flow by leaving the 9 to 5 workforce behind, is the same year that our investments and savings decide to take the worst dive in our investing lives. The tiny consolation? Selfish as it sounds, it's that we're not alone in this misery. Being mainly index fund investors, we face a situation that isn't unique, and as far as returns go, our financial numbers aren't far from the norm.
Although I've said it in the past, let me reiterate that the stock market bear has REALLY claimed our portfolio. Here's a snapshot of our portfolio numbers, captured sometime at the end of last year.
Our Total Portfolio's Latest Investment Returns: Stocks Down!
| Asset Class | ~ One Year Return (Oct 2007 to Nov 2008) | Returns since July 2008 |
| --- | --- | --- |
| U.S. Stocks / Taxable | -50% | -40% |
| U.S. Stocks / Tax-Advantaged | -57% | -48% |
| U.S. Stocks / Nasdaq | -47% | -41% |
| Foreign Stocks / Taxable | -54% | -46% |
| Bonds | 7.50% | 2.5% |
| Cash | -8.3% | 5.67% |
| Total Portfolio Returns | -38% | -28% |
I've also updated our historical investment charts to display the sharp drop in our total portfolio returns as seen in comparisons between our July 2008 numbers vs those taken from late November 2008. You can see that any gains we made in the last 2.5 years have evaporated altogether. Easy come, easy go.
Our Historical Portfolio Returns: Bar Chart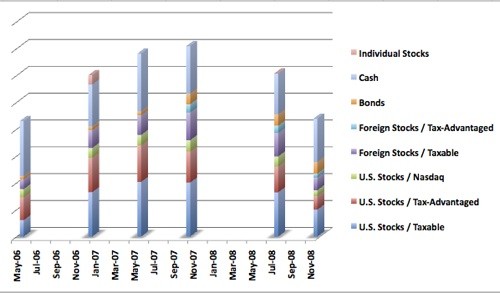 Our Historical Portfolio Returns: Area Chart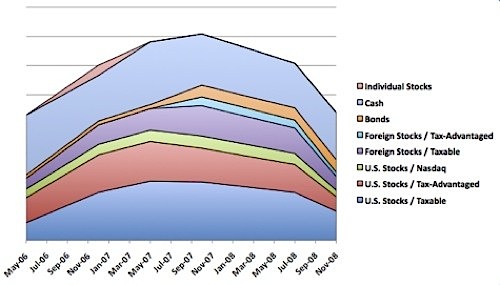 Because of the incredible shrinkage experienced by our equity positions (in domestic and foreign stock funds and ETFs), our asset allocation is now significantly altered and looks quite different from how we had it just a few short months ago.
Our Asset Allocation Is Out of Sorts
Our total equity allocation has drifted off by 12% from how we had it set up previously — it's now diminished by 12% from our original allocation. From around 65% of assets in stocks, we're now just 53% in stocks. Our bond portion used to be just 7% of our totals, but currently represents 10% of our portfolio; while cash now occupies a huge 37% allocation, up from a former 25% representation. Clearly, our asset allocation is completely out of whack, and will need to be reworked and rebalanced quite a bit.
We're also taking this opportunity to rethink our allocation, and we've decided, as a couple, to tone down our investments ever so slightly. Based on our ages (and our discovery of what our true risk tolerance is….), we've now decided to trim our stock allocation by 5%: from 65% down to 60%. I think it's an appropriate change. We'll raise our bonds up from 10% to 15% while putting some of our cash to work in the stock arena, to balance things out. In the future, we're planning to buy some REITs and possibly gold for some diversification, although we're not in a hurry at the moment.
Our Asset Allocation Gone Awry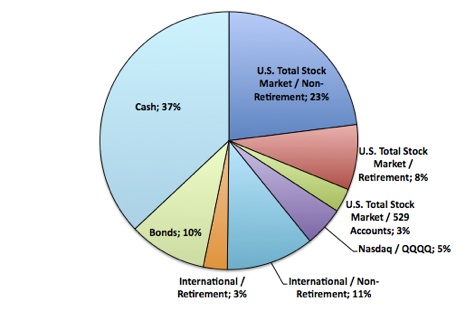 I think the time is ripe for a great big allocation overhaul. The stock market seems to have calmed down a bit and has tempered itself. It looks like a stock market bottom is potentially being formed, through ongoing backing and filling. Hopefully, the market is setting the ground for a new foundation that will lead to an improved investment climate.
I think now is as good a time as any to rebalance our allocation. We'll just need to be careful that we don't take too much out of our cash savings to perform this readjustment, since we need a lot of that cash to help cover our household's temporary budgetary shortfalls over the next year.
How are you dealing with your investments these days?
Copyright © 2009 The Digerati Life. All Rights Reserved.