Our stock portfolio is languishing; how is yours doing?
I haven't discussed our portfolio for some time now — the last time I reported on it was many many months ago, and I've got an excuse. I was simply not excited about letting you all know how much money we've lost since my last formal portfolio report.
The thing is, this investment climate has been cruel to most investors. But the opportunity to do another formal portfolio check up arose when my fellow Money Writers decided to do a group writing exercise that involved revealing our recent investment returns — something like a "misery loves company" kind of sharing 😉 . If you're curious, our group writing project yielded the following writeups from my blogging colleagues:
As for me, I spent a good part of this weekend evaluating our investments and coming to terms with the devastation I expected to see. It was unnerving alright, and made more awful by the fact that we had been heavily drawing down from our cash savings to cover our lack of work income over the last couple of years.
Here are some details of our investment portfolio. I measured its performance over the last 2 to 3 years and plotted the results:
Historical Investment Performance: Bar Chart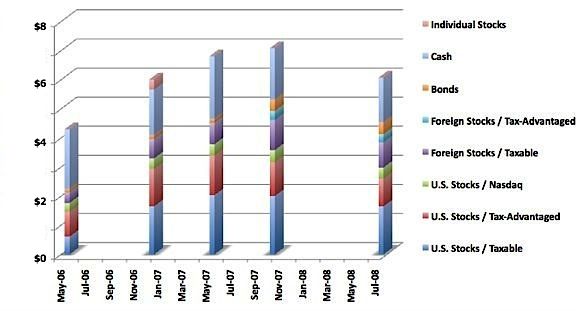 Historical Investment Performance: Area Graph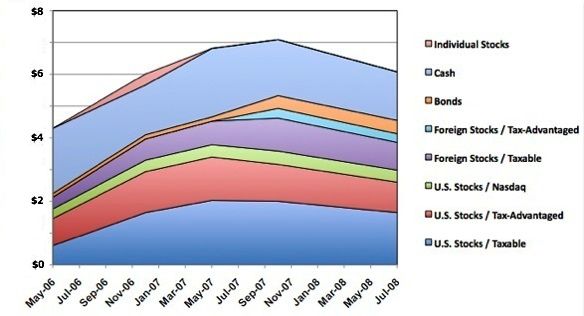 You may have noticed that I've altered the scale on the axis that shows the portfolio dollar values, but you get the idea. Also, the only thing that made us any money over the last year was our bond sector, and even so, it was a marginal increase. Everything else was down around 14% from our last check up (its high point), which I performed in October of last year. It's not a huge surprise either, since late last year, the market was doing fairly well. YTD, it's fared much better and beat the S & P returns by being down 7.3% to the S & P's -12%.
Certainly, the down market is mostly to blame, but we can also partially attribute our fairly large savings erosion to the continuous budget deficits we've been incurring due to our recent lifestyle changes.
Here is what our asset allocation looks like right now:
Asset Allocation as of July 2008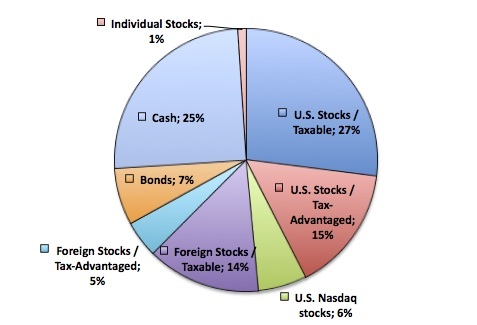 One look at this portfolio and you'll see that it is heavily weighted towards stocks. This was a deliberate choice on our part, but after the research I've done recently on asset allocation models and how to further diversify by adding new asset classes, I thought to heed my advice and work on a plan to revamp our holdings. We'll still be predominantly in stocks, but we're planning to add REITs and commodities in the mix and hike up our bond position.
I mulled over our model for quite some time in order to recreate a reallocated model (on paper) that I believe will not trigger any taxable events. Note that when you reallocate or rebalance, you can do it several ways:
#1 You can use regular account holdings, but this has tax consequences.
#2 You can use tax-advantaged funds (such as retirement or 529 plans) to avoid tax hits.
#3 You can add new money to investments to do the reallocation.
Well… because we're actually currently living off of our meager business income and emergency fund savings, we don't have ANY money to add to the market at this time. As I've mentioned, we're sucking out money from existing savings in order to pay our day to day expenses so option 3 above is out of the question. Therefore, my best option was to see if we had enough money in our tax-advantaged accounts to be able to move around to achieve the new allocation. Thankfully, there was, but it took some effort to figure it all out.
Shown here is our actual portfolio as well as the target portfolio we'd like to have. Although I'd like to do the complete reallocation now, my spouse wants to delay buying the REITs because he strongly believes that REITs still have a ways to drop. But I see this target portfolio in place in the near future.
We suspect that the market will continue to struggle for sometime while the recession runs its course. Just our luck, we've been hit with a double whammy: a bad economic climate that's doing a number on our investments while my spouse and I simultaneously try to get our business ventures off the ground.
Isn't life grand?
This article is written as part of a group writing project offered by The Money Writers network.
Copyright © 2008 The Digerati Life. All Rights Reserved.