How do some financial bloggers fare when there's gloom and doom in the stock market?
With the middle of the year upon us, I expected the equity markets, and thereby our investment portfolio, to experience a dip. The summer period is usually the time in the year when markets take a breather along with investors who decide to take their summer breaks. And it looks like the market itself has been on vacation for some of us financial bloggers.
I belong to a small network of financial bloggers called "The Money Writers". Part of what we do in our group is to compare notes on blogging, entrepreneurship and yes, even investments. Because of the significant events going on in the stock market, it's been a huge topic conversation for us. And in this particular case, misery loves company! We just released our mid-year investment performance numbers and they're not too pretty. Only one of us seems to have eked out a small loss at this time, and that's Frugal Trader from Million Dollar Journey.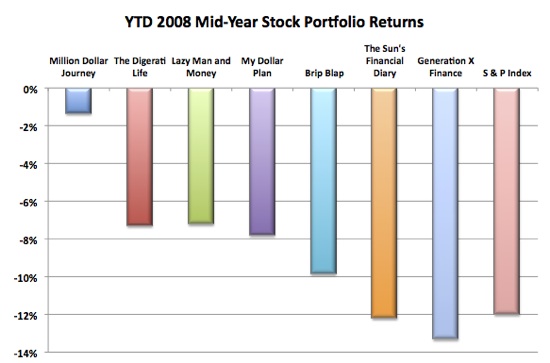 I'm big on index investing so my portfolio tracks their respective index benchmarks closely, whereas some of the other Money Writers have their positions in managed funds and may have a higher concentration of investments outside of the U.S. (as I expect Frugal Trader to have, being from Canada). Also, our asset allocation models are all different: while some of us are playing more conservatively, others are more fully invested.
I'd classify my portfolio as moderately aggressive (or moderately conservative, depending on whether you see the glass as half empty or half full), with a 25% cash position that simultaneously stands as a bear market buffer, as a source for emergency funds and as money my family withdraws to pay for our current expenses while my spouse and I work on a startup and small business.
The Money Writers all have our different goals and objectives and personal circumstances in life, and that will partially explain the variances in the constitution of our portfolios and their returns. We may all be in the red for now, but we remain committed investors all waiting for the market coasts to clear.
~ooOoo~
Here are more articles on my past investment portfolio updates and previous coverage of the Money Writers' investments:
Copyright © 2008 The Digerati Life. All Rights Reserved.