So I have been using dollar cost averaging (or actually value cost averaging) to track a particular sector. So far, things are going fairly well. The sector, as I mentioned in the past, is fairly cyclical and is now just transitioning into a new cycle as per historical trends. I started dollar cost averaging in the summer and bailed out right before a huge rally. However I resumed the strategy in August and it appears that it's paying off somewhat. Going into the winter months, the sector performs quite well because it is tied to retail and is responsible for a large part of what gets bought and placed under the Christmas trees during the holidays. In fact — if you can pardon the slight exaggeration — it may also be whatever it is that sometimes causes people to club each other over the head or just maul each other in malls all over town during the height of the sales season.
Here is what my portfolio looks like so far, where the entries in the data series correspond to the times I actually made my stock purchases. This represents the concentrated portion of my portfolio so it behaves more haphazardly and is much more volatile. Since the DCA approach lends itself very well to volatility by smoothening out the spikes and drops in stock prices, I will continue to employ this approach and add more positions as opportunities and signs of weakness arise. Needless to say, I have a fairly confident outlook for the sector which I will discuss further in time.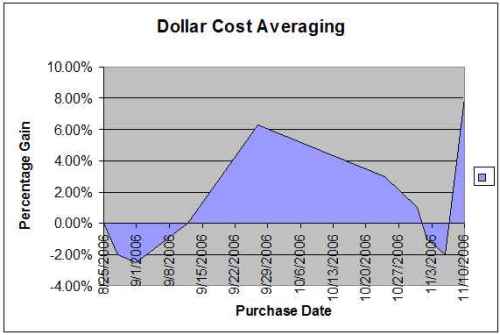 | Date of Purchase | Percentage Gain |
| --- | --- |
| August 25, 2006 | 0.00% |
| August 28, 2006 | -2.00% |
| September 9, 2006 | -2.50% |
| September 12, 2006 | 0.00% |
| September 27, 2006 | 6.30% |
| October 24, 2006 | 3.00% |
| October 31, 2006 | 1.00% |
| November 2, 2006 | -1.00% |
| November 6, 2006 | -2.00% |
| November 10, 2006 | 8.00% |
 
In case you're wondering why as of yet I haven't divulged further details on this sector, it's because I have been thinking that someday I might set up a fun contest around this topic. Something like — guess which stocks I've been following? Any takers? Clues are everywhere! Find the answer on the next installment about this stock portfolio. Still, it remains to be seen how this portfolio will do over time, but it should be interesting to track given its wide swings.
Meanwhile, regardless of how you do it, think about starting your investing program today!
Copyright © 2006 The Digerati Life. All Rights Reserved.