What should you do with your investment funds when the going gets tough? Should you invest all your money in a lump sum or dollar cost average into the market? Before we make those decisions, let's define what dollar cost averaging is first.
I've been following this one stock and it's driving me batty. Ever since I sold my moderately attractive position in it, it's soared. So what should I do now? Given that this is a cyclical stock, I still want to build my position in this stock and ride out its cycle, which is expected to be two or three years long. We're at the trough right now, or at least, that's where I think we're in. And because it hurts too much to be simply a spectator and not to be part of this stock's ride, I've decided to resort to my tried, true and tested strategy for entering the market and building a stock position. I don't know why I refused to do it before — perhaps, I was betting on a short term collapse prior to its expected run up. But in the absence of such a gift horse buying opportunity, I am opting to dollar cost average.
Are Your Emotions Controlling The Way You Invest?
So how many folks are sitting in my position wondering what to do in the face of a stock's unpredictable movements?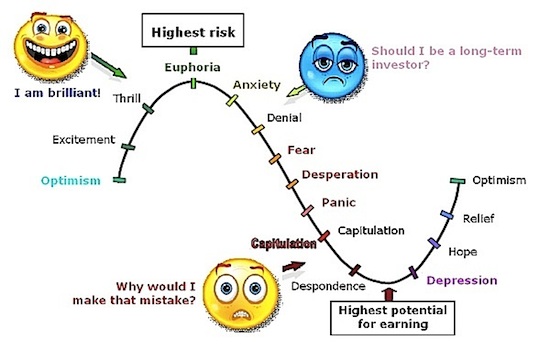 How the stock market and your emotions influence each other. Source: Manulife.com
Now there are studies that show that by investing all your money into the market right away, you'll actually come out ahead than if you decide to use DCA (dollar cost averaging) methods. This is certainly the case in a rising market. But what if the market just refuses to budge and plateaus over the long term, or what if it stays down forever more? Bringing up the specter of the Japanese market often scares away many casual investors who aren't prepared to see a huge chunk of their funds potentially turn into "dead money". For those whose investment decisions are often controlled by their emotions and who know themselves enough to admit this, then perhaps proceeding with a gradual investment approach is more suitable.
Dollar Cost Averaging: A Definition & Example
In such cases, dollar cost averaging may be the solution: it's the practice of buying into the market (or into a specific equity) at systematic intervals. You buy a bit now, a bit later, a bit when the cows come home. You buy in installments, ignoring the bucking market. By doing so, you can smooth out the volatility in your stock purchase price and earn not only a more acceptable average price for your stock position, but also some peace of mind and more restful sleep. And you can cut down on your anti-anxiety/stress medication at the same time!
Here's how you can do it.
Identify your target stock or mutual fund. Where do you want to put your heard earned $$$? Hint: oats, pork bellies, or ethanol may not be your best bets.
Determine how much you want to invest in this stock or fund.
Decide how long a time period you would like to take to build a position. In my case 1 month to 6 months will work for me.
Divide the amount you are going to invest by the time period you decided to spend investing. That magic number is how much you will be putting into the market at any one time, on a regular schedule. That will be your trade amount or mutual fund investment amount.
If you are investing in mutual funds, by setting up an automatic investment program, you are already participating in dollar cost averaging.
After all those steps, you can now return to your usual activities and ignore how the market bounces. Well, most of the time. You will still need to keep a fairly close eye on your investments but at least you can assure yourself you are keeping Murphy's Law at bay.
Here is an example of how it works:
| | | | |
| --- | --- | --- | --- |
| Invest Date | Amount | Price Per Share | Shares Purchased |
| January 2009 | $1,000 | $100 | 10 |
| April 2009 | $1,000 | $70 | 14.28 |
| July 2009 | $1,000 | $90 | 11.11 |
| October 2009 | $1,000 | $80 | 12.50 |
| January 2010 | $1,000 | $70 | 14.28 |
| April 2010 | $1,000 | $50 | 20 |
| July 2010 | $1,000 | $80 | 12.50 |
| October 2010 | $1,000 | $90 | 11.11 |
| January 2010 | $1,000 | $100 | 10 |
| April 2011 | $1,000 | $90 | 11.11 |
| TOTAL | $10,000 | $78.81 Average | 126.89 Shares Owned |
In this example, the DCA process is used over a longer period of time. This type of example usually fits the situation when an investor decides to make regular contributions to an investment account (say through an investment program). The investor ends up with an average cost per share of $78.81 (the result of $10,000 Total Invested / 126.89 Total Shares Owned) even though the price of shares often fluctuated between $50 and $100 over time.
Those of you with an automatic debit from your paycheck going into your 401K plan are employing this strategy in its classic form. For my more discretionary investments, I tweak the strategy a little. For example, in this single stock scenario, I will decrease my trade amount when the price is higher. When the price goes down, I may double up. I may not buy on a totally regular schedule but wait for certain trigger points to buy — my point is that I am trying to manage how I feel about my position; when the stock goes up or down and I am not bothered, then I know I'm in a happy place.
Of course, investing is always something you need to keep tabs on but for those with a long time horizon, dollar cost averaging is quite a good strategy. It's the only time I feel like jumping up and down with glee when the market crashes or my stock of choice plummets.

Created on August, 24, 2006; Updated: May 29, 2011
Copyright © 2011 The Digerati Life. All Rights Reserved.