How do international stocks affect your stock portfolio?
The U.S. stock market hasn't been doing too well of late. It's hovering at its lowest point of the year, although it appears to be a reflection of all the bad news we're seeing in the economic front recently. High gas prices, high food prices, high prices everywhere. Spending is up, savings and investments are down. The only other thing down in the dumps along with the markets and the economy is our collective mood about our whole financial situation.
But it's times like these that you may want to review your portfolio's allocation. The weightings on your portfolio may have shifted over time and now that it's the middle of the year, it could be a good time to revisit your investment set up.
This is also an opportunity to decide whether you'd like to keep with the same allocation you've always had.
For the record, we're currently between 25% to 30% invested in foreign stocks at the moment.
Yet my spouse is eager to do more to hedge our investments and go further into foreign holdings. He's asked about possibly raising our international allocation to match the representation of foreign equities in the global market, which is around 50%. I've also known some people who have dumped their domestic holdings completely in favor of foreign equities. With the dollar in the dumps and everyone wanting a piece of America for cheap, I can see why folks are eager to take flight into international funds.
Not sure I'm convinced about following suit to this same extent. 50% in non-U.S. stocks seems very aggressive to me. I'm no longer single, young and carefree… and no longer as comfortable with this type of investment risk. But to lend credence to my concerns, I researched this topic further and reevaluated our foreign allocation strategy.
Thoughts On International Diversification
It's worth reviewing why we buy foreign stocks. Here are some interesting points on this issue:
International equities belong in our portfolios for the added diversification. With added diversification, you can lower the risk of your overall portfolio.
When different economies behave similarly to each other, they are described as "well correlated". The less correlated your investment asset classes are, the more diversified your portfolio, in theory.
On this note, market correlations between the U.S. and other countries vary widely, a good thing! You can see those relationships in this graph from T. Rowe Price:

A correlation of 100% means that a country's equity market and the U.S. market move in lockstep. A correlation of 0 means that there's no relationship between a foreign market and the U.S. market.

Developing countries, emerging markets, those countries with growing local markets or those less dependent on the U.S. economy are less correlated to the U.S. market. They may trend differently from the U.S. market.
No country is completely immune to economic contagion. Even with low correlations between markets, any stock exchange can still be impacted by severe financial trends in other parts of the world.
International stocks have higher average returns than U.S. stocks and come with higher volatility. But the combination of U.S. AND international stocks in a global portfolio lowers average volatility while producing higher risk-adjusted returns (e.g. higher returns for the associated risk).

Check out this chart that shows this phenomenon. International stocks are represented by MSCI World Index excluding the USA. The global portfolio includes international and U.S. stocks (MSCI World Index). Stats for portfolios below are for 1970 to 2005.
| | Total Return | Total Return Volatility | Return / Volatility |
| --- | --- | --- | --- |
| International Stocks | 11.19 | 16.69 | 0.67 |
| U.S. Stocks | 10.72 | 15.36 | 0.70 |
| Global Equity Portfolio | 10.55 | 14.38 | 0.73 |
Returns are based on U.S. dollars.
Is There A "Perfect" Foreign Stock Allocation?
The short answer is YES. Apparently there is! According to this comprehensive Vanguard report on international equities, which includes some detailed analysis of risk, return, volatility and other considerations covering investment portfolio mixes, they've come up with a few recommendations:
A good starting point for any investment portfolio is an allocation of 20% in international stocks.
Allocation is one thing while the type of foreign equity you buy is another. Personally, I'd buy an overseas index fund or ETF that tracks an index for the highest diversification I can achieve. But some investors may prefer to focus on those stocks that are the least correlated to the U.S.
Consider an upper limit for your foreign stock allocation of 50%.
This is based on the proportion of the global market that foreign stocks currently represent. In fact, studies show that the effects of currency risk, progressively higher correlations (e.g. diminishing diversification), foreign taxes and costs outweigh any benefits of higher foreign stock allocations. Here's what Vanguard specifically says about this:
While adding an allocation of 20% to 40% has historically been beneficial, adding too much can increase portfolio risks without the commensurate benefits. International allocations exceeding 40% benefit a portfolio incrementally less, particularly as costs are accounted for.
The suggested allocation range for foreign stocks is between 20% to 40% of your stock portfolio.
Although no absolute answer exists for all investors, it should be clear that an allocation range of 20% to 40% is reasonable given the historical benefits of diversification. Allocations closer to 40% may be suitable for those investors less concerned with the potential risks and higher costs of international equities. Allocations closer to 20% may be viewed as offering a greater balance among the benefits of diversification, the risks of currency volatility and higher correlations, investor preferences, and costs.
But 30% is the magic number!
Ah but wait! If you're really looking for the foreign stock allocation sweet spot, finance theory points to 30% as the magic percentage. It's the perfect overseas equity allocation to achieve the best balance between diversification (and therefore risk management and volatility reduction) and return.
With 20% international exposure, an investor would have captured 50% of the maximum diversification benefit. An investor with 30% allocation to international stocks has captured 70% of the max diversification benefit. Anything above an allocation of 30% shows that you don't get significant volatility reduction and can in fact increase your volatility during some time periods such as from 1992 – 1999.
I found a few graphs that illustrate this conclusion, courtesy of ICMA-RC. These graphs were plotted using data covering different time periods. EAFE stands for the Europe, Australasia and Far East Index, which tracks overseas markets.
A Global Portfolio's Risk vs Return, November, 1971 – November 1995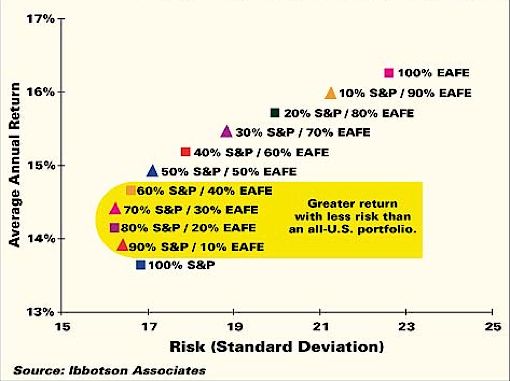 When covering a different time period, something interesting happens. The graph goes in reverse.
A Global Portfolio's Risk vs Return, November 1973 – November 1997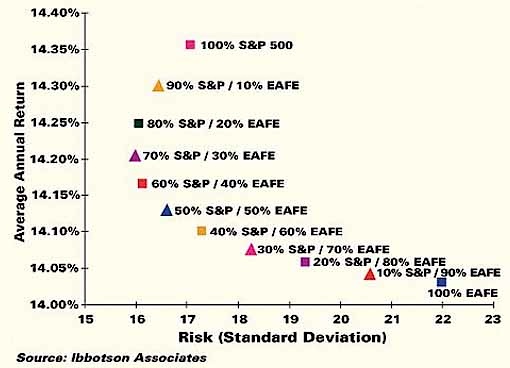 Note that standard deviation is a measure of volatility. Funny how these two charts reflect different time periods but still produce similar results, with elliptical plots pointing to the same conclusion (albeit in reverse): that a 20% – 40% foreign stock allocation provides the best mixes that yield optimal risk-adjusted returns. The 70/30 split between U.S. and foreign stocks achieves the lowest risk and provides the best diversification benefit.
The main difference between these charts comes from which asset class had better returns during a given time range: in one time period, the EAFE-heavy portfolio yielded the higher returns, while in the later period, the pure U.S. stock heavy portfolio dominated.
These charts support what the Vanguard report states and also coincide with this chart from My Money Blog (lifted from A Random Walk Down Wall Street), as well as the revelations in this news article.
How Much Are You Allocating To Foreign Stocks?
A lot of folks gravitate to the 70/30 domestic vs international split, but lots more have it set up differently. Here is a look at how others have invested in non-U.S. stocks:
How about you… what's your allocation?
~ooOoo~
Now all these findings, coupled with this guide on how to incorporate foreign stocks into our long term investment strategy, has made me stick to our current allocation. For added foreign diversification, we may look into non-U.S. bonds or CDs instead. But that's something we're still mulling over.
Copyright © 2008 The Digerati Life. All Rights Reserved.