These never-ending gas price hikes can really grate on you after sometime. I still fondly remember those days when I was paying $1.60 a gallon, around 5 years ago. Those were the days when I remember actually grinning while filling up my tank.
Nowadays, it's another story, so we're doing what we can to make a dent on our spending on gas. Right now, my family is saving $5,500 a year on gasoline and commute-related expenses based on changes we've made recently to our travel habits.
What We're Doing To Save Money On Gas
We dropped the long, crazy, daily commute.
Most of you already know that I resigned from the job that required me to drive to the city of San Francisco, which was 30 miles away from my faraway, secluded home. I drove daily and logged at least 60 miles a day based on my commuting schedule. The long commute did more than add stress to my life and do a number on my health; it also cost at least $26 a day to deal with.
My commute costs breakdown included:
$16 for city parking
$10 a day on gas as evidenced on this page from fueleconomy.gov, a great resource that tells you how fuel efficient your vehicle is.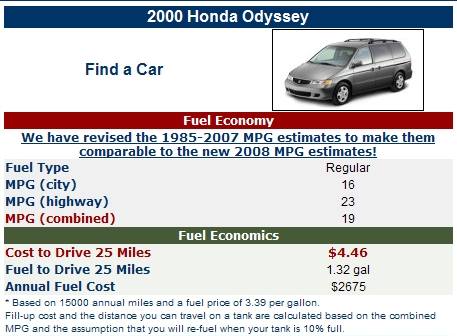 It turns out that the cost of gasoline hasn't yet been updated on the above page to reflect today's much higher prices, but you can extrapolate current costs accordingly. At 1.32 gallons for 25 miles, the cost to drive our minivan for 25 miles was around $4.50 when gas was at $3.39 a gallon. At the current $4.5 a gallon that we have here in California, it's now worth $6 to drive 25 miles!
You don't necessarily have to quit your job to achieve the same results. Using mass transit or car pooling methods may help. Or how about requesting your boss for more telecommuting hours? I realize that not all companies are agreeable to policy changes like these, but companies may want to evaluate the feasibility of such a change if they realize that more and more valuable employees who live away in bedroom communities may benefit greatly from such adjustments.
Unfortunately though, some of these solutions may not at all be practical for everyone: for instance, I was unable to car pool or use mass transit due to the logistical issues I faced when dropping kids to and from school while juggling the 9 to 5. So it really is a matter of trying to be creative with solutions that can possibly work out for you.
We don't drive around much — not yet at least.
Since we work either at home or very close to home (minding our own businesses 😉 ), and our friends and family don't live too far away, it's helped us control our driving and travel expenses. It also helps that we're having family and friends over for visits instead!
New car in the horizon? We'll be considering fuel efficiency.
We're not yet at the point of trading in our cars for those gas-saving alternatives. But right after we drive our cars to the ground, we'll certainly be prioritizing on fuel efficiency and shopping with our eye on improved gas mileage. Admittedly, we were not as keen about gas usage in the past, but no longer, given the way things are trending with gas and oil prices.
We're keeping up with historical gas prices, with real-time updates!
Fear is a motivator, especially for me. I'm able to control some of my actions by scaring myself about the impending consequences of those actions. My spouse, however, calls me out often and says that I "catastrophize". Maybe so, but it's a good thing when it keeps me disciplined. Along these lines, I found a visual motivator that may help remind us how gas prices have been treating us these past few years.
This is an interesting tool from Gas Buddy that I thought would help us keep our mind on conservation.
You can track historical gas prices across time and place using various locales and various dates using the fields above. But there's a small bug with the display when you change the values which causes the chart to become wider than it should be (sorry for that).
Our Total Savings On Fuel and Other Commute-Related Costs: $5,500 At Least!
Late last year, with gas at $3.30 a gallon, I used to spend approximately $40 on fuel every 3 or 4 days when I'd use up 3+ gallons a day on driving. These days, it's more like $50 a week. After some calculations, I've determined that we're using half as many gallons a day on our van as we used to. So by tossing the job in favor of a home business, my savings run $30 a week on gas and $80 a week by eliminating unsavory parking expenses, for a total of $110 a week!
For gas savings alone, it's $1,500 a year, but cuts on other travel-related (or you may call it work-related) costs bumped up our savings to $5,500 annually. Those savings can be funneled towards a long standing debt or into an IRA account near you! 🙂
So how are you dealing with these gas price increases? Any ideas you'd like to share?
Copyright © 2008 The Digerati Life. All Rights Reserved.