The true math behind choosing a fuel efficient car.
I've been preparing a few posts that touch on the new face of car buying, to shed some light and information on what it means to be a car owner during a time of escalating gas prices. I hope to help those of you who are shifting your buying patterns in the interest of putting a dent in the demand for gasoline. Just to show you how your choice of vehicle affects your bottom line, here's a case study I'd like to share.
How much money can you save with a more fuel efficient car?
Let's take the case of a typical family who owns an SUV that consumes 18 MPG. If instead they decide to switch to a station wagon that consumes 25 MPG, here's how much the family will save, assuming they drive 15,000 miles / year for 5 years, with fuel cost increases of 7% a year (a conservative estimate, since fuel costs have recently averaged 15% / year and don't stay constant during the year):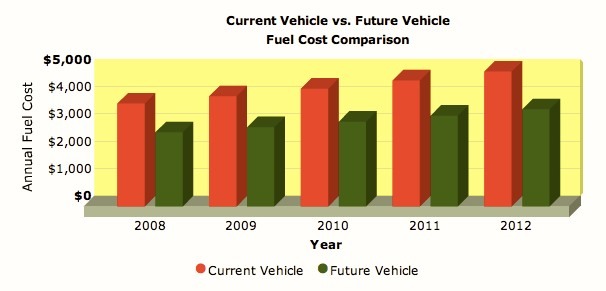 Year
Fuel PPG
Current Vehicle
Cost (18mpg)
Future Vehicle
Cost (25mpg)
Approximate
Savings
2008
$4.51
$3,758.33
$2,706.00
$1,052.33
2009
$4.83
$4,021.42
$2,895.42
$1,126.00
2010
$5.16
$4,302.92
$3,098.10
$1,204.82
2011
$5.52
$4,604.12
$3,314.97
$1,289.15
2012
$5.91
$4,926.41
$3,547.01
$1,379.39
5-year Totals
$21,613.19
$15,561.50
$6,051.69
Expect to see greater savings if gas costs increase more sharply or the family ends up driving more than 15,000 miles in a year.
Examples like this may inspire you to think about fuel efficiency the next time you go car shopping.
The MPG Illusion
But before you start writing your checks to the dealer for that new hybrid (or compact), here's something you need to know about gas efficiency in so many words:
Equal increases in MPG are not equal in gas savings.
This truism highlights a very interesting concept called "The Illusion of Miles Per Gallon", which challenges our understanding of how fuel efficiency is determined and questions whether our choices in cars (when based on gas use) are actually on the money (pun intended).
Here's a snap quiz from the NY Times that illustrates this concept:
Which of the following would save more fuel?

a) Switch a compact car that gets 34 miles a gallon with a hybrid that gets 54 MPG.
b) Switch an S.U.V. that gets 18 MPG with a sedan that gets 28 MPG.
c) Both changes save the same amount of fuel.

The correct answer is b. Going from 18 m.p.g. to 28 m.p.g. will save you more fuel than going from 34 m.p.g. to 54 m.p.g. (198 gallons vs. 109 gallons).

A couple of professors ran a series of experiments to show that the current standard of miles per gallon leads consumers to believe that fuel consumption is reduced at an even rate as efficiency improves. But that's not the case.

"Miles per gallon is misleading and can play tricks on our intuitions," quoth the professors.
So the miles per gallon comparisons can throw us off. By using this metric, many people somehow make a direct comparison between the miles per gallon numbers; they note the discrepancy (or percentage difference) and assume that those comparisons producing the largest mpg differences will automatically lead to the bigger cost savings. This line of thinking was quite evident in the results of a few studies made, where participants where asked to rank savings in fuel based on MPG comparisons (much like the quiz above). The results were fairly surprising: only one in 77 participants who took the MPG test got it right!
Many people look at a 50 percent mpg improvement, such as 33 to 50 mpg, and assume that it will save more gas than a 30 percent mpg improvement from 10 to 13 mpg over the same distance. A quick check of the math will show that 10 to 13 saves 230 gallons over 10,000 miles; 33 to 50 mpg saves only 100 gallons over the same distance.
Another common tendency is for people to overvalue the larger mpg measurement differentials between efficient cars while undervaluing the smaller mpg improvements between inefficient cars. This is what is described as the "MPG Illusion".
The Math Behind Miles Per Gallon Comparisons
So let's go back to the example above and look carefully at the calculations behind the fuel consumption between the compact car vs hybrid, and the S.U.V. vs the sedan:
Which saves you more gas?
a) Switch a compact car that gets 34 miles a gallon with a hybrid that gets 54 m.p.g.
b) Switch an S.U.V. that gets 18 m.p.g. with a sedan that gets 28 m.p.g.
Answer:
Driving Distance
Case (a)
Case (b)
Conclusion
Drive 10,000 miles (typical distance driven in a year).
10,000 miles / 54 MPG uses 185.2 gallons.
10,000 miles / 34 MPG uses 294.1 gallons.
Gas Savings: 294.1 – 185.2 = 108.9 gallons.
Replacing a 34 MPG car with a 54 MPG car saves you 108.9 gallons of gas every 10,000 miles.
10,000 miles / 28 MPG uses 357.1 gallons.
10,000 miles / 18 MPG uses 555.5 gallons.
Gas Savings: 555.5 – 357.1 = 198.4 gallons.
Replacing an 18 MPG car with a 28 MPG car saves you 198.4 gallons of gas every 10,000 miles.
198.4 gallons saved in Case (b) is greater than the 108.9 gallons saved in Case (a).
By expressing the numbers in gallons per miles (GPM), we're able to get a much more accurate picture of fuel efficiency. These printable reference tables showing MPG to GPM translations were prepared by the professors behind the MPG Illusion to help you with your car shopping process. I've also reprinted them below for your convenience.
Gas Savings From Equal Improvements in MPG
This table shows the gallons of fuel needed to drive 100 or 10,000 miles at varying rates of fuel efficiency.
| Miles Per Gallon | Gallons Consumer Per 100 Miles | Gallons Consumed Per 10,000 Miles |
| --- | --- | --- |
| 10 | 10 | 1,000 |
| 15 | 6.67 | 667 |
| 20 | 5 | 500 |
| 25 | 4 | 400 |
| 30 | 3.33 | 333 |
| 35 | 2.86 | 286 |
| 40 | 2.50 | 250 |
| 45 | 2.22 | 222 |
| 50 | 2 | 200 |
Incremental improvements at the lower end of the range result in much greater fuel savings than the same incremental improvements at the higher end of the range.
~ooOoo~
MPG Improvements that Save Equal Amounts Of Gas
Compare how many gallons are actually consumed over the same distance by various cars running at different MPGs. The MPG column entries don't increase linearly while the GPM column entries do. This means that if you replace a car which runs at 10 MPG with one that runs at 11 MPG, you'll save the same amount of gas as compared to shifting from a car with a 33 MPG rating to one with a 50 MPG rating!
| Miles Per Gallon | Gallons Consumer Per 100 Miles | Gallons Consumed Per 10,000 Miles |
| --- | --- | --- |
| 10 | 10 | 1,000 |
| 11 | 9 | 900 |
| 12.5 | 8 | 800 |
| 14 | 7 | 700 |
| 16.5 | 6 | 600 |
| 20 | 5 | 500 |
| 25 | 4 | 400 |
| 33 | 3 | 300 |
| 50 | 2 | 200 |
A Proposed Solution To Clear Up The MPG Illusion
The researchers who provided this interesting study on the MPG illusion has since provided strong recommendations that may help dispel the confusion of the public. If car manufacturers provided a different sort of metric to relay fuel efficiency — one which lent itself to direct comparisons — then maybe we'd make more accurate decisions.
The proposed solution? Supplement the MPG (miles per gallon) metric with GPM (gallons per mile). As Rick Larrick of MPGIllusion.com states:
Direct comparisons of MPG is what leads to illusions. In each case, you have to convert MPG to a GPM measure to know the amount of gas used. Both MPG and GPM have a useful role at different points in owning a car. MPG is useful when you're driving a car. GPM is useful when you're purchasing a car — it better captures the fuel consumption, and fuel savings, when comparing a current car to a new car, or when comparing two new cars to each other.
The Bottom-Line
The biggest takeaway here for me is that the largest impact consumers can make to save on fuel is by replacing the most inefficient cars. Based on the MPG illusion discussion, we'd do more for our pocketbook and our environment by swapping out the worst gas guzzlers with slightly more efficient models, than by replacing a Honda Accord with a hybrid.
So if you're looking to buy a new car, it's good to know that even an incremental improvement in efficiency can make quite a difference — not just to your bank account, but also to the environment. Plus imagine your satisfaction knowing that your decisions favoring efficient vehicles will stick it to those greedy gas suppliers. 😉
Suggested Readings:
Hankering for more analysis? Then read more about the MPG Illusion in these superb resources:
Copyright © 2008 The Digerati Life. All Rights Reserved.