One budget travel tip should be to avoid airlines that charge for carry on baggage!
If you have been living in a cave the last day or so and haven't heard the news, Spirit Airlines will now charge people $45 to bring a carry on ($30 if done online). When I first heard this, I ignored it because I am used to carriers charging for baggage. The "carry-on" part didn't really start processing for a minute or two. Still, I wasn't too surprised by this news. Once carriers started charging for checking in luggage, it really seemed like a matter of time. Here's are the two big questions I have: Is this fair and what else can we expect in the future?
Is It Fair To Charge for Carry On Baggage?
That's a broad question. Before I get to my opinion on it, I think it's worth looking at the checked baggage fee first. When you check in a baggage, the airline incurs several costs:
The airline has to employ people to load the luggage. Less luggage to load means hiring fewer employees, which leads to less cost for the airline.
The airline has to pay for the fuel of the baggage. From this article on save money on gas, more weight causes less fuel efficiency. That means it will take more fuel per flight.
The airline has to bear responsibility for losing the luggage. Lost luggage costs airlines a lot of money each year.
The airline has to transfer and track luggage. I suppose the transfer may be covered in the first point, but the tracking involves a lot of computer work. I'm going to assume that those computer systems aren't free. However, once you have a computer system in place, each piece of luggage may not be an additional cost. So consider this as an additional point that didn't slip in the previous three as it applies to tracking and transferring luggage.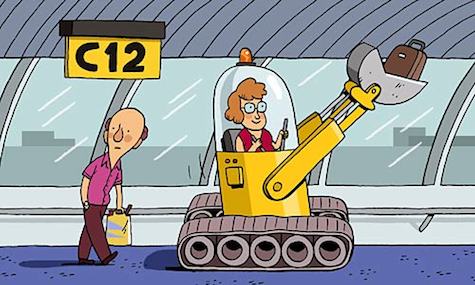 Image from LATimes.com

When you look at those costs, which ones apply to carry-on luggage? The only one I see is the reduced fuel efficiency. So when most airlines charge $25 or so for a checked bag, I find it quite unusual that one airline (Spirit in this case) would charge almost double the price for something that should be costing less money. Perhaps I'm missing something here.
I think some fee for a carry-on bag to compensate for the fuel efficiency is fair, but the price should be a percentage of the overall flight cost. It does not cost the same to fly a carry-on bag from Boston to New York as it does to fly it from Boston to Los Angeles. And while I agree that paying for your carry-on online should offer a discount, a 33% discount seems excessive if you buy into the reason that the fee in the first place is due to reduced fuel efficiency. It's not like it costs the airline $15 more for you to swipe a credit card at the airport vs. when you pay at home. If this is the way it worked, I'll pay for my car's gasoline online and collect my free 5 gallons.
Where Are these Baggage Fees Going?
Just for fun, allow me to propose a scenario. What if I were to take all the clothes in my carry-on and wear them? I then take my carry on, scrunch it under the seat in front of me as a personal item (which is still free). This would save me the $45 fee, but still cost the airline just as much as if I used the overhead compartment. We are only talking about changing the location of the items… the items weigh the same, thus the fuel efficiency is still reduced by the same amount.
Let's take the scenario a little further. Let's say that a man and a woman are traveling on the same flight. The man weighs 170 pounds and the woman weighs 140 pounds. The woman brings a 30-pound carry-on on-board while the husband travels light and avoids the carry-on. The actual cost to the airline for these people should be exactly the same (unless I'm missing something). However, the woman will pay $45 more than the man. That doesn't seem very fair to me. Is the end game of all these fees going to be that we step on a scale with all our possessions and pay a rate per pound?
As a final note, I should mention that Spirit says it's going to reduce its prices so that these carry-on fees will just bring prices back to normal. Savvy customers who don't need carry-ons can use this to save money on airfare. I like that side of things. However, I think their will be a lot of people who see it as a low-fare and think that they are getting an apples-to-apples price with other airlines. I would imagine those customers wouldn't feel too happy when they find out about the other charges.
So what's next? Charging to use the airline potty? Apparently so!
Many thanks to Lazy Man from Lazy Man and Money for sharing his thoughts on airline ticket pricing and the extra charges that travelers may soon see at ticket counters! Like this article? You can subscribe to Lazy Man and Money's RSS feed!
Copyright © 2010 The Digerati Life. All Rights Reserved.