Liquidation sales appear to be a place where you may find a lot of great deals. But recently, I came upon some eye-opening facts about the liquidation business. Some of you may already be aware of this but I don't think everyone necessarily knows about the truth behind some of these warehouse type sales.
For example, I've got some friends and family members (you know who you are!) who love to shop. I am the odd person out in the family because I hate to go to stores…. 😉 . At any rate, these people love sales and will sniff one out many miles away. They also love outlets and will travel to the ends of the earth to shop at these places.
So when they see a "go out of business" sale? They hop to it! It doesn't help that many of these folks I know are simply travelers, vacationers or tourists who are here for the sole purpose of shopping (and visiting family). Hence, it's very easy for them to be drawn to discount events like those set up by liquidators.
But to see what's truly behind those sales, just check out these peek-a-boo prices! Here's a Linens 'N Things price tag from a liquidator: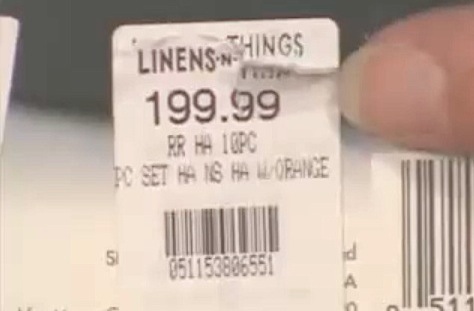 And here's the regular price for the same item under the original management, before the liquidators took over.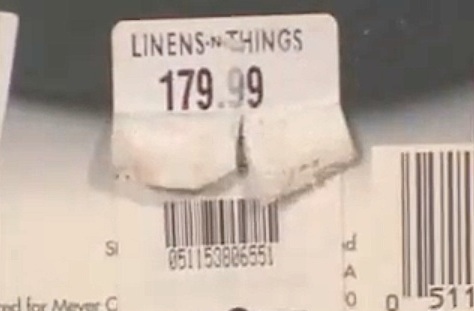 So much for a "store closing" sale! Apparently, liquidators that take over stores tend to change up the prices of merchandise and will offer items at much higher prices than what original management used to sell them for. So "get out of business sales" are not always the awesome deals that you think they are.
Get Out of Business Liquidation Sales: Not A True Bargain
This video should explain it all and should be required viewing material for all shoppers.
In summary: be prepared to encounter price tags that hide other price tags at these "get out of business" sales events. When liquidators step in, they jack up the prices for a while and gradually lower them over time. Their goal is to make themselves money, not necessarily to offer you the best deals. So the point here is that no matter where you shop, you need to compare prices. And be aware that when you buy from this type of sale, there are no returns!
Personal Finance Articles
Here's my reading list over the past couple of weeks — quite a long one!
Copyright © 2010 The Digerati Life. All Rights Reserved.