I'm personally not that big on gifts, but lots of people enjoy giving and receiving stuff from each other during various events throughout the year, so I thought to offer a few thoughts on the subject of reciprocal gifting.
The time for giving is coming up and we'll soon all be finding ourselves wondering about what to get our loved ones. If I can predict what happens, many of us will find ourselves packing the parking lots at the final hour, hoping there's still something decent that can be found and bought from the department store we've decided to head out for, despite the heavy holiday traffic and pouring rain.
But it doesn't have to be so hard. Though I'm far from being a relationship expert, I enjoy the study of human behavior and would like to share some common sense ideas for helping you connect with your significant other. In particular, if you're a young guy who's beginning to sweat over the prospect of gift-giving, here are a few Do's and Don'ts on trying to impress your girlfriend this joyful time of year (this coming from someone who was once young herself).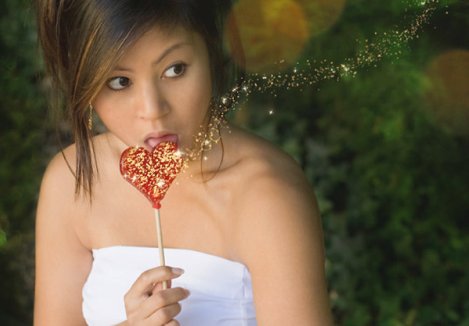 DO: Shop early.
One thing you shouldn't do is procrastinate. Coming into a department store without a clue as to what to buy leads to a terrible condition called "panic buying". Doing things last minute may cause you to pay more than you need to, for a gift that comes across as…. well….last minute. Instead, think ahead and you'll find yourself also saving some bucks in the process. Start brainstorming early (that usually means doing some research online).
DON'T: Buy the first thing that looks shiny, colorful or cute that catches your eye just to get it over with.
Many women have a sixth sense for this sort of maneuver especially if we're beyond high school age: we can usually tell when we've received something hastily chosen or put together. As mentioned, resist the impulse buy and give your gift selection some thought so that your offering doesn't sadly find itself in the clutter bin or back to the store under "Returns" or worse, earn you the dog house. Honor the cliche: it's not the cost, but the thought that matters.
-ooOoo-
DO: Be the type of person who communicates and talks openly with your mate.
Talk is cheap but goes a long way with stoking any fire in a relationship. I couldn't help but be inspired by Fit Buff's suggestions for keeping your girlfriend happy through words alone.
DON'T: Buy any of the gifts listed in this list:
the Top Worst Gifts To Give Your Girlfriend #1. Here are some interesting items from the lists:
Clothes – women come in all different shapes and sizes, and chances are, you'll pick the wrong dress (wrong fit, size, shape or style). Why not just get her a gift certificate instead? Oooops, but according to the lists, gift certificates are supposedly unimaginative, boring and therefore a bad choice! Well I beg to disagree — gift certificates are a practical choice albeit not as romantic.
Quicken – okay, I laughed at this suggestion as something you shouldn't give your girlfriend. They say it's probably the most unromantic gift you could get anyone….well, except me! I'd definitely appreciate such a gift — in fact, I have this in my wish list already! 😉
Vacuum or blender – again, I don't see anything wrong with such practical gifts; I'd argue that these may work for a wife but not for a girlfriend.
-ooOoo-
DO: Ask your girlfriend what she'd like or at least get some idea what her preferences are.
Women like to drop hints here and there about what they'd appreciate for a special occasion. For the men, it's a matter of being able to pick up on those hints and "getting the idea".
DON'T: Buy your girlfriend stuff you believe she'll enjoy because it's something YOU enjoy.
A lot of us usually buy gifts based on our preferences, thinking and expecting our gift recipient would be nuts not to want what we're buying. Unfortunately, all too often, what you like may not necessarily be something your partner cares for especially if your preferences are very discrepant to begin with. Don't get her a season's pass to sports events unless she's a real fan. That would just be a not-so-clever ruse to get yourself those tickets!
-ooOoo-
DO: Consider the gift of time and experience instead of something material.
How about a nice vacation to a romantic spot? A nice evening out? I'm one of those who prefer the memories over the material.
DON'T: Buy the most expensive gift she's had her eye on.
If your girlfriend is ogling a pricey piece of jewelry — that pair of diamond earrings for instance — and you can only rely on your credit card to get it for her…. Please don't do it. You know your head says NO but your heart may say YES; you want to impress her and make things special. But this is a bad idea for so many reasons:
You'll just spoil her into thinking you can afford stuff like this.
Your pride is costing you heavily — the ding to your credit will remain and may possibly exist longer than your relationship.
You're defining your relationship in a material manner.
A good girlfriend will understand if you pass on the high-priced trinkets.
Caveat: if the lady in your life is your wife, then you may want to rethink this suggestion but only if you can afford it (the wife is another story)!
-ooOoo-
I wish you luck on getting just the right gift for your girlfriend or wife (rules are less stringent when you're married 😉 ), just remember that most women would appreciate something personal and thoughtful from you and quite often, it's the gift of time that we appreciate the most. Quality time rules!
Other Resources:
How To Make Your Girlfriend Happy
How to Buy Your Girlfriend the Perfect Gift
15 Inexpensive Dating Ideas

Image Credit: Delafee.com
Copyright © 2007 The Digerati Life. All Rights Reserved.