Welcome to The Digerati Life Real Estate Gift Boutique! Okay this is just for fun so I hope you can play along.
Inspired by an article from SFGate about real estate gifts, I garnered some illustrations that reflected some highly interesting real estate oriented gifts for the home buyer, seller, owner, renter or investor. I hope you enjoy your window-shopping experience! 🙂
Unique Gifts for Real Estate Aficionados
Know someone who's selling their house? You can help them appeal to St. Joseph, the Patron Saint of all things real estate by getting them St. Joseph home kits to be used for devotional purposes. St. Joseph was a carpenter by trade who taught his own step-son Jesus his wood-working skills — hence the belief by some that by burying this saint's statue in your backyard, you can expedite the sale of your home. I'm not sure how serious people are about some of this stuff but I actually have a friend who took it to heart (he belongs to the same faith as I do) and really went ahead and buried a statue. For the record, it worked for him.
Not only that, there's also a Saint Benedict Home Protection Kit. Saint Benedict is known as the Protector of Hearth and Home, so if you would like to banish the negative vibes from your house, this is the way to go:

-ooOoo-

For the aspiring land baron or geography student: OwnAPieceOfAmerica.us will give them a piece of America. A lot of pieces, in fact. If you're looking for a unique gift, well this would be it (along the lines of StarRegistry.com, where you "name a star after your love"). Marketed towards the person who has everything, you can purchase a deed for a square inch of land from each of the 50 states. You can also purchase deeds for one square inch pieces of land in any state you wish. They all seem to be for the same price (between $19.95 and $49.95) and that's because you're really paying mainly for the processing of your deed and the deed itself rather than any old land, as far as I understand it. This is purely for novelty purposes only!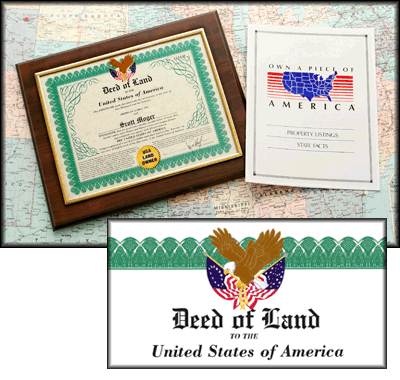 -ooOoo-
Gift someone the opportunity to acquire a brand new house, instantly! You can give someone the chance to own a luxury home in California by getting them a raffle ticket to own such a home. It costs around $150 to get entered into a Dream House Raffle for a $2 million house, 4,400 square foot house in San Rafael. Here's a shot of the house from the front: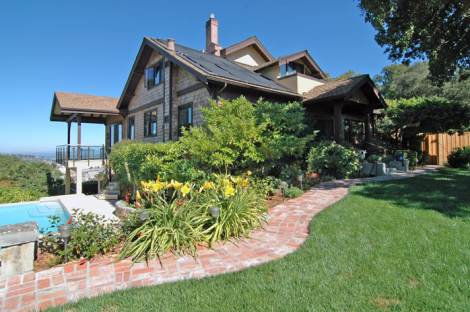 Same raffle entry price to win a Palos Verdes home; while I just caught another one in Brentwood Estates in Simi Valley. Seems like a lot of these raffles are for homes in California.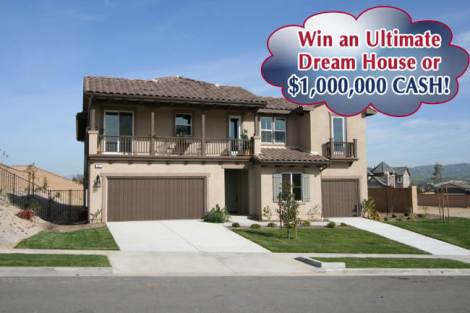 -ooOoo-
To tickle your sweet tooth, you can settle for the classic candy house. Chocolate or gingerbread are my favorites and I've received a few of these in my time! If I do get one, I usually just use it as decor because the sugar buzz is just way too much. 🙂 But watch out, since these things are also heaven for ants and other hungry pests!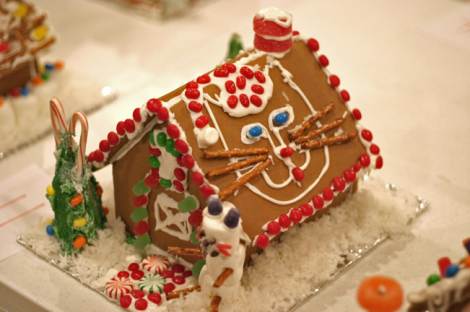 -ooOoo-
You can always go the tried and true route by giving away the gift of information and education via books or DVDs. There are tons of real estate books or other form of multi-media such as DVDs, and even entertaining feature films such as Closing Escrow (a real estate satire) and Open House (a musical comedy about securing the American Dream), that you can check out.
Or how about imparting some lessons in real estate property management and general money management to your young ones in a fun and educational way? Then let's not forget one of the hottest items for the 2007 Christmas Season: the new Monopoly, Electronic Banking Edition board game (and definitely one of my favorite games ever) which has these cool new features:
Updated money transactions using electronic banking card features (such as debit cards).
New tokens to reflect today's culture: the thimble, wheelbarrow and vintage racing car are replaced by modern tokens such as a tin of Altoids, a flat screen TV, a space shuttle and a dog in a handbag.
Railroads have been redeveloped into airports.
Utilities are now internet service providers and cell phone companies.
Properties have been modernized (e.g. Texas Stadium, Times Square).
Fun new cards telling you to go to jail for identity theft or lose a million dollars because your network gets hacked.
Exchange money using much higher amounts: players start with $15 million in their bank card account.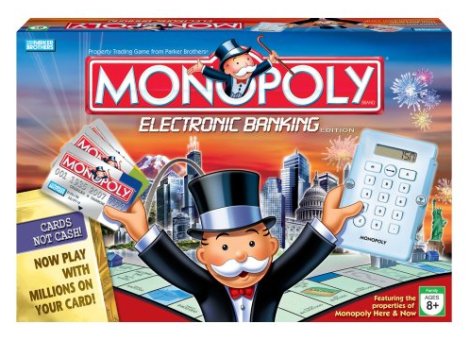 You can also go for the classic Monopoly or one of its myriad other variants.
-ooOoo-
Now if you want to make a statement with a heftier gift, why not give away real property? Sounds cool, 'no? However, I was actually surprised to find out that it would be better to receive property through an inheritance instead of as a gift — mainly because of tax purposes. Here's why, according to the SF Gate article:
When you pass along a primary residence, you can pass on the appreciation without it being taxed (up to $250,000 for an individual and $500,000 for a couple). But if you gift that same house, the receiver has to pay capital gains on your appreciation when he or she sells. For a property that was bought many decades ago, the difference between the value of the home as a gift or an inheritance is significant.
Well, maybe you'd rather nix the idea of giving or receiving property for now, and instead go for that Deed to America instead!
-ooOoo-
On a more serious note, if you're looking to give to charity, your gift can go a long way at places like the Coalition on Homelessness, which is local to San Francisco. But you can check your own area for similar reputable charitable organizations that exist to help our homeless brethren.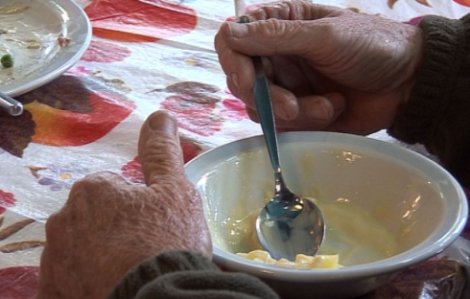 Image Credit: abc.net.au. Post inspired by this article from SF Gate.
Copyright © 2007 The Digerati Life. All Rights Reserved.