If you're about to put up your home for sale, you must be anxious about this painful real estate market. At least, I know I would be. Clearly, it's been a rough ride for those involved in selling and transacting — you can just ask the 40,000 financial services workers in the mortgage industry who've lost their jobs in the last month. The ride is just as tough for those whose homes are stuck in limbo for months or even years on end. When this happens, I've guessed that it was always because the seller is just not ahead of the pricing curve enough; if you happen to lag the market in price, you run the risk of ending up with a stale listing. To move your house, at some point you may have to cut prices drastically just to match what the market's levels are.
We're now dealing with a buyer's market so that means sellers for the most part, need to cater to homebuyers on the prowl. Not everything bad can be blamed on the soft market, so a seller may find it worth evaluating the various reasons why their house is not attracting any interest, hopefully so they can do something about it.
Reasons For Why A House Isn't Selling
The home's price is too high.
The real estate market may have decided that the listed home is overpriced. If the comp sales in your area are showing lower prices, then you need to follow suit in order to get your house sold. Unfortunately, too many sellers are convinced their house will command the price they want and decide to sit things out. They may end up waiting a long while.
The house is too unique.
Lots of people can't believe that their esoteric, unusual home is just not drumming up interest. There are those who have customized their homes right up to the point of listing it for sale, then find themselves frustrated because it's not attracting buyers. The answer to this dilemma: stage your house well and make it look as neutral as possible. De-personalize your home — that is, remove all your personal effects so that visitors can imagine themselves living there.
Is the house in a less than desirable neighborhood?
A residential district can be unpopular for many reasons: it may not have very good schools, may have a high crime rate, is located in the wrong part of town, on a landfill, or in an area of slow or no growth. But if prices are lowered accordingly, there should be a buyer for the home.
The neighbors aren't too neighborly.
Sellers may want to move because of troublesome neighbors, eyesores or potential trouble spots around their area. But before selling, one may want to consider taking some steps within their control to help improve the neighborhood. But tread carefully when doing so in order not to ruffle any feathers.
Sellers try to sell their own homes themselves.
A lot of people take matters into their own hands believing they can save some money by acting as their own realtor. I'm not saying you shouldn't try this yourself especially if you're confident you can. However, I'd prefer to pay an expert for their expertise. There's no way I'm going to risk messing up a sale transaction by trying it myself, since I know I couldn't do half the job a professional can do in this regard.
The realtor isn't doing a good job.
Time to find a new realtor. Here are some tips to find the perfect one for you.
The house is not being marketed hard enough.
If you're in a buyer's market, you may want to consider offering goodies to attract more buyers such as cookies and gift baskets at open houses.
Sellers may be a little too impatient.
It's a good idea to go with the flow of the real estate market you're dealing with. If it's a buyer's market, you'll need to be a bit more patient. You may want to check how you're doing against some benchmarks on home sales that get published in your local paper or even just by picking the brain of your realtor. Slow markets can keep you in limbo for six months and beyond! Hotter markets should see your home sell in a month at the latest, otherwise you may want to consider making adjustments.
If you want to unload your house successfully, I'd suggest the following moves:
Quick Sale Solutions
Lower your price according to the property market.
Hire a good realtor with a solid reputation.
Manage and readjust your expectations.
Market your house well. Perform online as well as offline marketing.
And if you're really at the end of your rope, try these strategies:
Desperate Measures To Get Your House To Sell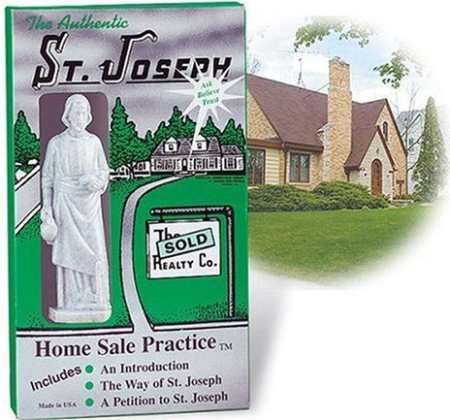 St. Joseph is the patron saint of carpentry (and homes on the block), and this is a St. Joseph "Home Sale Kit". If you want to sell a house, consider burying this saint's statue in your backyard for good luck and a smooth, swift home sale. Desperate enough? One of the faithful? Then read on.
Relist it.
Take your house off the market, take a break, then relist it. We had a house on our block go through several relistings (we experienced quite a bit of deja vu over the For Sale sign) before it finally got sold — and shockingly, at the price it was originally listed at!
Fix your house and get it neutralized (or even just "normalized").
Maybe your house just needs a fresh makeover or just an updated look. Hiring a designer or home stager to fix up your house may help things turn around.
Lower your prices ahead of the competition and *not* after.
If you're ahead of the price curve and try to undercut the competition, instead of pricing at or above market, you'll stand a better chance at getting your home noticed before all other homes in the same boat.
Take your marketing up a notch.
I've mentioned how you can market your house more actively. Some sellers take their competition seriously and try even more radical approaches such as offering financial incentives to those buyers (and their agents) who bite.
Last but definitely NOT least, pray.
To St. Joseph that is. I thought this practice was hokey but I'd probably do it too if I wanted a miracle. Enterprising brokers have even gotten into the business of selling St. Joseph real estate/home sale kits! Probably a good idea in this housing climate.
Copyright © 2007 The Digerati Life. All Rights Reserved.