I've been reading a lot about anguished homeowners recently, who've been whipsawed by the subprime crisis and are now mulling their future. In some spots in California, things haven't been too pretty with the real estate market, thus leading to a rise in foreclosures. And just as easy credit flowed easily not too long ago, fueling the rise in subprime mortgage and "no money down" loans, we're now seeing the consequential rise in yet another disturbing trend: people simply deciding to walk away from their homes.
I can't imagine what it's like to face the prospect of losing your house. It's a financial quandary that has many possible solutions that can depend on your specific situation. If I were in such a position, how would I go about figuring out what to do? I thought I'd put together some arguments and reasonings that go behind making such a huge financial decision — the decision to foreclose or to walk away from one's home and mortgage.
Making The Decision To Foreclose
How you decide to resolve your mortgage issues may depend on your personal circumstances, so read on for some points to consider while making your decisions.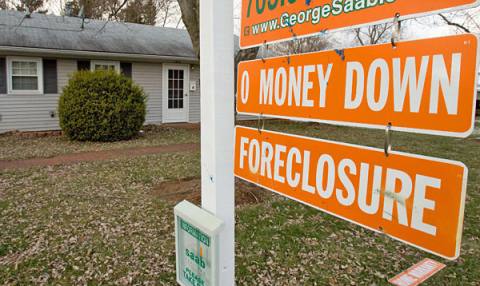 Why Would You Consider Foreclosure?
Foreclosure may seem to be a more attractive option for those people who were caught in the subprime mess as holders (victims?) of 0% money down loans. This is because they have less money on the line — with no equity or no cash tied to your home, you may feel less obliged to hold on to your house.
People have different reasons for owning a home. Those who bought homes for investment purposes will have different financial expectations as those who bought homes as primary residences. An investor looking for a quick buck will find it especially tempting to dump a house when faced with the possibility — or worse, the reality — of loss.
If you can't sleep at night and you really just want to bite the bullet and get things over with, then you may be a candidate for "walking away". Though there are certainly ways you can work things out with your lender, it may be the case that you'd rather avoid the hassle and prefer to face the consequences (bad as they may be) of foreclosure and having this on your record.
In some states, like California, once you "walk away" from your house, your lender cannot pursue you for additional funds. This may be a relief to some people who feel pressure and are in deep financial distress.
Some mortgage experts have stated that foreclosure is not as devastating as you may think. For instance, you don't need to declare bankruptcy, which is a different animal altogether.
Even with foreclosure, you may be able to restore your good credit standing sooner than you think: think one or two years rather than the often mentioned seven to ten year process. How so? Supposedly, though a foreclosure is a mark on your credit report that stays for seven years, its true effects are mitigated over time: if the rest of your finances are positive, your payments are current and you have no other problems with your status, then your credit score can return to a decent range (e.g. 600's – 700's).
You may have leverage: banks don't like to foreclose — each bad loan costs them an estimated $40,000. This has encouraged troubled homeowners to apply pressure on their lenders by strong-arming these lenders into considering reducing their mortgage principal (in line with current appraised values). When backed into a corner, these homeowners threaten to "walk away" and foreclose, hoping that their banks will cave in to their demand of lowering their mortgage obligations.
Why Should You Avoid Foreclosure?
At this point you may think that foreclosure is sounding more and more like a decent proposition; can waiting seven years to clean up your credit really be that bad? You may actually need all that time to begin saving for yet another shot at another house down the road anyway! But before you start mailing in your house keys (to your lender), you should think twice before jumping the gun, and hear out the following points:
Most credit advisors and services discourage delinquent homeowners from foreclosing. The prevailing financial wisdom is that you should do everything in your power to avoid foreclosure. There are many more options you can consider before taking the radical route. By communicating with your bank or lender, you may find a better solution to your woes, one that is superior to foreclosure.
There is that obvious stain to your credit once you foreclose — it goes on your credit report for at least seven years. Once your credit gets hammered, your future loans and credit use become a much more expensive matter (check out how your credit scores affect your loan rates and how interest rates are hiked up for those with unfavorable credit), or worse, this can affect your ability to apply for any form of loan, insurance, employment or even housing!
Fannie Mae is cracking down on borrowers who are contemplating on walking away from their obligations. Fannie now mandates that if you foreclose, you'll have trouble getting another mortgage down the line. It will take you five to seven years before you can qualify for another mortgage through Fannie Mae, or three years, if you happen to have "documented extenuating circumstances".
If you foreclose, you'll find yourself with stricter requirements in order to qualify for your next mortgage: you'll need at least 10% for a down payment and a minimum FICO credit score of 680.
Other problems you'll be grappling with if you walk away? You'll be facing federal income tax issues. You'll still owe income tax on your unforgiven mortgage loan balance. Whereas if you work out a loan reduction/modification plan with your lender, any portion of your loan that is forgiven may escape tax liability.
Once you've got a foreclosure on record, future applications for mortgage loans will be scrutinized in much more detail and will be subject to manual underwriting. Your loan application may take more time as your finances go through a microscope.
~ooOoo~
Clearly, foreclosure is one of the most stressful financial situations to be in, but this should really be your final option. Such a huge matter requires careful analysis and understanding of all the alternatives and the effects of your decisions. To those who have concerns about their home loans, I'm hoping this piece is able to provide you with some food for thought to consider as you evaluate your mortgage matters.

Image Credit: A foreclosed home for sale. (PAUL J. RICHARDS/AFP/Getty Images)
Copyright © 2008 The Digerati Life. All Rights Reserved.