To follow up on her story about dealing with loan modification companies, we bring you this post by Stacey Doyle.
After paying our mortgage on time for eight years, we found ourselves three months behind. To try to save our home and finances, we are considering a home loan modification. Unfortunately for us, we are past due on other bills, so our credit rating has plummeted. We've therefore contemplated on doing a mortgage loan modification, but we worry about what the effect of such a move will be on our credit.
Can A Home Loan Modification Ruin Your Credit?
Homeowners who find themselves unable to catch up on their mortgage payments have several options to get rid of the obligations. But many debt management solutions available today may actually have a negative effect on a borrower's credit score — and in particular, their FICO score. In those cases when homeowners decide to walk away from their problems, there may be grave financial consequences.
What do the FICO score people have to say about it? According to FICO PR Director, Craig Watts: the worst thing that can damage your credit score is a serious delinquency. This would be something as serious as a bankruptcy or foreclosure and its gravity can vary from one individual to another.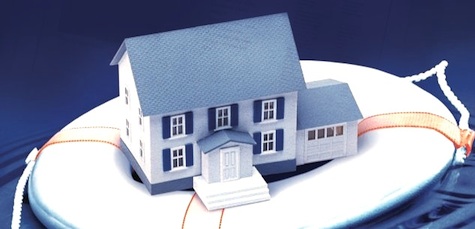 So how is my credit going to be affected now that I've fallen behind on my mortgage payments? Clearly, it will fall by some points, and it will take time to repair my credit regardless of which solution works out best. In the worst case scenario, credit scores are typically lowered by up to 300 points after a foreclosure. Anyone who opts for a foreclosure will see it on their credit report for seven years, and it may take a minimum of two years before they notice any improvements to their credit score.
Tip:
It's always a good idea to keep an eye on our credit rating. For free credit reports, check out AnnualCreditReport.com. To monitor your FICO credit score, check out
myFICO products
such as the
myFICO Score Watch
service.
What Are My Options?
While it is clear that my credit will be negatively impacted by my past due mortgage payments, I still have options. Some possibilities to resolve the problem include a refinance, loan modification, foreclosure, deed-in-lieu of foreclosure, short sale or bankruptcy. Here was how I analyzed and reviewed each of these options:
With my current poor credit, a refinance is not a viable option. It would raise my interest rate and monthly payment, which I cannot afford.
Foreclosure might leave me with a hefty bill since currently my house is worth about what I owe.
A short sale or deed in lieu of foreclosure would pay off my current mortgage and leave me free and clear but will make a big dent on my credit score and force me to move to a new home.
If I were to file for bankruptcy, I may be able to keep my home, but my credit would get shot. My credit history would be seriously impacted for seven years.
After reviewing my options, I knew that I definitely wanted to avoid foreclosure: this led me to what I thought may work best for my situation, which is to negotiate a loan modification.
Dealing With Mortgage Lenders
And here's where I am today: I've been negotiating with my mortgage lender since last November to no avail. My original lender was bought out by another, who claimed to have lost all my paperwork. I had the local bank branch manager handle my most recent submission, which they finally received and processed. Now I was not hopeful about this because the bank manager herself admitted that she was unsuccessful with negotiating a loan modification with her own employer. And as expected, I was turned down for the modification four weeks ago and became despondent.
After some thought and additional research, I eventually decided to enlist the help of the state Housing Authority. After two meetings, they agreed to represent my interests to try to get a loan modification and also directed me to a wealth of local resources including possible free legal services.
These days, I feel more hopeful that I am headed in the right direction after reading statements from Edward A. Mermelstein, a New York real estate attorney where he states the following: it's in the best interest of banks to cooperate with their customers and rework and modify their loan rates since the institutions are not in the business of foreclosure. The banks want to keep loans alive and so will be willing to work with you if you are falling behind with your payments. Do your research on foreclosure laws that govern your specific state as the laws can be different, depending on where you live.
Can Troubled Homeowners Get Help For Free?
The short answer? YES.
Prior to contacting the Housing Authority for help (the assistance they offer is free!), I had spoken with some debt counselors (e.g. Home Foreclosure Fighter) whom I connected with through online searches and ads. But these folks all wanted a fee, something I can't afford to pay right now. It didn't make sense for me to pay for any more services when I could no longer afford my own mortgage.
According to Brian Mikelbank, a Cleveland State University professor, homeowners should try not to pay for assistance. He states: "There are other resources that are financing the (housing authority) counselors, enabling them to offer free services." He suggests looking for help through HUD (Housing and Urban Development) counselors and community leaders: "If foreclosure can't be avoided, these are the folks that can help you get out… with the least amount of damage to the rest of your financial situation."
The Bottom Line
No matter which way my situation goes, I realize I am not completely doomed. Linda Ferrari, author of "The Big Score", states:
"If the Fair Credit Reporting Act doesn't require lenders to report negative information at all or in a specific manner, then this leaves the door wide open for negotiating deletions or non-reporting of these items."
While a loan modification will lower my credit rating, it won't make as much of an impact as foreclosure or bankruptcy. If the terms are negotiated well, I might even be able to have negative credit notes removed. On the other hand, if we are unable to reach a settlement, a short sale or deed in lieu of foreclosure might be the only remaining path for me to take. I will keep everyone posted about my progress and findings.
Copyright © 2009 The Digerati Life. All Rights Reserved.