What's the difference between your FICO credit score and all others?
Credit scores can be pretty confusing. It's because when you go hunting around for them, you're bombarded with many options. What you think is a free credit score really isn't (you only get a free trial) and the one you've picked up may not be what your lender is using to gauge your creditworthiness. To make heads or tails of all this, let's see if I can put some facts down. Let's start with this basic question: what are the differences among the various credit scores that are offered by different agencies?
The most widely used credit score is the FICO score, which was developed by the Fair Isaac Corporation (hence the name FICO). And contrary to what you may have heard or read, it is not called a "FICA score" (there's no such thing as a FICA score, even though tons of people are looking around for theirs 😉 ).
Credit Scoring Differences: FICO vs VantageScore
While the FICO credit score is popular among lenders, the credit bureaus also use their own models. For instance, here's a look at the different scores available out there, and where to pick them up (some products mentioned below bundle credit scores with reports):
Credit Score

Where To Buy

Cost

Range

FICO Score (TransUnion)
myFICO.com
$15.95
300 – 850
FICO Score (Equifax)
myFICO.com
$15.95
300 – 850
FICO Score (Equifax)
Equifax Score Power
$15.95
300 – 850
Experian Plus
Experian
$15
300 – 850
VantageScore
Experian
$5.95
501 – 990
(letter grade: A – F)
Credit Karma Score
Credit Karma
FREE
300 – 900
*Products marked "sale" have a promo code automatically applied so you'll receive the discounted price as listed above.
Be aware of the differences: apparently, your scores can vary by as much as 50 points, depending on which credit bureau you get them from. For example, your Experian credit score (a proprietary number) won't necessarily match the number you obtain through a credit monitoring service such as the myFICO Score Watch service. Here are some scenarios that can cause variations in your credit score and report:
Certain financial events may be reported to just one bureau but not another. For instance, there was a time when a department store credit card I owned would only report to a particular credit agency. Another time, I noticed a closed account appearing on one of my credit reports, but not on others.
Errors may show up in one of your credit reports. You may want to double check your credit information across reports for potential errors.
Identity theft is also a risk, and can appear in any of your credit reports. It's therefore important to examine your reports on a regular basis. Here's more on how to prevent identity theft and get identity theft protection.
Different reports and different scoring models by each credit agency can lead to varied scores.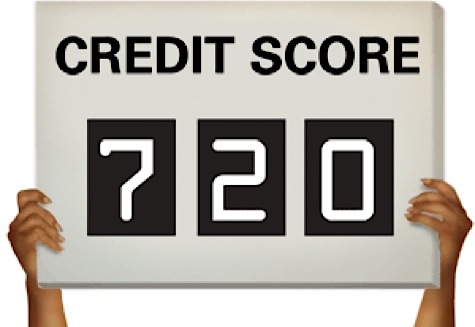 Be Careful About Where You Get Your Credit Score!
It's important to differentiate between your credit score and your credit report. Your credit report (or credit history) is a record of your past financial behavior — mostly showing how you've dealt with loans and debt. If you've been bankrupt or had a foreclosure in your past, these will be captured in your credit history. It's easy to get a report: you can fetch it from all three major credit bureaus for free via AnnualCreditReport.com.
Now there are companies (the credit bureaus, agencies and independent companies) that distill all this credit information into one convenient number via a formula, resulting in your credit score. But with credit scores, things are not as straightforward as they are with your credit reports, since you can fetch different versions of these numbers from a variety of places, as we've illustrated earlier. The most well known and widely used is the FICO score, but other alternatives also exist, called non-FICO (or even "FAKO") scores.
Why are there so many variations? There's a licensing cost to use FICO, which has prompted some financial companies that need to buy and use scores, to opt for the more cost effective solution of developing or resorting to proprietary scoring models. After all, many financial companies are high volume users of such scores, since they evaluate risk levels for tons of accounts. This chance to grab a piece of the credit score market has encouraged reporting agencies to develop and offer their own scoring system to the public.
Don't confuse one score for another. If you're not careful, you may end up applying for a loan based on the "wrong" credit score (one that your lending is not using). I've read about people who ended up with more expensive loans than they bargained for, because they were relying on numbers that were different from those used by their lenders. So before paying to see your score, make sure you know what it is you're picking up. First ask your lender or bank what they're using: is it a FICO or a Vantage score that they're basing their evaluations on? Better yet, some banks may be willing to share your credit information with you for free, so it doesn't hurt to ask!
Copyright © 2009 The Digerati Life. All Rights Reserved.