Let's talk about debt for a moment. While borrowing money has its benefits (well, we'd be able to afford more stuff this way!), loans can also carry an inordinate amount of risk and bad mojo if they are managed improperly. Debt in itself is a tool that may have a place in your financial universe, and I find that when used responsibly along with a good grasp of money management and the risks involved, you can find yourself better off. But unfortunately, this tool is oftentimes misused, misunderstood or taken lightly, thereby causing a lot of people to find themselves facing these consequences:
So before you secure a loan — do the research, know what the product is about, have a plan and stick to it! With these caveats, let's look into some loans that I'd be doubly careful about touching:
Think Twice Before Taking Out These Loans
High-Risk Mortgage Loans
The other week, I wrote about some risky mortgage loans that became very popular during the height of the housing boom. People took on this debt in order to "stretch" and afford the homes of their dreams at a time when these homes were listing at their highest prices ever. The readjustments that are being experienced in the property and credit markets these days have been very difficult for very many who found themselves carrying these types of debt (imagine monthly mortgage payments reset at $1,000 more than they used to be). If you are a good money manager, these may work out for you, but they've been nothing but trouble for a huge number of homeowners who own them.
My Thoughts: If you are a disciplined money manager, sticking to the payment plan and ultimately refinancing to a more conventional loan would be good strategy. Personally, I stick to fixed loan mortgages so I can sleep at night and not worry about rate changes.
Loans Against Your Assets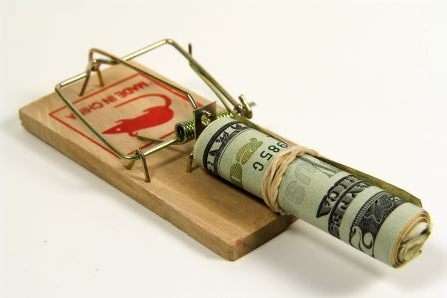 Would you borrow against your house or your retirement account? Securing money this way is a personal choice: there are situations that may warrant this approach, such as when people embark on large, expensive home projects. But I look upon this more as an option of last resort and should be done only if you are absolutely certain you'll be able to make good on this debt. After all, your assets are on the line and there can be penalties assessed — as in the case of borrowing against your 401K — if you aren't careful. Note as well that if applied properly, HELOCs and home equity loans can be beneficial with the interest rate deductions they offer, but if things go wrong and if you experience a default, you can lose your house. Just recently, there was a seemingly tragic foreclosure story where an immigrant was scheduled to lose his house due to a $20,000 home equity loan. It was the most ridiculous case of bank debt gone awry that I've ever heard of. But the wonderful news here is that the issue was finally corrected after media attention trumpeted this story.
My Thoughts: I'm not so sure I'd be comfortable taking on these loans because I don't trust myself to stay on top of these things.
Department Store Cards
These types of cards are known to carry some of the highest rates around. It's a bait and switch type of game, where you are "baited" with the promise of an immediate 10% or higher discount on merchandise sold at a given store. You are then offered the chance to open a store credit account to take advantage of the discount. Once you have that store account, you are enticed to keep using it to gain more "store points" or discounts. Note that these cards can carry the highest rates around so if you're going to use them, pay them down as quickly as you can.
My Thoughts: These cards can clutter up your credit and to simplify, you should probably do without them. I do own one such card but I pay off all incurred balances in full and I use it very infrequently.
Credit Cards (Heavy Use)
You can either love 'em or hate 'em. Credit cards can be a great convenience, however they come with a price when used too liberally. A sobering fact: credit card holders spend 12% – 18% more money than those who just carry cash. It's easy for credit card debt to just creep up on you since it feels like you are spending "free money" — convenience and ease of use is a double-edged sword. On the contrary, if you can equate spending with credit as "more expensive" and NOT equal to (or less than) spending with cash, then this realization can prompt you to treat credit card spending more carefully.
My Thoughts: I personally love my credit cards — I used to own just one but now I have three of them: one personal, one backup personal and one business card. I pay them in full every month, keeping in mind that spending with credit is not the same as spending with cash since it is *more expensive*.
Margin Debt
This is a form of leverage than you may at first think is a fine idea since you are attempting to grow your money using OPM or other people's money. How is this done? Instead of buying stock using your own cash, you open a margin account with the brokerage firm, who then lends you some of the money to buy stocks. You get charged interest on this and worse, you'll need to cover the cost of any stock that falls in value (to a certain level). So if you're highly leveraged, you face the risk of losing your investment if the market turns against you and you're unable to cover the margin call.
My Thoughts: A lot of experts say that going on margin is a tactic and not a long term strategy. I'm not sophisticated enough (or foolish enough?) to attempt this at all.
Payday and Cash Advance Loans
Let me start by saying that these types of loans are considered illegal in some states, and I'd imagine this is the case because of the excessive and usurious interest rates that they charge. Up to 500% per year?! They are also prone to unethical and unscrupulous terms and are therefore widely considered as "predatory loans". However, they are used by people who are in a bind and need cash immediately but don't have any other way to cover it, possibly because their credit is bad and they're in an emergency. The cash can be very easy to get, but it is obvious that you pay a huge price for that convenience.
My Thoughts: Avoid these loans if you can help it, but if you somehow can't, fully understand and realize what it will cost you. These are the most expensive types of loans to get, so avoid them by building an emergency fund that can cover 6 months' worth of expenses.
Loans on One-Time Fleeting Events (Weddings, Funeral)
I suppose they have now invented loans for practically anything out there you can think of. Basically, these just sound like your typical loans with fancier names, usually associated with one-time events. Wedding and funeral loans exist because they cover events that are outside of ordinary expenses, which for many, take place with minimal preparation. But there are ways to avoid these high cost loans: go cheap and/or be prepared way ahead of time.
My Thoughts: Avoid this type of debt, which I believe are not good things to saddle yourself with during vulnerable times. When you're starting a new life with someone else or grieving the loss of your loved one, it can be a taxing time of adjustment and stress, and taking on additional debt shouldn't be something you should be worrying about. Instead, save ahead and go frugal on these events if need be. I take care of big, out-of-the-norm expenses by making sure I have enough savings to cover such eventualities.
-ooOoo-
Because we live in a high consumption society where consumers and credit rule, the temptation to take on debt is ubiquitous, and quite powerful. The pull to consume is strong, with all manners of enticement around us telling us to spend and spend some more. But taking on debt should not be an emotional choice but a strategic decision you make to better yourself. In my book, there are only two ways to handle debt: by using them wisely and carefully, or not at all.
Note: This blog may feature ads for similar loans, but my position here is always to take things conservatively and to proclaim: buyer beware. Do your research before taking on the financial burden of a new loan.
Copyright © 2007 The Digerati Life. All Rights Reserved.