Being quite a frugal person, I thought hard about what motivated me to be so careful with the money I earned. It turns out that it was because I was afraid: afraid that one day I wouldn't have enough. Fear motivated me to watch how I was spending because in the back of my head I knew that it wouldn't take much to bring someone's financial roof down on their heads. Whether or not it was a rational thought depended on the kind of grip this need for control had on my life. But one good thing about this is that it is very unlikely for me to go bankrupt.
It just seems too easy to run out of money. It doesn't really take much at all. It could just take one bad move, like in the case of this hapless Star Trek fan who ended up both divorced and bankrupt. Somehow these two events often go hand-in-hand, with unfortunate events building up into a snowball of bad mojo.

Tony Alleyne spent £100,000 he borrowed with 2 big loans and 14 credit cards to turn his flat into a Star Trek home. His idea was that other Star Trek fans would then pay him to do the same thing to their homes. Unfortunately, he went bankrupt doing this.

Tony, who split from his wife Georgina after he replaced their fridge with a "warp coil" said: "I was convinced Trekkies all over the world would want a house like mine and pay me to do it.

"But I was wrong and just overstretched. Building it in my apartment was the enjoyable and easy bit. But then I got hooked up with marketing and merchandise people here and in America and it all got out of hand.

"I'm still proud of what I created but it's been a financial disaster."

Something like this happened to a far flung acquaintance, although I don't think he ended up completely bankrupt. But at one point his wife walked out on him with kid in tow, and he lost his house. Why? In the middle of the dot com boom, he inherited $800,000 from his grandmother. Then he proceeded to build his dream home as a reflection of his vanity — it was a "smart" home and fully customized to his every whim. Eventually, he ran out of money and couldn't continue paying the builders who then walked out on him. He had no choice but to give up the house but that was after his wife had had enough.
So it goes to show, it really doesn't take much to end up in skid row even if you're loaded to begin with. Let's review a bunch of really good reasons why we can run out of money. In my mind, there are only three — any conceivable, specific problem falls under one of these reasons.
Why Do People Go Bankrupt?
#1 Bad luck
Let's face it, sometimes, no matter what you do, you can fall prey to bad karma. Stuff happens beyond our control and the saying "bad stuff comes in threes" was made up for a reason. You may have all the resources you thought you needed to build your financial buffers, but when unexpected disasters befall you one after another, those resources dwindle and vanish. The #1 reason for bankruptcy in America, responsible for more than half of bankruptcies filed nation-wide, happens to be ill or failing health. Medical and health problems cause a legion of other issues such as unemployment and large medical bills that can easily cripple your bank account. These are other events that can wipe you out even if you are reasonably well off: accidents, natural disasters, economic shifts, even crime. A loss of income brought about by any sudden event can do that damage. The question is, how formidable is your financial fortress so that despite the gravity of any situation, you're still able to get back on your feet and recover. Don't let that fortress be a house of cards.
#2 Lack of preparation
Depending on how well prepared you are with handling unexpected, unpredictable and undesirable situations that cost a lot of money, you'll be able to determine if you sink or swim with the consequences of misfortune. How thick are those walls you built around your pocket book? This is where emergency funds, insurance policies and estate planning enter the picture. Part of a sound financial plan is to make sure the caulking is tight and you've got a strong defense to protect your assets and valuables. For instance, do you have enough savings to tide you over the next tax season? There are those who've gone bankrupt when the IRS decided to pound them with penalties along with their accumulated back taxes.
#3 Foolish financial mistakes or other decisions gone wrong
We can certainly blame the heavens or bad karma for our losses, but many causes for bankruptcy do stem from our own actions. The rest of the reasons I can think of, such as divorce, bad relationships, massive debt, overextension, gambling, self-destructive behavior, business and job losses are within our control to avoid or even just to mitigate. Being on any side of a financial crime will take you down as well, so don't get into that suspicious sounding investment, join in that Ponzi scheme, nor even think of perpetrating something that sounds remotely too good to be true. As they say, there's no such thing. Either way, you're bound to lose big.
To put things into perspective, here are some interesting facts about bankruptcy, thanks to BankruptcyAction.com. I'm reprinting some of their data here.
Some Bankruptcy Statistics
According to Bankruptcy Action, historically, the average number of Chapter 7 bankruptcy filings has been about 100,000 a month. Last year, however, it appears that the numbers have plateaued to around 30,000 – 35,000 a month from March 2006 to September 2006.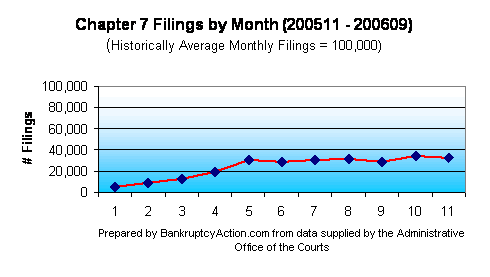 And isn't it telling that consumer bankruptcies have skyrocketed whereas corporate bankruptcies have stayed level or gone down?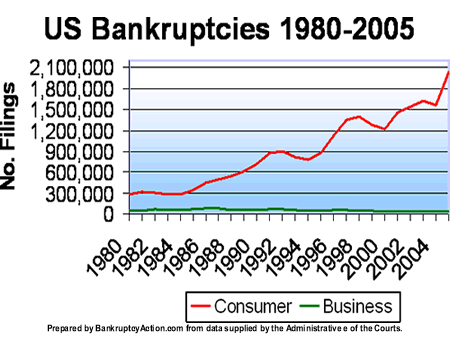 And lastly, here's a personal picture of bankruptcy in America.

Bankruptcy Profiles

Average age: 38
44% of filers are couples
30% are women filing alone
26% are men filing alone
Slightly better educated than the general population
Two out of three have lost a job
Half have experienced a serious health problem
Fewer than 9% have not suffered a job loss, medical event or divorce
Highest bankruptcy rates: Tennessee, Utah, Georgia, Alabama

Source: The Fragile Middle Class: Americans in Debt; Elizabeth Warren, Harvard Law School; Smith Business Solutions

The typical family filing for bankruptcy in 1997 owed more than one and a half times its annual income in short-term, high-interest debt. A family earning $24,000 had an average of $36,000 in credit card and similar debt.

Source: Federal Reserve (1997)
Copyright © 2007 The Digerati Life. All Rights Reserved.