A million dollars is a lot of money that's certainly not easy to accumulate. But is it so easy to lose? There are a couple of stories I'd like to present regarding the foolish loss of a million dollars.
Story #1: Money In The Mattress
Why shouldn't we hide our cash at home? Well, our first story warns us of why money kept in or under our mattress can be problematic. This particular tale would break your heart if it did happen to you (though there's question of its veracity). In Tel Aviv, there was this unfortunate woman who lost her mattress. She had been sleeping on the same old, ratty bed for decades, and her daughter felt she would do her mother a favor by trading it in for something nice and new. What her daughter didn't realize was that the old mattress housed her mother's life's savings. Cash padded its interior which amounted to a million dollars. There are apparently still people out there who literally keep their money in their mattress (note: there are much better places to keep your money safe). Although I scratch my head wondering a few things:
How do you know when you've got a million dollars stuffed in your mattress? It seems hard to account for that much money.
Can a mattress truly house all those bills?
Was the exchange rate taken into consideration? $1 million is equivalent to 3.928 million new Israeli shekels. Or do people store their life's savings in dollars? Maybe.
When the daughter tossed the bed by the curb, didn't she notice just how heavy it was? Lugging down a million dollars to the garbage heap just sounds like it would be so…. heavy.
To gain some idea about what exactly was thrown in the dump, let's visualize a million dollars here: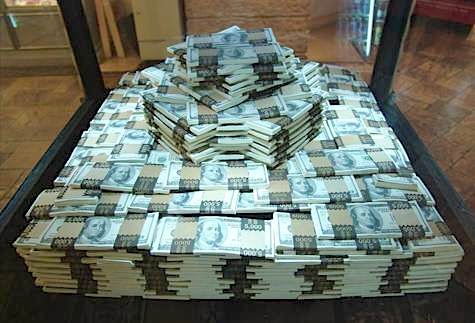 Image from the
Huffington Post
.
Could you really drag a mattress with this much dough in it anywhere? Is this truth or myth? Whether or not this is an urban legend, it serves us with lessons about what not to do with a significant amount of money.
Story #2: The Bankrupt Game Show Winner
This story is about a bankrupt millionaire. Apparently, it's possible to win a million dollars and still file for bankruptcy in 2 months!
Let's start with how one woman got lucky. Winning a game show is one way to make a million. But check out the story of this "millionaire", which I can only describe as a tale of riches to rags, or maybe of rags to riches to rags.
This woman, no other than a State School Superintendent, won a million dollars on the game show "Are You Smarter Than A Fifth Grader"? She snagged the grand prize and pledged to donate it to various schools. But 2 months after her win, her husband's home building company failed, forcing her family to file for bankruptcy.
Goes to show you just how tenuous our financial situation can be at any point in time. For many people, it only takes a layoff, one bad business cycle, one bad trade in the stock market or one major illness to wipe out the family's fortunes. I covered a lot of these eventualities when I wrote about the only 3 reasons why people go bankrupt.
The game show winner is still honoring her promise to gift her winnings to schools, with the funds sheltered in a "gift foundation" that is supposed to be protected from her creditors. Hopefully, her donation stays intact and untouched throughout bankruptcy proceedings.
How can we become millionaires? How about trying to hold on to the money we've earned?
Copyright © 2009 The Digerati Life. All Rights Reserved.