Today is Blog Action Day 2009, and I have been a little late with my entry for this year. That's okay, because I revived my 2007 article (on 10 Simple Ways To Save Money and the Environment) as a featured post and hopefully, it shared in the spirit of what this day is all about. As I recall, Blog Action Day's theme in 2007 was about the environment, which has a lot of bearing on this year's theme, which is on climate change.
I want to say a few words about this year's focus — climate change. It's a topic that's highly apropos, and which has been receiving great attention lately. I can't remember another year when I thought about this more, and here's why. I've got family and friends in South East Asia who've seen more than their share of weather-based disasters recently. Nature has been particularly rough on the Pacific region lately, hitting tropical countries with a vengeance.
I described their plight in my article discussing how an emergency plan may not necessarily help out when we're hit by a once-in-a-blue-moon catastrophe. I don't know whether you've noticed, but these unusual typhoons and hurricanes we're seeing in recent years, which are described to have rare magnitude and strength, seem to be happening more frequently of late. Could these all be caused by climate change?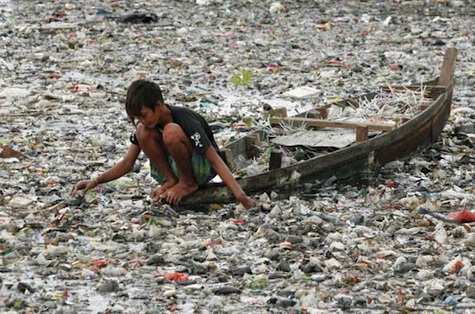 Image from advocacy.britannica.com

Regardless of what causes the crazy weather we've been seeing — El Nino, climate change, ordinary pattern shifts — the aftermath has been tough. My family and friends living in Asia have been impacted directly by it, pretty much in the same way that people in the Gulf coast here in the U.S. have been affected by the huge calamity that was Hurricane Katrina. When we talk about preparing for emergencies, our priorities should really be focused on large scale preparedness, such as improving infrastructure and community systems that can prevent the severe devastation of a community. And much of this sort of thing is rooted in people's awareness of their environment, in a long term vision for community and care about what happens around us.
So how well is the world listening to Mother Nature's sobering wake up calls?
Other News: It's Our Birthday
I'm going to change the subject here and share with you other, more sanguine news: The Digerati Life turned THREE today. Woot! I've dug up its birth announcement from exactly 3 years ago. Can't believe we (e.g. you, me and the blog) have lasted this long together. To be honest, I can't believe all this time has flown past, since it sure doesn't feel like it. And the cool thing? We're still having fun, right? 🙂 Thanks so much to all the readers, visitors and subscribers of this blog for allowing this to be such a wonderful ride. We owe our longevity to all of you!
Copyright © 2009 The Digerati Life. All Rights Reserved.