Every year, we hear about yet another place that has suffered some kind of disaster or another: from terrorist attacks to tornadoes, wild hurricanes and earthquakes, we face the wrath of both nature and man, and accept this as part of our existence. For me, I worry about dry summers and the possibility of wildfires in the region where I live. I've put together a list of fire safety tips for those of us who are vulnerable to fires or who just want to stay safe. And for an even bigger list on how to get ready for a disaster, here's what FEMA says about planning for emergencies.
I was compelled to write this post because over the last week, I was reminded once more of just how ruthless Mother Nature can get, when she hit close to home for me. You see, my roots are in Manila, Philippines, where many of my family and friends live (and a place I often visit), and last week, the region experienced a strong rain (typhoon Ondoy/Ketsana) and flash floods the likes it's never seen before (or I've seen before). The country is used to this kind of weather but this was just unbelievable. When the floods took over, the place was 80% underwater, much like how it happened in New Orleans some years ago. I've been through some bad floods before, but this is just crazy:

Some of these videos are surreal and frightening: they remind me of how I felt when watching Hurricane Katrina barrel down upon the Gulf coast and when I viewed the destruction of Thailand's huge tsunami in the news (or even when I read about the floods in Georgia recently). Some people I know are still missing their loved ones; with communication cut off in certain places, it's hard to know what's going on over there.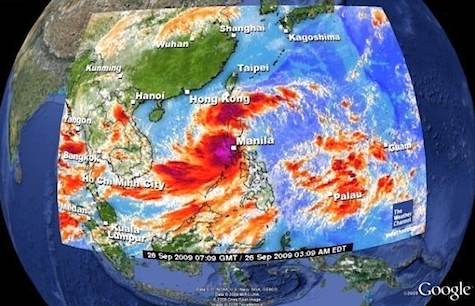 What About An Emergency Plan?
The tough thing is that in a developing country, an emergency plan isn't much of a priority. Most people don't even have personal property insurance to cover losses — it's all about surviving day to day, with many living a hand-to-mouth existence. Infrastructure is weak, which has certainly contributed to the severity of the floods that Manila has experienced. So what can we do in this kind of situation?
Some disasters are so far-reaching that it's hard to prepare for them. And at other times, your emergency plan is something you aren't really able to put into action because it can be too late. I believe that no matter how prepared we are, when a calamity of massive proportions enters the picture, all bets are off. If we survive the disaster, then we have to face the aftermath and that's when most of the world hopes that when it happens to them, that aid, government assistance and donations can help with rescue and relief efforts.
For help or donations, you can visit the Philippine National Red Cross.
Copyright © 2009 The Digerati Life. All Rights Reserved.