Don't mean to be a downer, but it's been a tough week. Everyone has been following the events unfolding in Japan over the last week and we're all praying that this will somehow resolve positively and avoid a catastrophic conclusion. I haven't really expressed this before, but I have the greatest admiration for the Japanese, who are such disciplined people. I have been fortunate enough to have visited Japan many times in my life, where I enjoyed the cuisine, the culture and the people; it's a place I consider as one of my favorite destinations in the world. So sad that so much is going on there right now.
I wonder too about living on the West Coast. Over here, people have been scrambling trying to get potassium iodide or sea kelp in drugstores and health food places. Too late for me, I didn't get any and the stuff has already run out, but supposedly, reports out there tell us there's no need to worry. But it got me thinking once again about how vulnerable we are to natural disasters like this — the West Coast is notorious for being an earthquake belt. I think of it now and again and get these reminders whenever a tremor hits somewhere in the world. I still recall Loma Prieta quake as if it were yesterday; back then I thought I was a goner for all of a minute and a half or however long it took to shake up the office building I was in.

It also doesn't help that I find myself going paranoid over this type of story and videos like this:
How much stock should we place into earthquake predictions (some geologists say these are predictable, while a lot of others say these things aren't)? Are changes in our natural habitat actually ominous signals of what's to come?
Some General Disaster & Earthquake Survival Tips
The best we can do is to prepare for disasters. Here are some things that may be worth paying attention to:
Remember that the Japanese are well versed on earthquakes and tsunamis and are quite prepared for these eventualities. It just so happened that what happened last week was a much bigger quake than they could have imagined. Some tips to think about:
During times like these, my mind sometimes can't help but dwell on grim possibilities. Do you ever wonder about what would happen if there happened to be a nuclear meltdown around the corner? It may help to see what kind of nuclear reactors are right by your neighborhood: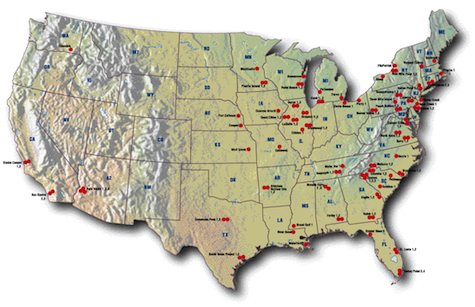 Pic by World Nuclear Association
Heard Of Nuclear Disaster Insurance?
It would certainly be a rare occurrence, so this is all mostly catastrophizing, but there are some practical points that touch on finance that you may want to know about. While life and limb and our overall safety are the number one priorities here, our shelter and possessions may be next. Do you write it all off in the face of a nuclear meltdown?
The answer is actually quite interesting. Insurance.com lays down some basic points:
Your home insurance policy won't cover you for nuclear related damages, but it seems that the government will.
The federal government has set up a pool that takes funding from companies involved in nuclear energy. If there are any accidents, this fund/pool will cover claims.
Nuclear insurance is basically covered by the "Price-Anderson Act", a law that was passed in 1987. What claims will it address? Those related to:

Sickness and illness that lead to death
Loss and damage of property and possessions
Bodily harm and injury
Expenses for evacuees
Sounds morbid, but if it's any consolation, there's this type of insurance to fall back on.
Personal Financial Articles
I could use some cheering up. Let's traipse around the blogosphere for now.
Get Rich Slowly: Outsmarting Myself
Credit Karma Blog: Is Financial Minimalism Good For Your Credit Score?
The Simple Dollar: Making Homemade Yogurt
My Dollar Plan: How to File Old and Delinquent Tax Returns
Lazy Man and Money: Mohu Leaf Antenna Delivers Free TV
PT Money: Do You Buy Local, Meaningful Art Work?
Money Smart Life: Our Home Owner Warranty Claim
Brip Blap: 10 tips to avoid money worries
Gen X Finance: Five Ways I Plan To Save Money in February
Funny About Money: Busted, Disgusted, and Cain't Be Trusted
Monevator: What The Big Short teaches the little guy
Oblivious Investor: Cameras, Computers, and Mutual Funds
Million Dollar Journey: Buying Foreclosures In Canada
Frugal Dad: Ideas to Trim (or Slash) Vacation Costs
Dough Roller: Stuff About Annuities
Free Money Finance: Would You Move to Lower Your Taxes?
Copyright © 2011 The Digerati Life. All Rights Reserved.