Fire safety tips you shouldn't be without!
Besides earthquakes, California is known to be vulnerable to wildfires. Where I live, we have an imposing "Fire Danger" meter posted at a street corner and right now, it's registering the highest warning possible "Extreme Fire Danger". Not that this is a surprise (we see this every year, here in the suburbs of Silicon Valley, California), but there are times when this indicator registers at this level quite a bit earlier than expected.
Normally, it measures "Mild" or "Moderate" for risk. Oddly, even when the weather is fairly cool, foggy or even on the chilly side, I don't see changes to that meter reading. We've got so much dry foliage around here that it probably makes no difference what the weather does anymore. That thing makes me nervous every time I pass it as it reminds me of the fact that I live in a tinderbox. So why do we live here? Because we take our chances anyway, with a decent school district and a nice way of life in general as I'm sure many folks say about where they reside, regardless of whatever risks their locations pose.
Not quite sure what to do about all the abandoned relics around the neighborhood or the home construction and development that's been unceremoniously interrupted (halted?) by the limping property market. How many ghost houses can you count around your block? I worry that these homes can potentially be fire hazards. But I console myself by the fact that I'm still seeing "For Sale" signs popping up here and there, and rejoice when something gets sold….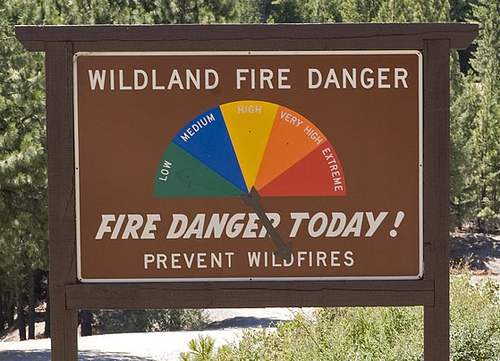 Photo by DaveToo

On this note, I'd like to share some fire safety tips to keep you and your home protected no matter where you live. Lightning can strike anywhere, and so can fire.
Fire Safety Tips Everyone Should Be Aware Of
#1 Update your roof.
In a wildfire, the first thing that catches fire is the roof. So if you've got the money, it's a wise investment to update your roof made of wooden shingles to one that is fire-proof, such as one made of slate, tile or asphalt shingles. ImproveNet offers a cost calculator that can help you figure out how much a new roof would cost based on your geographical location. For instance, in Northern California, asphalt shingles cost $4,631 to $5,789, while Spanish clay tiles can run you $20,008 to $25,010 for a one story house sporting a gabled roof with a moderate slope.
#2 Keep brush away from your house.
We've got 40 foot tall privets touching our house on one side and many contractors have suggested to keep them trimmed and away from the home for safety's sake.
#3 Have someone from your local fire department check up on your house.
Because we live in a high fire danger zone, our neighborhood fire department gives courtesy calls to the residents in the area. They can come by to do inspections to make sure we're doing all we can to keep fire risk contained. Consider having home or fire inspectors over on occasion for a property check up.
#4 Be sufficiently insured.
Fire and homeowner's insurance is just something you shouldn't live without! Also check to see if your policies are updated to reflect any changes to your home's replacement costs and review these policies for any alterations in premiums or coverage.
#5 Have fire extinguishers in your house.
You should have at least one portable fire extinguisher in your house that is within easy access. We have two. Note that these fire extinguishers don't last forever and may be good for only 5 to 15 years, so monitor the pressure gauge and recharge, service or replace your extinguisher if need be. Look into the rechargeable kind (could be pricey) or the disposable kind.
#6 Charge your smoke detectors at home on a regular basis.
Basic Tip: Use daylight savings time to change the batteries in smoke alarms and carbon monoxide detectors along with adjusting your clock. It's also highly recommended that you change all your detectors after 10 years.
Where should you install your smoke alarms? From this guide:
A smoke alarm outside each sleeping area and on each level of the home provides a minimum degree of protection from the threat of fire;
In a single-level home, one alarm may be sufficient (as a minimum) if all the bedrooms connect to a common hallway;
Additional alarms are needed in homes with separated sleeping areas;
Where occupants sleep with bedroom doors closed, install a smoke alarm in each bedroom and the hallway.
You'll kill two birds with one stone by using a carbon monoxide detector and smoke alarm combo.
#7 Keep matches and candles away from kids.
Common sense right? But this is something many of us forget. At my son's preschool, I met a mother who told me how her daughter got a hold of some matches and hid it away from everyone so she could play with it later. Mother smelled smoke and realized what had happened. It's amazing what your kids can get into, no matter how "old" you think they already are! Any open flame, no matter how small, can pose danger.
#8 Beware of space heaters.
I still recall a fire that occurred at my university many years ago. It was a devastating apartment fire caused by a space heater brought in by a family who was moving in their new college-bound daughter the very day the fire occurred. In the chaos of the move, they had clothes and flammable fabric strewn upon the heater and it caught fire as they slept, costing them their lives. Be careful when using space heaters! Keep them at least 3 feet from anything flammable and turn them off when you're not at home. If you're looking for a good heater, try out DeLonghi — I found it to be pretty highly rated at Amazon.
#9 Practice safe smoking.
Smoking causes around 15,000 residential fires a year. These tips may help prevent unfortunate incidents:
Don't smoke indoors!
Use large, deep ashtrays to keep your smoking area clean.
Don't throw live butts into the trash. Douse cigarettes with water before disposing them.
#10 Avoid overloading your electrical system.
A sobering fact: the holiday season brings with it some risks. Overloaded outlets are blamed for 5,300 household fires, 2,000 of which happen during this particular time of year. So what can we do? Some great tips from Buyer's Choice Inspections:
If a fuse blows or circuit breaker trips frequently, have a qualified electrician determine what the problem is and fix it.
If extension cords or plug adaptors are being used to plug multiple appliances into the same outlet, have a qualified electrician install more outlets on new or different branch circuits.
Using power strips (or multiple outlet surge protectors) with their own circuit breaker protection is better than using extension cords to plug in multiple appliances or electronics.
Never run appliance cords or extension cords under carpet.
#11 Know how to escape if necessary.
There are two kinds of fires: the expected and the unexpected kind. For both situations, have an escape plan out of your home. If you're living in wildfire territory and a fire strikes, you have time to prepare your escape or evacuation from your neighborhood: know what stuff you'll need to pack ahead of time. Though most of us have the self-preservation to plan such escapes, I've been amazed to read about people who refuse to evacuate or leave their homes in the midst of a blaze and instead choose to fight fires on their own (equipped with their own garden hose). Thankfully, some homeowners have been fortunate to save their homes in this manner, but not everyone is so lucky.
#12 Stop, drop and roll.
If you catch fire, extinguish it by staying put, dropping to the ground and rolling around. Running around like how people do it on film may only help to catch people's attention, but it won't make the flames go away.
#13 When there's fire, stay under the smoke.
Most people are killed by smoke, rather than by fire. With fire, the smoke and toxic gases rise with the heat, so crawl low on your hands and knees to breathe the cleanest air near the ground or floor.
#14 Beware of complicated barriers on your doors and windows.
If you live in an urban area, wildfires won't be your problem, but you could have other concerns. If you're concerned about your security and have installed burglar bars on your windows and doors, make sure they have a fast security release or can become unlocked or detached during a time of emergency. Or maybe you can use something like a Master Lock 265DCCSEN Dual-Function Security Bar for your doors instead. Lastly, if you live in a multi-story residence, a fire escape ladder is one of the most useful items to have in your home.
#15 Don't leave fire unattended.
You've got a fireplace, a stove or a grill? Always keep an eye on them when they're fired up and use common sense.
Copyright © 2008 The Digerati Life. All Rights Reserved.