These property flippers have turned their unusual investment property into a green home that's now on the market.
Out with the old, in with the new. About a year and a half ago, I wrote about an unusual property for sale, which was this firehouse in the wooded suburbs of the Bay Area that went on the market for $825,000. The firehouse sat on a suburban street but didn't look to have much room for more than a couple of firetrucks. It was therefore no surprise when the fire department decided to move their firehouse to an adjacent street on a much wider property, with the space to house more trucks.
Well, that property went on sale with the following merits:
FIREHOUSE FOR SALE!

Class: Single Family Residential
Type: Detached Single Family
List Price: $825,000
Lot Size: 13,131.00 SF
Age: 50
Bedrooms: 2
Baths: 1 Full, 1 Half, No Tub
Stories: 1

Remarks:
A rare opportunity to buy a firehouse. Fantastic location on large lot in desirable XYZ County. Remodel, rebuild or build new. So many possibilities. Add a second story and take advantage of the views.
And just to remind you, here's what it looked like some time ago, sporting the following features: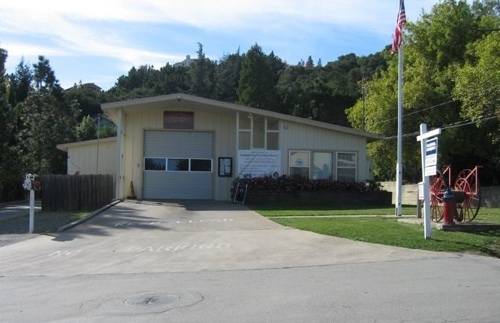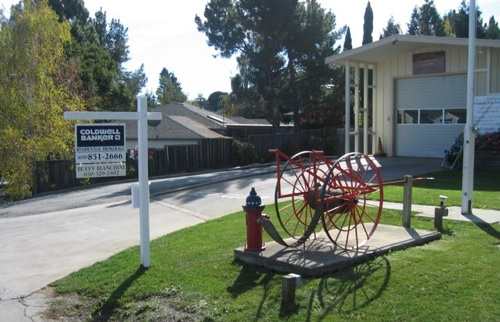 Well, I'd like to give an update on this old firehouse. Eventually, this property sold for $800 G's, and in its place something else arose. Fast forward to a year and a half later and it has become obvious that the property is being flipped, but not after a lot of work was done to it. The new owners wasted no time on giving the place a major facelift for the purposes of reselling it right away (yeah, even while this real estate market languishes). The firehouse got stripped to its foundation, and underwent a major renovation, and now here is what the old firehouse looks like today!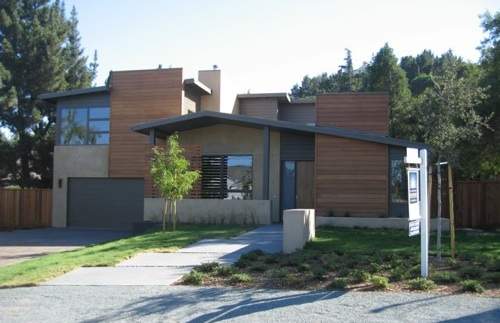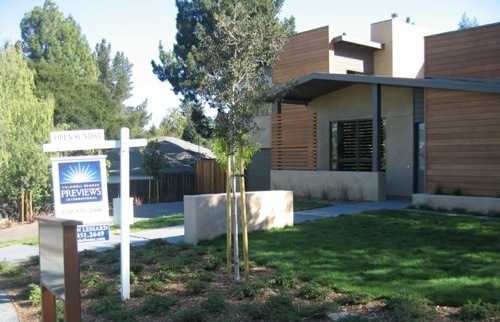 The brand new property is being marketed as a "green home" with the following description and characteristics:
Brand New Custom Contemporary Home For Sale! (Green)

Class: Single Family Residential
Type: Detached Single Family
List Price: $2,495,000
Lot Size: 13,131.00 SF
Year Built: 2008
Bedrooms: 4
Baths: 3

Remarks:
This eco-friendly home minimizes the use of resources and reduces the harmful effects on the environment, all while providing savings on utility bills. Included are a lofty 12-foot ceiling, chef's kitchen with walk-in pantry, master suite with filtered bay views, rear patio with a built-in barbecue station and fire pit and large level lawn. This home contains sustainable, energy-efficient resources.

Amenities:
Solar water heater, double pane windows, fire sprinkler system, low-flow shower heads, low-flow toilets, weather-stripped doors
It's cool that the firehouse has turned into a "green" (eco-friendly) house, what with the solar water heater, double pane windows, fire sprinkler system and low-flow plumbing built in. 😉 But I'm amazed by how much this new house is selling for — it can be all yours for close to $2.5 million. I think it's overvalued, even with the "green" designation; the difference between the new and old price of this property is $1,675,000.
I doubt that a green home would cost anywhere close to that to build. How much does building an eco-friendly house cost? Given these figures, if this home sells, how much do you think the real estate investors who bought this house (the house flippers) will be taking home as profit?
Going Green and Home Valuation
I could be wrong, but if you happen to be a real estate agent or property expert who is knowledgeable about valuing new property, especially in the Bay Area, I'd love to hear what you think of this particular valuation. I'm curious about what it takes to turn your home into a "green" house: are there additional benefits of such an investment, beyond the savings you expect to get and the good you'll do for the environment? Here's where I'm going with this: if I slap a solar roof on my house and replace my home's pipes with low-flow, how much would I be able to add to my home's value? Also, I'm sure that marketing a house this way will have different results based on your regional market.
Interestingly, despite the steep price tag, this home is still seen as better value than some residences you'll find in the Bay Area. The price per square foot formula applied to this home results in only $694 per square foot, relatively "cheaper" than the $1,000 per square foot you'll get by buying a 250 square foot condo unit in a brand new development in the heart of San Francisco, or a parking spot in the middle of New York. The difference, of course , is that this more spacious home is in the country, while the tiny, more expensive spaces (per square foot measures) are in the dense, urban jungle. So what do you think: how much are you willing to pay for prime real estate?
Sometimes, I forget that we're in the middle of a rough real estate market; I just don't see how the price for this erstwhile firehouse turned green house can be justified but I guess we'll just have to wait and see how this sale turns out.
Copyright © 2008 The Digerati Life. All Rights Reserved.