Here's a sign of the times. House prices have been sliding precipitously in some areas, especially in the super luxury markets. Even the ex-boss a gazillion levels removed from me has had to lower the price of his estate from $25 million around a couple of years ago to a mere $16 million today: that's a sheer 35% drop!
I'm talking about no other than Larry Ellison's Japanese-inspired property for sale in Atherton, arguably the most expensive suburb in the San Francisco Bay Area. Larry Ellison of course, is the billionaire CEO and founder of Oracle, the dominating database software company responsible for the operation of IT departments and thus, big business world-wide. I was once a worker bee at this company some eons ago.
So the big man's property is facing an equally big shave off of the original price. Not that Larry may have noticed, mind you. It's still going for a tidy profit especially since he purchased this home in 1987 for a bit over $6 million give or take a few major renovations. He remains surrounded by his countless toys and assets, his fairly new residence worth all of $79 million, and has cool yachts, a lovely wife, philanthropic missions and international boating races to keep himself busy.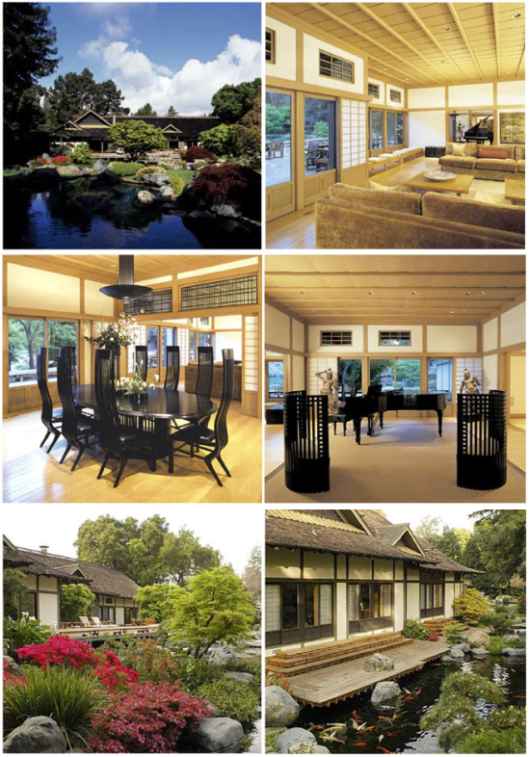 Some tidbits about the estate or….
What Mega Bucks Can Buy You
It is 8,000 square feet, built on 2 levels, has 7 bedrooms and 7.5 baths and sits on close to 2 acres.
It used to sit on almost 3 acres until Larry successfully sold off a 1 acre slice of the land. Hmmm….. that's not as big as some houses owned by your typical affluent American family. However, it's smack dab in the middle of the San Francisco Bay Area, where a 2,100 square foot house on a little over 5,000 square foot lot can sell for $1 million.
The estate has a Japanese architecture and motif inside and out.
Larry obviously loves anything Japanese. It is well lit with lots of sliding glass doors, windows and shoji screens that open to what else but a Japanese inspired landscape. I'll bet the bonsai plants and cherry blossoms blanket the place.
It has what real estate agents call truly exquisite grounds.
There are decks, waterfalls, and koi ponds which you can see from every room plus a dark-bottom swimming pool rimmed with boulders that looks like a natural pond.
It has amenities up the wazoo.
Great, so it has a clay tennis court bordered by a wisteria-covered arbor and an authentic Japanese tea house with a soaking tub.
It is near what appears to be the most expensive and exclusive country club in the Bay Area.
The country club is called the Menlo Circus Club which only "caters to" members and their guests, though anyone can walk in and look around but can't partake of their services though. I know because I walked in off the street once out of curiosity and tried to crash their dining hall (again, anyone can try — who wouldn't be curious about how the other side lives?) and was promptly denied service because I was not accompanied by a member. That was a while ago and their policies may have changed today, but that I don't know because I haven't checked them out since. The fees for this place must be through the roof given that it's where the Silicon Valley elite and their socialite fellows hang out.
Of course, what else do you get but a great school district in Menlo Park!
Enough said. But if you're a mogul buying such a house, you'll probably be interested in one of the private schools in the vicinity.
For further details about this awesome luxury property, which you can admire to your heart's desire, check out this agent's site. The real estate listing for this estate is no longer available for viewing (some prosperous soul must have already come up to pluck this heavily discounted piece of property off of this tough seller's market). More on this beauty, including funny commentary plus image credit from The Real Estalker.
Any interested Googlers out there with a spare $16 million lying around?
Copyright © 2007 The Digerati Life. All Rights Reserved.