This is why I think this housing market will leave you out to dry if you venture in it at the wrong time.
Pardon the puns, but earlier on, I had written this post about the End Of The California Housing Bubble and mentioned that one of the signs of the market peaking is how everyone you know has decided to become some kind of professional in the real estate business. Well after cleaning my desk, I unearthed something that I had received not too long ago: what else was it but a letter from my esteemed mobile dry cleaning service guy, announcing his new business venture.

Believe you me, I was struck by how this fellow was being shrewd by applying some of Robert Kiyosaki's suggestions for following the footsteps of his legendary Rich Dad, who was, after all, a real estate entrepreneur. As it is, Robert Kiyosaki champions the idea that to be rich, you should own businesses and real estate and not get stuck in the daily grind of a regular job. Plus, knowing what this dry cleaning guy can do with my laundry, I can indeed vouch for the superiority of the services he affords his clientele so I have no doubt he'd do really great as a realtor. The only problem he may be facing here is sheer timing. Here is his note:
Dear Client Currently Known as the Silicon Valley Blogger,

I am happy to announce that I have joined forces with Coldwell Banker — one of the most widely respected and trusted real estate names in the nation.

Together, we are poised to deliver the highest degree of service through our unmatched global network, nationally acclaimed marketing resources and expertise of the local San Francisco Bay Area market.

Should you require my services in the future, rest assured I will put the collective expertise and resources of the nation's largest real estate brokerage to work for you — while delivering the professionalism, knowledge and service you expect.

This is not a departure from the 1-866-DryClean business that we serve you with, but merely an addition to what help and expertise I can bring to you and your family or friends. The 1-866-DryClean business continues to grow and expand through marketing and the kind referrals that you have offered us.

I hope you are as excited by this news as I am that I am able to provide to you the same level of professional and trust you have learned to expect from me in the past.

If you have any questions or are interested in buying or selling your home, please call me today. I look forward to talking to you.

Sincerely,

The Agent Formerly Known As Only Your Dry Cleaning Guy
So are we in a real estate "agent bubble"?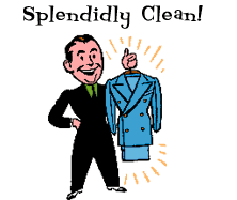 What else can this be but the sign of an "agent bubble", which is defined as the glut of real estate representatives that have arrived from previous lives ranging from white collar professionals to those from the business sector or the working class; folks from all walks of life eager to stake a claim upon the enticing riches of the seemingly never ending property boom.
This all just brings to my mind an article I read in our local newspaper which expounded on how this "agent bubble" has now popped, stating these signs that point to this situation:
The California Association of Realtors is predicting only 74% of membership renewals from its current members next year.
One of the State's largest mortgage lenders has closed several loan fulfillment centers around the nation, cutting offices and jobs this year.
There has been a noticeable decline in the mortgage business employment numbers in the state of California for the same time period.
Interest and enrollments in real estate courses required for getting a license have dropped — between 20% – 25% decrease has been reported.
The number of people taking the real estate salesperson licensing exams has dropped by 7%.
To put things in perspective, consider that in Silicon Valley, approximately 22,000 resale properties sold for the first 9 months of 2005, whereas a little over 16,000 did so during the same time period in 2006. With a reported 26,000 licensed real estate brokers in the county, with say half of them assumed to be actively in business, then that would suggest that an estimated one sale per broker was generated for the first 9 months of the year. With an average of $700,000 per property and a 3% commission, we're talking about each agent grossing $21,000, but with their employing brokerages taking half as commission, particularly for newer agents, then the gross would only amount to a paltry $10,500 for 9 months work.
Beyond this, agents are also required to pay a myriad of fees that total several thousands of dollars in the first quarter of each year, so in the coming months, more pain for them is on the way — including membership payments for the local Realtors board, MLS listings services and brokerages they work for. Hence it is assumed that many agents will probably "retire" from their efforts and opt to avoid paying fees rather than face another year of uncertainty and potential famine.
Perhaps given such harsh realities, it could be the case that many so-called real estate professionals are merely working part-time while depending on other income streams for support, though I expect that the more experienced folks — especially those who joined in the investing bandwagon in the earlier years — probably have quite a bit saved up to ride out this market cycle.
Now as a market spectator I can only hope my dry cleaning service man does well in his new venture, but even if he doesn't, he'll be fine by falling back on his booming laundry business. Now I'm not too sure about the daycare provider next door who wrapped up her day care business in favor of mortgage lending. I'll have to ask her about things next time she invites me to one of her New Mexico investing seminars…
I knew that there were still reasons to love your day job no matter what!

Thanks to the San Jose Mercury News and Dataquest for the facts and figures on which this story is based, and to splendiddrycleaners.com for lending their logo (no, they are not affiliated with anyone I have mentioned on this post).
Copyright © 2006 The Digerati Life. All Rights Reserved.