It's no surprise that subprime loans are causing a lot of foreclosures. However, I'm perplexed by our current property market situation in California. Given the huge rise in foreclosures, you'd think the contagion would spread and everything would be in the dumps. Yet it appears that despite the subprime mortgage mess, I'm finding that homes around here are still barely affordable. More specficially, we're seeing something more contradictory here to what is going on in the rest of the nation: it looks like the slump is affecting cheaper, smaller homes while luxury homes are selling well and even perhaps breaking sales records.

Modest year-over-year gains in the second quarter of 2007 increased luxury home values to highs in Los Angeles, San Diego and San Francisco, according to the First Republic Prestige Home Index(TM) by First Republic Bank, a leading provider of private banking, private business banking and wealth management services.

In the second quarter ended June 30, 2007, the Index indicated the following:

Los Angeles values rose 1.1% from the first quarter of 2007 and 4.5% from the second quarter of 2006. The average luxury home in Los Angeles is now a record $2.46 million.
San Diego values increased 1% from the first quarter of 2007 and 2.4% from the second quarter of 2006. The average luxury home in San Diego is now a record $2.19 million.
San Francisco Bay Area values increased 2.8% from the first quarter of 2007 and 2.3% from the second quarter of 2006. The average luxury home in San Francisco exceeded $3 million for the first time.

The property market has developed a split personality. On the one hand, we have Zillow.com announcing that the larger, higher end homes aren't selling as well as the smaller homes.
And here's more evidence: according to Zillow.com, this was the performance of housing prices across the nation within the last year:
| Home Size / Type | Square Footage | Drop In Value |
| --- | --- | --- |
| Small House | < 1,200 Square Feet | 1% |
| Mid-Sized House | 1,200 to 1,900 Square Feet | 3.1% |
| Large House | > 1,900 Square Feet | 2.8% |
| Condominium Unit | N/A | 5.2% |
These statistics show us how the national property market is faring: "small" homes (less than 1,200 square feet) showed the smallest declines in home value. But in California and in other high-valued property markets, the market seems to be split in a different way.
Let's first check out this state-by-state map of the subprime mortgage crisis that I encountered after reading a post over at All Financial Matters (and found on CNN Money), where it appears that California is heavily mired in subprime loans.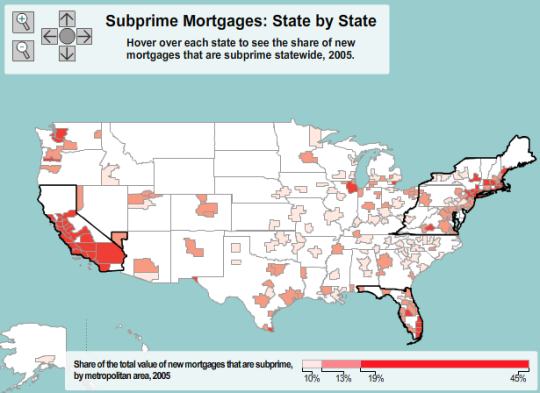 Some quick regional facts from this interactive tool: the stats are from 2005. The tool (but not this image) shows that the share of new supbrime loans in 2005 throughout California (25%) is not as widespread as in Texas (29%), Mississippi (33%) or Florida (30%). But the share of the TOTAL VALUE of suprime loans per state is seen via the colors on the map: just check out that sea of orange on California.
I thought it strange that this wasn't my observation seven years ago while shopping for homes then. The Bay Area property market was entirely affected with larger homes receiving the biggest price haircuts after the tragedy of 9/11. So is it different this time?
I have asked a relative who works in the financial sector about this and his response was that a catastrophic event, as in the case of 9/11, normally affects all markets simultaneously since it forces everyone to be more conservative about their money. With the subprime situation, we're talking about a more isolated case, with problems in particular sectors and asset classes such as property, mortgage and hedge funds all stemming from tighter credit. In this case, those at the lowest rung of the risk pyramid have suffered the most and born the brunt of the crisis. Where subprime does not exist, life goes on as normal hence giving the impression of a segmented market.
Still, I keep hearing that it's just all a matter of time though and that eventually, the property market bust will affect housing prices everywhere. But when talking about California (or places like Manhattan) and its crazy property prices, I simply wonder how long I'll be holding my breath wondering if we'll ever get an "equal opportunity market".
Copyright © 2007 The Digerati Life. All Rights Reserved.