For those who've ever downsized or who've been living in a small home, the biggest issue has always been about space. To be frank, I prefer to have spacious surroundings (read: a bigger house), but I can also certainly appreciate the charms and simplicity of residing in a cozier place. Now there's an even bigger reason why living simply can work out pretty well. Apartment dwellers can rejoice when they come across more innovative products such as Murphy beds, and other smart furniture that can now be used to make their rooms more organized, more efficiently used and comfortable.
There are some clever furniture designers out there though, that have come up with some awesome pieces for your home. So what do you think of these awesome furniture sets? I love the idea of functional furniture that can double up as art or decor. I also like the multi-functional features of some of these pieces. The question is, just how affordable are they? And where do they sell these things?
Heh, well if furniture like this were affordable and more easily accessible, perhaps more people wouldn't mind squeezing into tighter spots. And that would be one of the biggest ways to really save money. Imagine doing away with those regular expenses that go with the upkeep of your house. I would certainly breathe more easily if I can slash my property taxes or bring them down in a significant way, which in California, is one of the biggest drags on our family budget every year.
Furniture like this can certainly help make tiny houses more attractive as living spaces. So would you be willing to live in a smaller house?
Well, this is probably taking it a bit too far, but who knows what the future may bring? I'm wondering if this type of sleeping arrangement will become standard fare someday. Hope not! (These are capsule beds you'll find in some hotels in Japan.)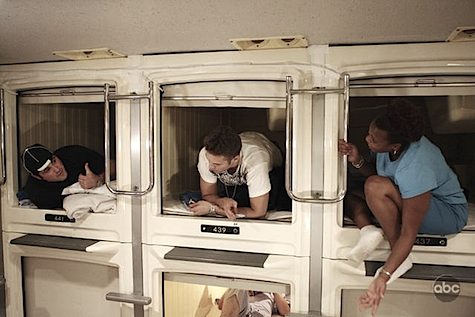 Image from realitytvmagazine.com
Created July 14, 2010. Updated September 25, 2012. Copyright © 2012 The Digerati Life. All Rights Reserved.