The pros and cons of living in a small house.
A few years ago, my spouse and I bought a gorgeous, late-1920's Dutch Colonial home in a not-so-fabulous hamlet where I was raised, by Tarrytown, New York. This house is about 2,800 square feet on a little less than two acres, and was something I just fell in love with. However, over time, we eventually realized that the house was a bit too large for our tastes. So we sold the place last Spring and house hunted for something smaller. And just recently, we accidentally stumbled upon a diamond-in-the-rough type house in a village by my hometown.
The new place is great. The interior is practically brand new and has all kinds of fun upgrades, like a towel warmer in the guest bath, a jetted tub in the master bath, huge windows, and a fantastic stove in the kitchen. The best part? It's low maintenance. Our village lot will be easy to maintain with a push mower (the spouse's job), and the roughly 1,600 square feet interior will be a breeze to keep clean (my job).
As I consider the differences between our previous large home and our current smaller one, it strikes me that there are many pros and cons to living in a smaller home. YMMV, but here are my findings: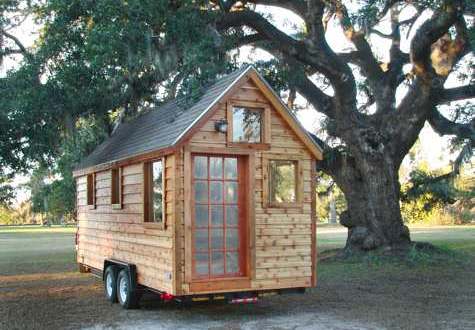 Image by
Eco Joe's
Downsizing Our House: The Pros of a Smaller House
The financials! Our mortgage payment on the smaller place is within a few dollars of the payment on the larger place — the difference is that it's only a 15-year note as opposed to thirty, and we hope to have it paid off in five years or less. We are also looking forward to lower utility bills and upkeep costs.
Cleaning is a lot easier when there's a lot less house to clean. In the old house, I would spend eight solid hours cleaning every weekend in addition to the little stuff I did every day, and still not get everything done. In our new house, a half hour on weeknights and maybe a couple of hours on the weekend keep the place spic and span.
We have time to appreciate our house. With the reduced amount of time spent on maintenance comes an increase in the time we can spend actually enjoying the house. We're finishing up the unpacking and settling in phase, but have already managed to have a few friends over for a visit — something we rarely had time for in our larger home.
We're living more simply. I've got less of a propensity to hang onto unneeded stuff when living in a smaller home. Whenever we move homes, I use it as an opportunity to purge out the extra clutter and recycle away our old possessions. This is a great time to consider doing away with the things we no longer need.


Here are a few articles that may be helpful on the subject of decluttering:
The Cons of a Smaller House
We need to be more organized. If I don't keep up with the cleaning, our clutter tends to take over our home more quickly; it's something we can't ignore nearly as long as we could in our larger home. So it's imperative that I try to organize our home as best as possible to keep control of our stuff.
I no longer have a "buffer" — that space we'd like to preserve for ourselves while at home. When the spouse gets annoying (you know yours ticks you off from time to time, too), it's harder to get away from him. Not only that, our large home had two stories, and the new place has only one floor. So stomping off in a huff loses some of its drama without the stairs.
Less space. Every new purchase has to be made with space taken into consideration. Before I buy something, I have to think twice about how to accommodate the new item in our house. But the silver lining here is that this will be a big money saver for me. After all, I can't make too many impulse buys when there's no place to actually put the stuff!
Fewer house guests. Downsizing from four bedrooms down to two really puts a damper on those visits from friends and family from out of town. Although, I know quite a number of people who will say that this is actually a positive development in their lives! Some may actually see this as an advantage of downsizing.
It's funny how quickly priorities can shift. A couple of years ago, I wouldn't have dreamed of living in anything smaller than 2,000 square feet, but now I'm quite happy in a home far smaller than that. I know many people would consider my home a shoe box but to me, it's definitely quite the castle!
Copyright © 2009 The Digerati Life. All Rights Reserved.