We listed our Honda for sale on Craigslist, our favorite online classifieds web site. Sold it in 4 days.
Remember the car we bought a month ago? Well now that we have that car, we had to sell our old one. We sold it through Craigslist and the process was easy as pie. We had listed the car at a price equivalent to its blue book value — $7,000 for a Honda Civic with 100,000+ miles on it.
We had a few interested buyers, and even one suspicious one who hailed from Sacramento: this buyer's email messages and terms sounded "odd"; he was offering a pretty good price on the car sight unseen. While other buyers wanted to negotiate, he sounded eager about buying the car at full price without checking it out first. And why would he want to drive all the way to the Bay Area just to buy a used car? Ah, it all sounded too suspicious and too good to be true. I could just imagine him chomping at the bit for the chance to offer us a money order or cashier's check, no questions asked. So we didn't bother pursuing this lead. Sure, it could have been a legitimate lead, but I'll take my losses. During times like these, I refer to my tips for selling safely online to guide our decisions.
Fortunately, within a day, we got a buyer to settle on a decent price (around $500 off our original offer) — a young man and his mother came to a doorstep, did a test run and left happy. And we too, were left happy as we tucked our money away and got that smooth car sale out of the way — just one more among the many car sale experiences we've had through the years. Though we'll miss our pretty dependable import, we're very satisfied with the slick and fairly new family wagon we replaced our old car with.
Here's the car we said goodbye to: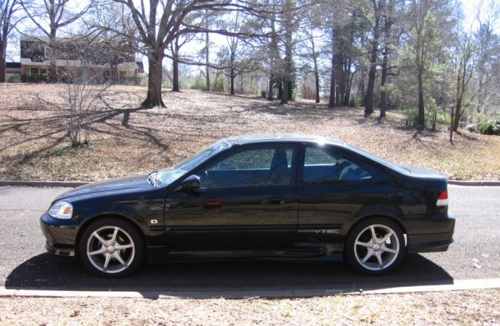 The car we sold, a Honda Civic Si.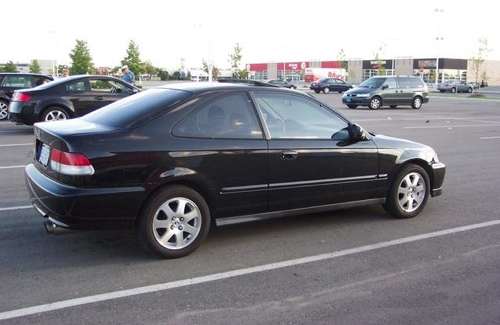 Before I go, I'd like to leave you with some parting tips. From my own experience as a loyal user of Craigslist, I compiled some thoughts on how to list and sell your stuff online:
Quick Tips To Sell On Craigslist
#1 Use pictures. I still don't know why there are ads that don't include images. If I were a buyer, I'd immediately filter out those ads without accompanying photos. Who would buy something sight unseen (maybe potential scammers)?
#2 Be descriptive about what you're selling. You only have a few seconds to catch someone's attention.
#3 Write a good ad title. What's good? Avoid overloading your title with punctuation marks and caps and whatever else that can put off your audience. Strange ads are a good way to scare off potential buyers. Have someone else review your ad to ensure its palatability.
#4 Deal with local buyers as much as possible so you can easily screen them. Try to pick up information about your buyer wherever you can find it. They may have an internet footprint, or a conversation with them over the phone may help you get a feel for who you are dealing with before you even meet with them. According to Craigslist's scam manifesto, you'll avoid 99% of scam attempts by meeting your buyer in person.
#5 Be patient. If you're selling a popular item, there will always be a buyer out there for your stuff — at the right price. Fortunately, I have never had a problem selling anything worth selling by posting it on Craigslist. The stuff I have trouble selling won't move for good reason (not enough value or use left in them) so I donate them instead and take the tax deductions.
#6 Price your item right. If the price is too high, you may not get enough interest. If it's too low, potential buyers may become suspicious of your listing.
#7 Have an electronic trail of your correspondence with interested parties. Any kind of trail is useful, in case you need to refer to it at a later time (and hopefully you never have to!).
#8 Beware of fake or bounced checks and money orders. Because of this, it's a good idea to transact with cash.
#9 Find your right sale price. Your sale's success hinges on your ability to value your item in the used market. An item will sell for the "right price": you can figure this out by periodically readjusting your price to gauge interest and by checking similar ad listings to your own.
By the way, I've also scored well by doing my online shopping with Craigslist, where we've picked up some awesome bargains on furniture and housewares. I've saved lots of time and money by going to sites like these through the years and frankly wouldn't know what to do if these online services didn't exist. Can you imagine having to revert to traditional paper listings, garage sales, dealerships and brick and mortar consignment centers to get the job done? 😉 Find out more about my thoughts on this topic in my post: Great Places to Earn and Save Money on Used Items.
Copyright © 2008 The Digerati Life. All Rights Reserved.