This is part of our series on "scary money tips and stories". In some high cost of living areas, it now takes at least almost $80,000 to live.
I've often expressed how life changes once you have a family to raise, beyond the time and effort it takes to care for kids and run the household. Financially, it can become somewhat more challenging as well: since the typical case is that your budget rises along with the number of people you have in your family. Without conscious efforts to throttle spending and to keep a close eye on your money, expenses can balloon to unexpected amounts. If this is what's happened to you, you are not alone: this is a plight all too common for so many families today, when it's often the case that it now requires two incomes to cover even basic expenses and make ends meet.
What drove this point home for me is this new study that came out last month, the California Budget Project report, detailing how much money it now takes to fulfill the minimum living requirements of a family of four just to live day to day in the place I call home: the San Francisco Bay Area. These numbers did *not* include college tuition savings nor retirement funding.
These scary numbers tell me that even if you have a good job, it may not be enough for your family to live on. With a growing disparity in income and expenses, people have been moving out of the area to be somewhere else. This also explains why trusted labor here is pretty expensive: outsource a job and prepare to pay. A home repair visit can set you back $50 an hour while day care runs around $1,000 a month.

Let's take a look at some basic, minimal budgets that are required to sustain a family. The federal poverty line is at $20,444 for a family of four (in 2006) while here in one of the most expensive areas of the nation, it takes three and half times that amount or $77,069 to survive. The basic expenses of any household budget are officially the following: taxes, housing/utilities, child care, transportation, food, health care and other necessities (a mysterious bucket specified by the study).
| Federal Poverty Line For Family of Four | | |
| --- | --- | --- |
| | | |
Family of Four Minimum Budget in The Bay Area (High Cost Of Living Area)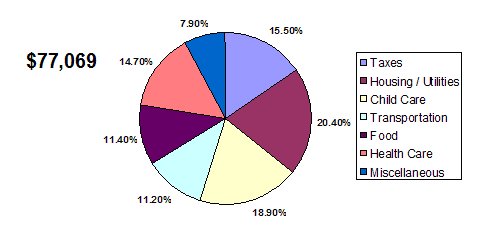 Other bare bones budget numbers for the Bay Area: a single adult requires at least $29,633, a four person household with one parent working requires a minimum of $53,075, a single parent household of four needs $65,864.
What I found interesting was how a four person household with two working parents cost 45% MORE to maintain than a four person household with only one working parent. This is mainly because the family with a stay at home parent doesn't have to pay for child care or transportation. I'm amazed that the difference in budget can be attributed to these spending categories — so this tells me that unless the other spouse makes more than $30,000 or so, then it may not be worth having them work. Given the higher expenses of two working parents, to break even, you'd need the non-working spouse to bring home ~$30,000 to make it worth taking the extra job. The gap in the one parent budget versus the two parent budget is approximately $24,000, so if you consider taxes, you need roughly $30,000 to cover that budget difference.
It also seems that high cost of living areas are found in metropolitan areas where housing and transportation take out a big chunk of the budget.
If you're curious about how other places fare, here's a diagram comparing the monthly budgets for 2 parents and 2 children in eight communities around the nation. These numbers were from 2004.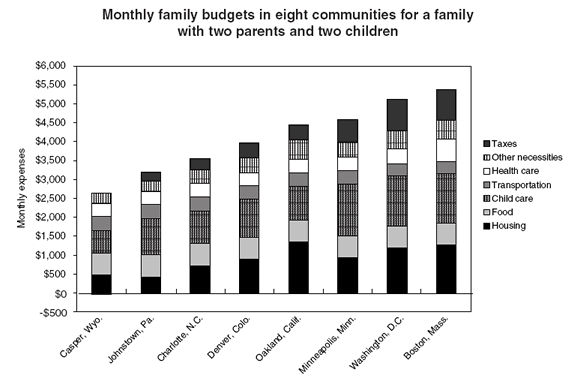 What makes it insane in California (and potentially any other high cost-of-living state) is the housing problem. Despite the plunge in real estate prices we are seeing today, housing is still incredibly expensive.
So how do people survive around here given these living requirements? Well, people get *very* creative. Some common strategies that people take range from the prudent and resourceful, to the highly risky. Expectedly, many plans involve sacrifice.
How People Survive in Expensive Areas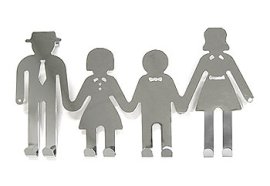 People skip essential insurance.
They take on a lot of credit card debt.
They band together as a family unit under one roof.
They rent out living space.
They delay having children.
They work several jobs.
They do work shifts within the family.
They live off their home equity.
I mentioned before that I have extended family who have uprooted themselves from our native country to come here and seek a better life for their children. These parents have left their established professions from their former home to start fresh in this new world. They have it much worse than I did when I first moved here as a college student, because they come here with four children in tow, and as of yet, no employment prospects. The father just took the bar this summer hoping to become a licensed lawyer in the near future. Guess where they are living? With more members of my family in a newly bought home, which despite its spacious size of four rooms and three baths and a large family room, has become a crowded environment housing eleven people. What's keeping these two families under one roof at this time are the soaring rents and insane home prices in this area.
Until there's a way to pay, there's this kind of limbo, which we always hope won't be the situation for too long. If only the jobs they do find actually provide incomes that can make it possible for them to live here. Otherwise, a move across the country may be in the offing.
Copyright © 2007 The Digerati Life. All Rights Reserved.