Young professionals have a ton on their plate, which often creates a paradoxical financial conundrum. With all the time spent on socializing, education, career, technology, and everything else — how is one supposed to focus on personal finance goals? The paradox is that there may be no more important time in your life than your twenties (to mid 30's) to hit high impact financial milestones.
Not everyone will have the resources to hit all of these targets by the age of 30; however, there's no harm in striving to reach these goals. In fact, you can only benefit from doing so. Below are 5 financial milestones to aim for along with recommended turbo-charged "all-star" action items. How many will you be able to cross off the list? What other goals would you recommend adding?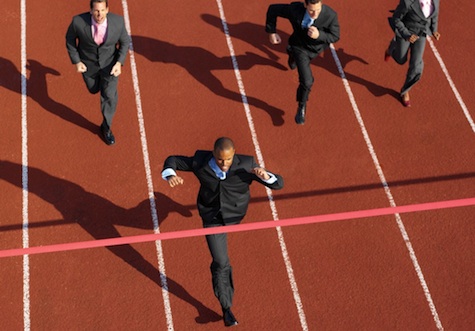 Image from AngerOnMyMind.com
Setting Goals: 5 Financial Milestones to Aim for By Age 30
1. Contribute to a Roth and a Traditional IRA
Look for a no-fee IRA through a discount broker. It will literally take you 10 minutes to open an IRA account — the hard part is being disciplined enough to keep funding it. Having both a Roth and a Traditional IRA gives you the opportunity to split your tax benefits between the present and your retirement. For more tips on IRAs, including the recent updates to Roth IRA regulations, check out this post on IRA contribution limits.
Financial all-star move: open an investment account with a broker like TradeKing, then start both a Roth and a traditional IRA. Make sure to contribute the combined $5,000 max annually.
2. Build Six Months Worth of Expenses in your Emergency Fund
If we've learned anything from living through a recession, it's that nobody's job is truly safe (and there are times when jobs can be hard as hell to get). After seeing my wife get laid off for several months during the last slowdown, I can personally speak to how thankful you will be towards having a financial safety net. We were lucky that she was out of a job for only 3 months — it has taken many others much longer to recover. Without our emergency fund to back us up, we might have had to rack up high-interest consumer debt. Had it been longer, we might have had to sell our home.
Financial all-star move: Bump up your emergency savings to a year's worth of living expenses.
3. Make the Credit Card Companies Hate You
I don't advocate ditching your credit card, unless you carry a balance month to month. A long and solid credit history pays dividends in the long run. If you avoid miscellaneous fees and penalties and collect rewards without incurring unnecessary expenses, then having a credit card can be a useful and integral part of a solid financial portfolio. Just make sure that you don't win any "customer of the year" awards from your credit card companies (hint: their favorite customers rack up lots of fees).
Financial all-star move: Additionally, pay off all high interest (4% and up) student loan debt.
4. Collect your Full "Pension"
Pensions are a thing of yesteryear, right? Yes, but their weaker replacement, the 401(k), should be taken advantage of to the fullest. It is a crime not to get at least your employer's full matching contribution in your 401(k) on an annual basis, if you have the funds to do so. Besides collecting that match, you should also think about simultaneously contributing to your IRAs, which you have a lot more control over; in fact, you may want to consider funding your IRA first before maxing out your 401(k).
Financial all-star move: Try to max out your 401(k) on more than one instance, before age 30.
5. Create a Monthly Budget Plan
Expecting financial success without a budget is equivalent to an explorer finding new land without a map or a compass. A few hours set aside to create a monthly budget covering all income sources and expenses may yield you the best return on investment you will ever see. Want a template to start? Check out this free budget planning worksheet. Too lazy for the manual? Many budgeting software applications like YNAB are available for you to try.
Financial all-star move: Cut your expenses and maximize your income enough to be in the black every single month.
To The Digerati Lifers
Some food for thought:
What would you add to or subtract from this list?
In your opinion, what is the most important thing to accomplish financially by the age of 30?
How many of the 5 financial milestones have you completed already?

This is a guest post from G.E. Miller, who focuses on personal finance topics for young professionals at 20somethingfinance.com. He also writes for Mint and works full-time for a Silicon Valley outfit.
Created January 1, 2010. Updated November 8, 2011. Copyright © 2011 The Digerati Life. All Rights Reserved.